Making a Difference: Minot Literacy Volunteers
MINOT – Educating people of all ages on all subjects has been the mission of Minot Literacy Volunteers for over three decades.
Angelina Edison, executive director and program coordinator, said she has been working at MLV since 2000. Pat Bolyard, president, said she came on a couple years after Edison.
"We have a combined secretary treasurer, Sharon Desilets, so she does both positions," said Edison. "We do have a vice president position open, we just have been running this way for a long time."
Since MLV has been residing in the Minot Adult Learning Center's building, Edison said the three of them sometimes rely on its director for referrals, but for the most part run the organization on their own. The MLV board is comprised of the three of them.
"We have a book sale twice a year," said Bolyard.
"It's quite a book sale," said Edison. "We do not receive funding from any kind of government or agencies other than any requests that we make. We typically do the grant requests. We are this year partnered with United Way. We are a non-profit. I do receive a little pay, everyone else is volunteer. We rely on volunteers from the community to provide one on one, confidential, free tutoring services. Anyone who comes to us wanting assistance with reading, speaking, writing, for any reason, any goal, that's what we provide."
There are times where MLV has had families being tutored, but for the most part it is one on one, often at the Minot Public Library and the MALC building.
"It's mostly adults, but we do get a few kids," said Edison. "They just have to make a contact. We go from there. We have to figure out the logistics of when they receive the tutoring. We always do it in a public place."
Much of those individuals requesting assistance hear of MLV through word of mouth, says Edison. She also said the amount of students every year varies, and last year was about 16, meeting as often and as long as the student or tutor can make it work. Some tutors will take on more than one student.
"There's one student who can only do 45 minutes, so that's his limit," said Bolyard. "That's a long time if it's hard to focus."
"We also use volunteers to help us every now and then," said Edison. "To organize books, picking things up, sorting things."
There are many people signed up to volunteer, which Edison said is around 40 this year, though many of them do not have time to be committed to tutoring. Edison tries to give the tutors a simple training before they begin.
"A lot of them that sign up, they do work, or they're just between things when they sign up," said Edison. "Circumstances change for them."
"It's hard enough to get one, but to get both the tutor and the student to line up is hard," said Bolyard.
Both Edison and Bolyard tutor students. They and the other tutors often give the student a three-month trial to see if it's something they want to continue.
"It just depends on the individual," said Edison.
People can donate books to MLV, where many of them will be sold for five dollars a bag at its book sales. Tutors sometimes use these books for the students, though often monetary donations go to buying the exact book needed for the topic, which Edison said isn't quite as simple as buying third grade books for school.
"It's so individualized, we need such a variety of things. It's time-consuming to find those materials," said Edison.
Edison explained the different reasons people may want a tutor.
"We always set a goal," said Edison. "And some of them will just start telling me and it's pretty quick and obvious what that goal should be. Sometimes the goal changes, sometimes they reach it and want to up that goal. It can be anything from help with quizzes or tests for employment. We've had some that want help with the civics test. Now and then we've had a few that just want to improve their skills."
"I had a doctor from Korea, now his was more language related, but he worked really hard, he never missed or anything," said Bolyard.
"We can be a resource to work on it together, rather than bringing an expert in," said Edison. "We do teach a lot of reading skills, and a lot of numbers. Whether it's balancing a budget, or getting a loan."
"It's not so much teaching as it is guiding," said Bolyard.
Most volunteers have a teaching background, though Edison said it isn't necessary to tutor for MLV. Both Edison and Bolyard are retired teachers.
Edison said during some months MLV is almost like full-time job for her, while during others there is less work. A lot of her job is getting the students and tutors connected and following up with them, as well as writing grant requests.
"We rely on the community for all operating costs and resources," said Edison. "We appreciate our volunteers, the free phone message services from SRT, our space at the Minot Adult Learning Center, and especially the generosity of Souris Valley United Way."
MLV organizes books by authors as well as genre, and cleans them, throwing out the old ones.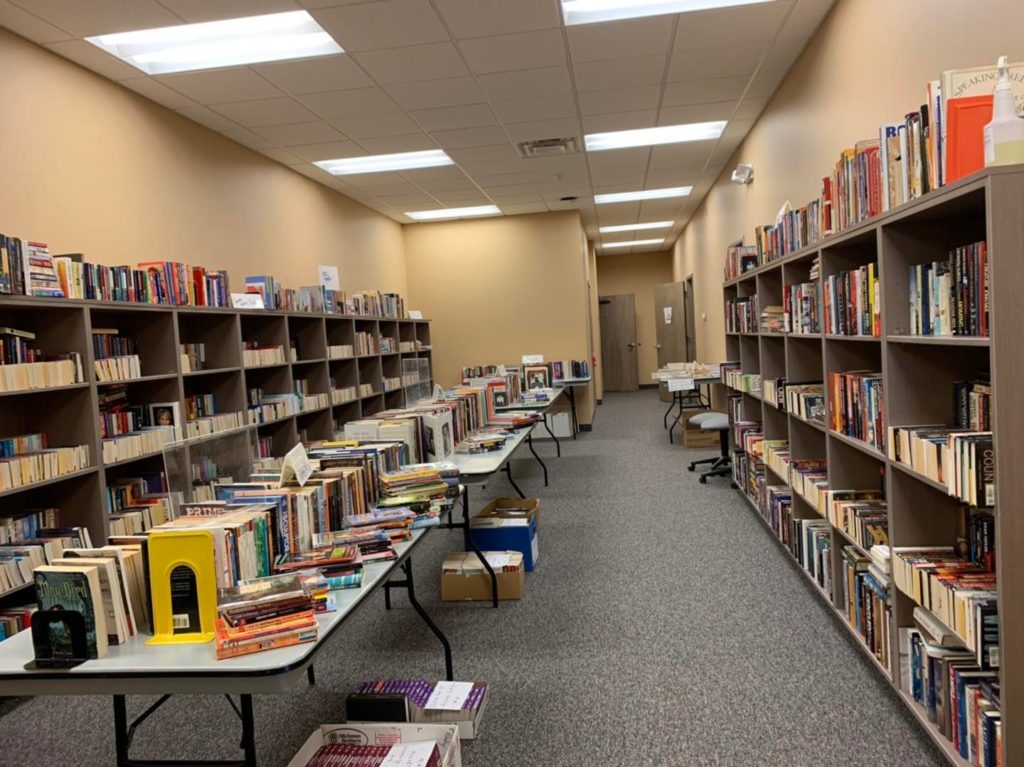 "Some of them are barely used," said Bolyard.
"We have an account with Gate City Bank. They've donated things and so has Aspire," said Edison. "Different community places."
MLV is participating in an event where 50% of Taco John's total sales from 5 p.m. to 7 p.m. on September 15 will go to Minot Area Schools.
MLV's next book sale is scheduled for December first from 4 p.m. to 7 p.m., and December second and third from 9 a.m. to 3 p.m. The sale is planned to be held inside the Minot Adult Learning Center located at 1609 Fourth Avenue Northwest.
"We will offer evening and Saturday shopping hours," said Edison. "Watch for further details as it gets closer. We have books and prizes good enough for the gift-giving season!"
Minot Literacy Volunteers can be contacted through their Facebook page, or by emailing minotliteracy@gmail.com.