The grocery store is a minefield of danger to the family budget, especially with current inflation. Food is essential, so you really can't stop grocery shopping, can you? But a good portion of the tally you pay at the till is not for groceries, but cleaning supplies for the house.
If you're trying to find ways to save money, consider making your own cleaning supplies. Here are five good reasons you might want to make your own cleaners:
Control what goes into your cleaners. Most of today's cleaners have deadly and harmful chemicals. Exposure to these chemicals—either by contact or inhaling—can cause serious health risks. These chemicals endanger the environment as well as our water supply.
Custom scents. With the addition of essential oils, you can make it smell how you want it!
Save time. These cleaners make short work of household grime without harsh chemicals or irritating fumes to affect your family and the environment
Save space. Don't waste shelf space with a dozen different cleaning bottles. You can easily store a year's supply of cleaners by just having three or four basic ingredients always on hand.
And yes, you'll save money. Homemade cleaners cost pennies compared to store bought. For example, Tide laundry soap costs 0.12¢-0.19¢ per load (depending on what variety of Tide you use). Meanwhile, the homemade version only costs 0.04¢ per load, about ¼ the cost. A 32-oz bottle of Windex will cost about $4, but homemade it costs less than a dollar.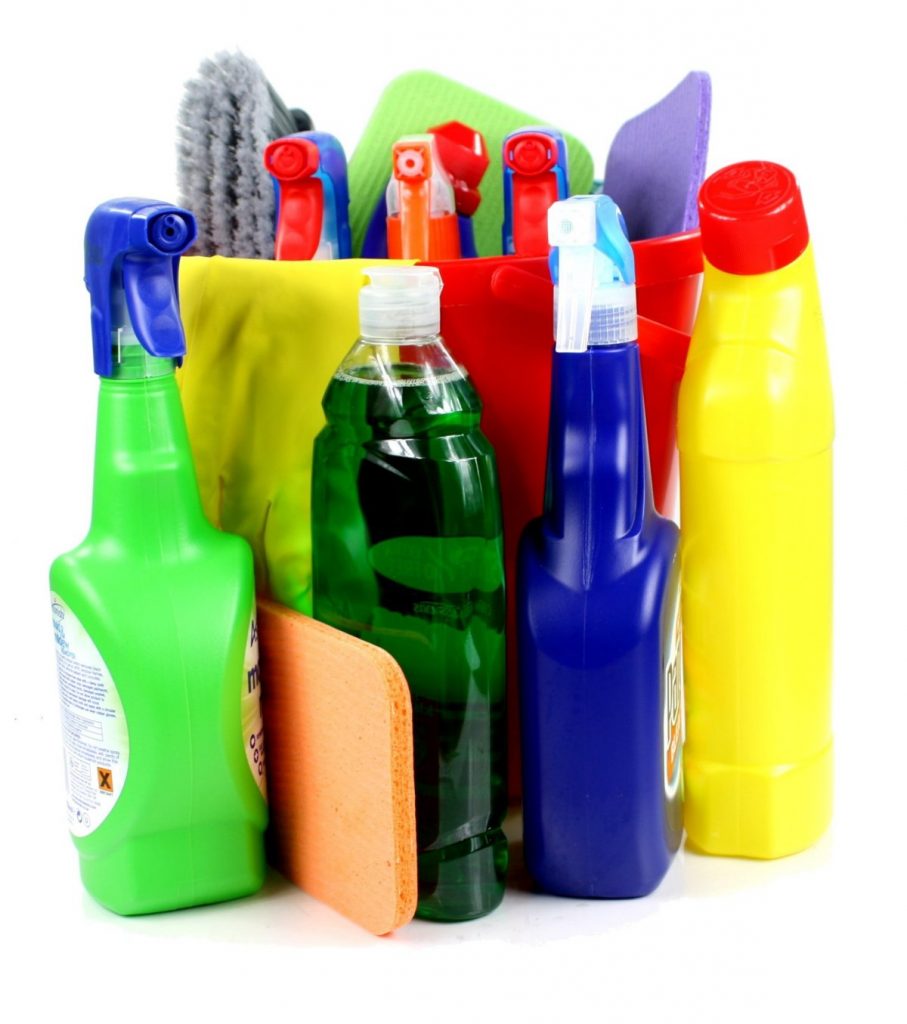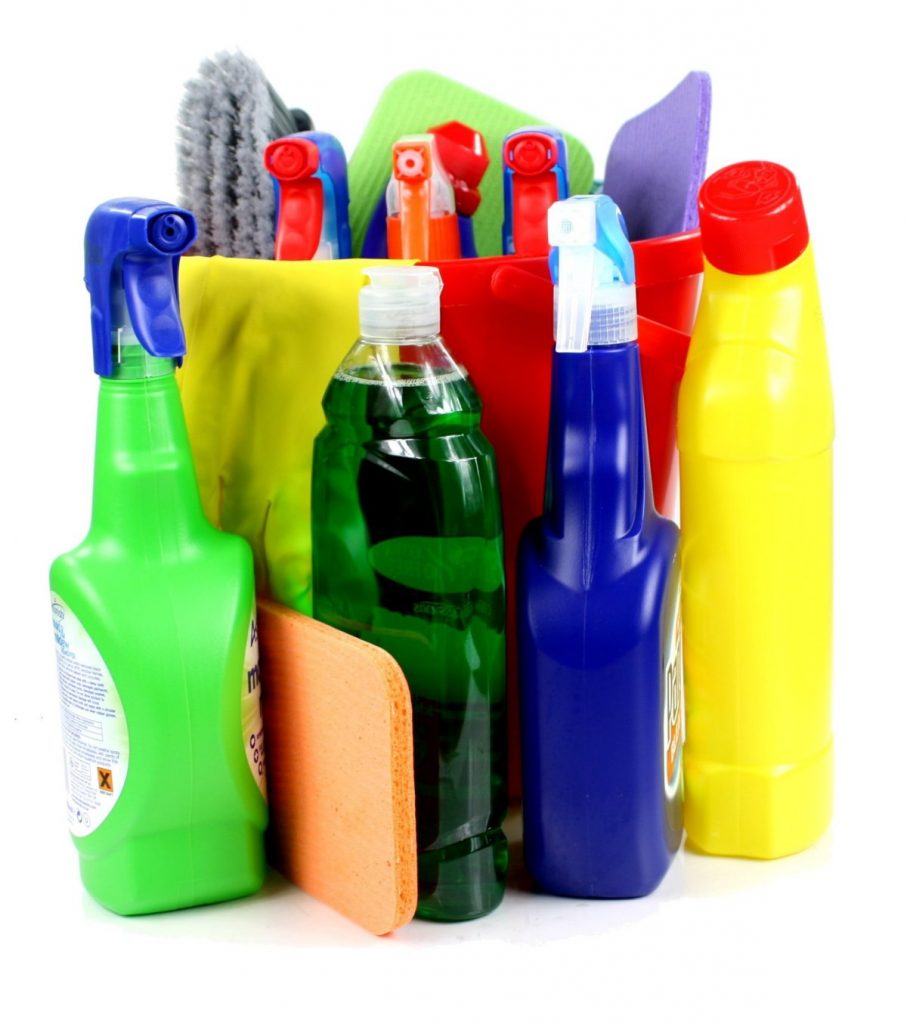 Basic ingredients
The recipes for homemade cleaners have just 3-4 ingredients. The ingredients are inexpensive and do not lose their potency over time. That means you can buy a bunch when it's on sale and have it ready to use when you want to make a homemade cleaning solution.
Here are the basic ingredients for most homemade household cleaners that you may want to have on hand:
Vinegar: Cuts through grease and dissolves hard water stains or streaks. The most versatile of natural cleaners.
Baking Soda: For the best economy, buy the 13.5 pound bag at Costco or Sam's.
Washing Soda: Not the same thing as baking soda, it has a low pH that makes it caustic. Essential for homemade laundry soap.
Rubbing alcohol: The main ingredient in homemade window cleaner.
Castile soap: Made with olive oil, castile soap is mild and gentle and biodegradable.
Fels Naptha: An essential ingredient to home-made laundry soap. It comes as a 5.5 ounce bar. You'll find it in the laundry soap aisle, wrapped in an old-timey-looking paper wrapper.
Borax: A naturally occurring compound of the mineral boron. It has been mined and used for centuries as a reliable cleaner.  It is very alkaline, so keep away from children.
Ammonia: The single best cleaner to break down grease. But there is some question about whether or not ammonia should be used in "green" cleaners. Use with care.
Tea Tree oil: Has a nice pine-y aroma so your bathroom smells clean. More importantly, it is used as an antiseptic and antifungal. It is also known as an antimicrobial agent because of terpinen-4-ol in the oil.
Other essential oils: These will also make your cleaning solutions smell nice. But these oils also have some helpful properties by themselves:
-Lemon oil and peppermint have anti-bacterial properties.
-Eucalyptus is a germicide.
-Orange is a powerful grease cutter.
-Pine oil is already found in many commercial cleaners. That's because it is great for stopping molds and yeasts from forming.
There are quite literally hundreds of recipes online for making household cleaning products. You could get started right now with a simple Google search. Or I've compiled my favorites, the ones I use the most into a booklet that you can download this month for free.

Or you can start with these three that I use the most and that save me the most money. You probably already have all the ingredients on hand to make window cleaner, so why not mix some up and give it a try?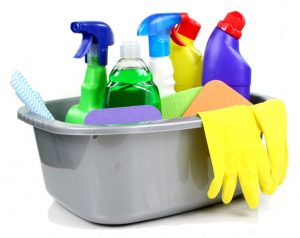 Laundry Soap
2 cups washing soda
2 cups borax
1 cup grated castile or Fels-naptha soap
Mix and keep in a covered container. Use 1/4 cup per laundry load.
Glass Cleaner
1 cup rubbing (isopropyl) alcohol
1 cup water
1 tablespoon Vinegar
Few drops of blue food coloring to color.
Mix together and store in a spray bottle.
Scouring Powder
1 cup baking soda
1/2 cup salt (kosher, sea or canning salt, not iodized)
1/2 cup washing soda
5 drops essential oil—Tea Tree, lemon or pine.
Mix ingredients thoroughly. The essential oil will tend to clump. I find that the best way to blend everything is in a blender or food processor.

Put this into a shaker. Either use a plastic Parmesan cheese shaker or poke some holes in a canning lid and screw the lid onto the top of a pint canning jar.
This mom rigorously tests Tide to two homemade recipes. See which one does best: https://homemakingdivas.com/homemade-laundry-detergent-comparison/
Download this booklet of recipes for homemade cleaners: https://www.providenthomecompanion.com/product/clean-green/