My dad wrote this for the Minot, North Dakota Rotary Club newsletter – "The Prairie Flower." It was March 18th, 1999. 23 years ago, almost to the day. It provides a neat historical perspective on how far farming has advanced, how it is still much the same, and what is most important. (Oh yeah, and I should note that my mom was the Editor-in-Chief)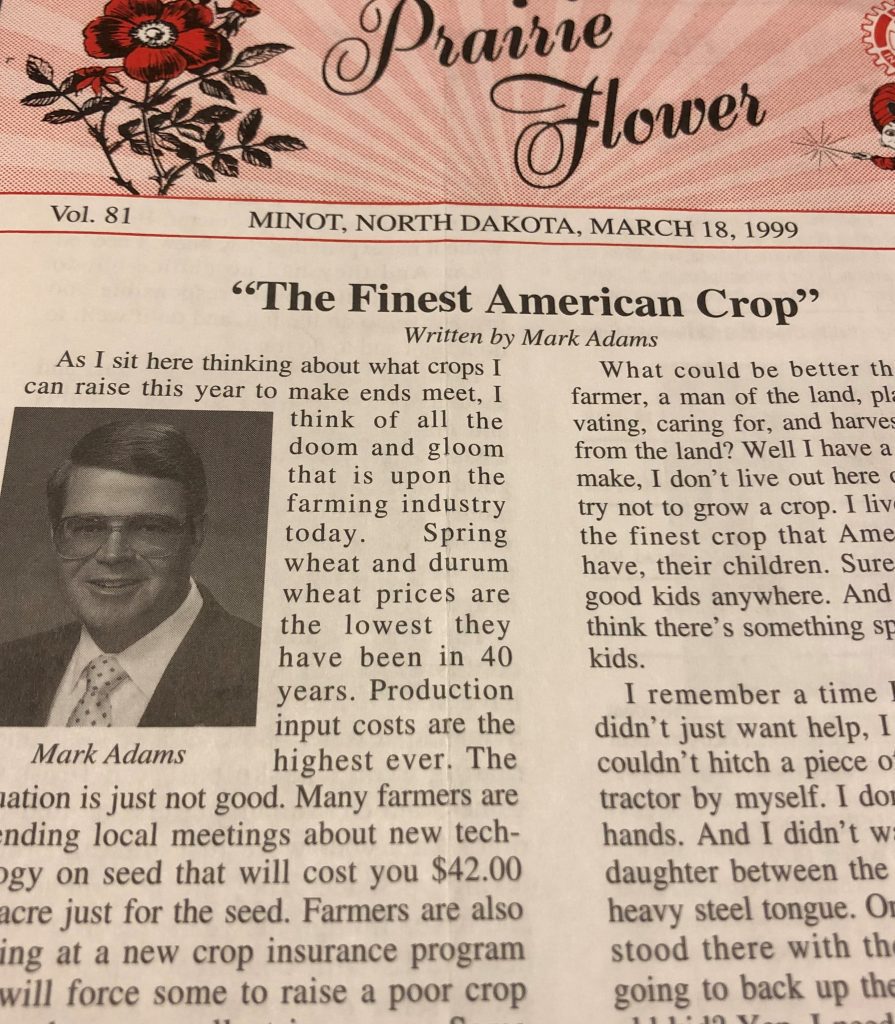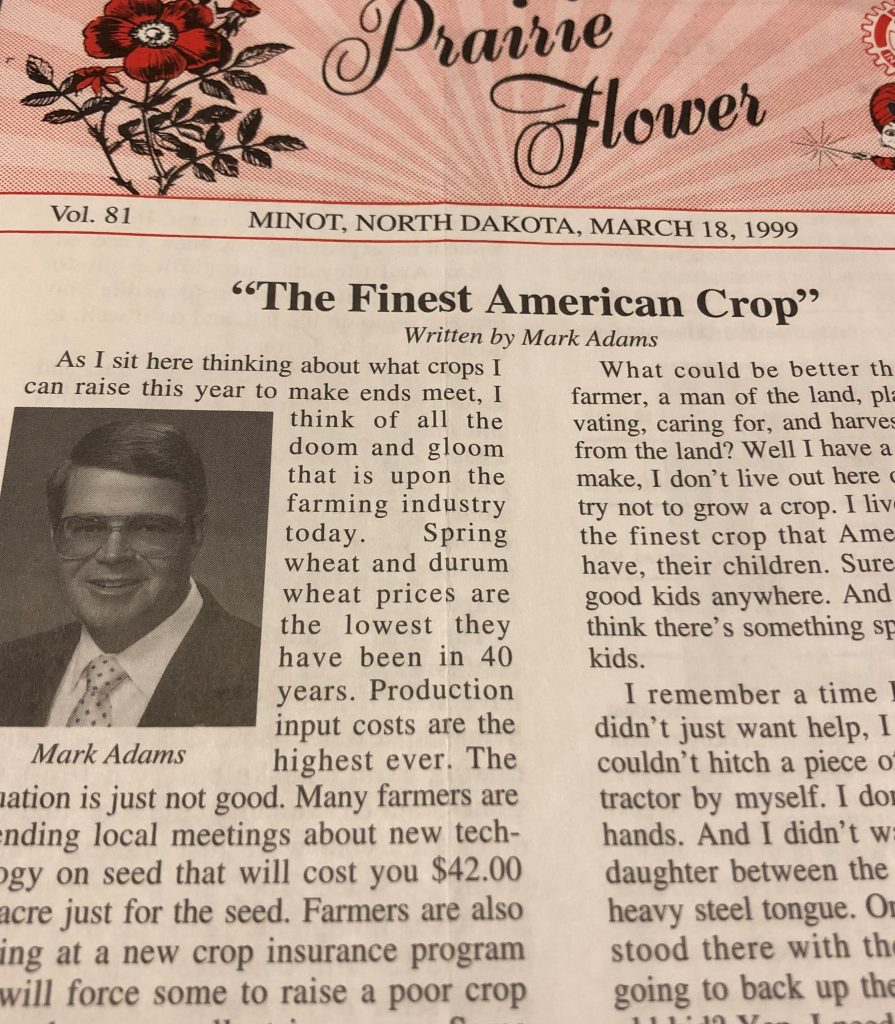 The Finest American Crop
As I sit here thinking what crops I can raise this year to make ends meet, I think of all the doom and gloom that is upon the farming industry today. Spring wheat and durum wheat prices are the lowest they have been in 40 years. Production input costs are the highest ever. The situation is just not good. Many farmers are attending local meetings about new technology on seed that will cost you $42.00 per acre just for the seed. Farmers are also looking at a new crop insurance program that will force some to raise a poor crop just so they can collect insurance. Some farmers are looking at using no fertilizer, very little chemicals and no tillage, just plant the crop and hope it doesn't make it.
Every year I set out to raise my best crop ever. I have made all those famous statements like: we'll try again this year, this year will be better, prices will eventually turn around, this should be the last year for the grasshoppers, hopefully the midge outbreak is over, we don't need another year of scab or vomitoxin, and I hope we get more rain this year.
What could be better than being a farmer, a man of the land, planting, cultivating, caring for, and harvesting all of it from the land? Well, I have a confession to make, I don't live out here on the farm to try not to grow a crop. I live here to grow the finest crop that American farmers have – their children. Sure, you can grow good kids anywhere. And bad kids. But I think there's something special about farm kids.
I remember a time I needed help. I didn't just want help, I NEEDED help. I couldn't hitch a piece of equipment to the tractor by myself. I don't have that many hands. And I didn't want a young son or daughter between the hitches or lifting a heavy steel tongue. On the other hand, if I stood there with the tongue, who was going to back up the tractor? A 12-year-old kid? Yep. I needed him in the tractor, and later it was the same with my daughter. They worked hard and never had a chance to get a job in town, because there was so much to do on the farm. They knew what it was about. It wasn't a lark, or silliness, or an opportunity to drive a powerful machine. In fact, most of the time it was downright miserable. Cold, wet, dirty, loud – and that was me, not the tractor. But even without explaining, they knew I needed them. And they had no choice but to become instantaneously responsible and responsive, to do the job, and do it well, to do it right and do it now.
Experiences like that, once the dust and shouting orders settled, grew responsibility and maturity on them like nitrogen on wheat. They still laughed, they still had their good times, but they knew where their money came from. And there were times when they had to be grown up, even though they were years away from being grown up in age.
The work is often dirty and loud and confusing and a pain in the neck. But I have seen my children in a group, at a school fundraising event, basketball and football games taking charge and not just taking up space. They are in college now and have, through the years, taken on some hefty tasks with confidence, pride, and a strong sense of accomplishment. And they have thanked me for teaching them how to work.
I do firmly believe that the soil on which we stand will grow more than our crops in the fields. The land feeds the strength and bonds of our families too – children. And just as our crops feed our nation and world, our children, blessed by the processes of farming, feed our future. So, in this time of doom and gloom, when nothing looks like it will be reasonable or profitable, it is just Julie and I left on the farm, we can be thankful for what we have raised, "THE FINEST AMERICAN CROP." Our children.
Oh yes, I will be ordering, yelling, and asking my wife Julie to help, and together we will take on the hefty task with confidence, pride and a strong sense of accomplishment to try again this year to raise the best crop ever.