WASHBURN — A bit crazy perhaps, but in a fun way. A group of friends has been getting together to camp out on April Fools weekend, a good two months before many would even think about it, for 40 consecutive years.
Remarkable.
This hardy group readily admits their camping behavior gets the best of them, but when good friends gather tall tales are told and laughter abounds. For them, the camp out has become a "don't miss" event.
"Some people went down to Florida. We came here," laughed Bradley Reisnaur, Melville, president of the loose knit group. "We started 40 years ago for a spring trip. No bugs. No flies. No competition. Can't argue with that!"
No. Maybe not. But the weather on the first weekend of April can be just about anything, except perhaps too hot. This year the stalwart group had decent weather to camp in, doing so before the record-breaking blizzard that blasted most of the state about a week later. However, it hasn't always been that way.
"In 1997 we were in a 3-day blizzard," recalled Kevin Sebastian, Minot. "Glenn and a buddy from Minnesota called and said it was storming. I told them to think of it as an adventure. They came."
Yup. A bit crazy. Camping in a snowstorm in early April in North Dakota qualifies. It went about as expected with collapsed tents and stuck vehicles. But it did add another crazy chapter to what has become a rather unusual tradition.
"It's been a lot of fun," said Sebastian. "We started at the Downstream Campground south of Garrison, then to the Spillway Pond, the Cross Ranch one year, south of Mandan in the bottoms, and then we came up here to the Steckel Boat Landing."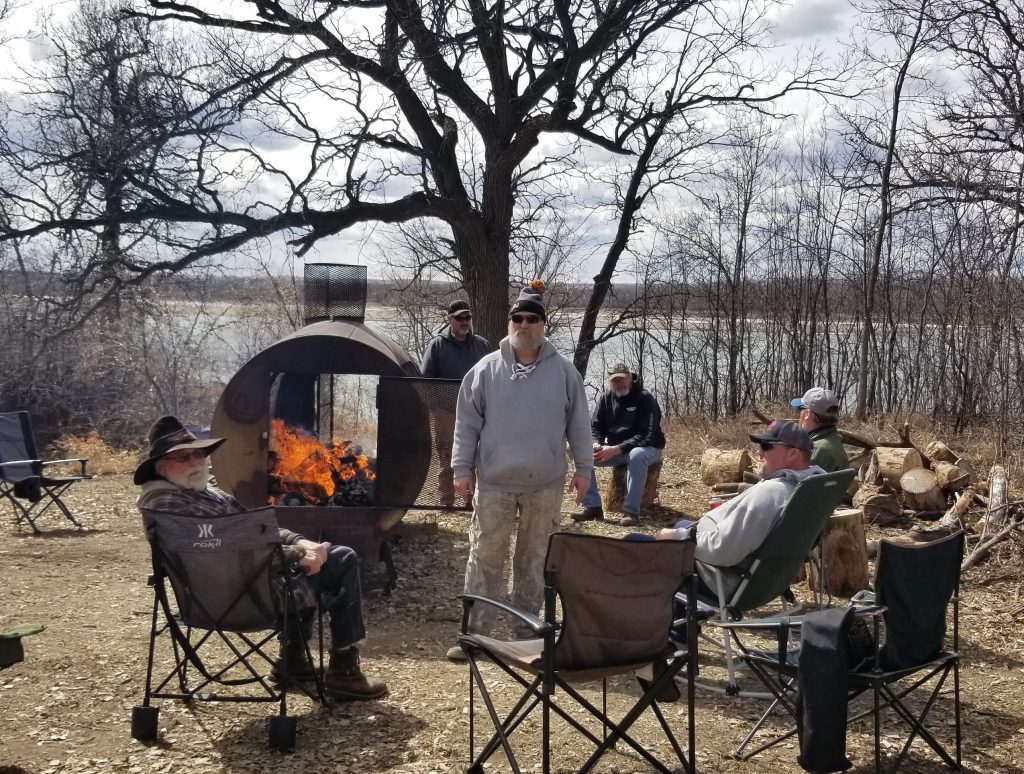 The tents of the early years have mostly given way to pull-type campers, but the majority of the hours are spent seated around a warm fire. Members of the sturdy crew have built a few different firepits to bring with them over the years. The latest might be as innovative as it is huge, perfect for large gatherings though. A friendly landowner nearby graciously allows the April Foolers to cut an ample supply of firewood.
While the firepit is a gathering place, so too is the kitchen. As you might have guessed it is rather extensive, big enough to cook for 20 or more people. Each meal is cooked by a different bunch of campers within the group, who always try and outdo one another. There's never a shortage of food either.
"We're all crazy out here but we have a good time," said Tim Rostad, Minot. "Good food. Really good food. Winter gets pretty long. This gets us out of the house."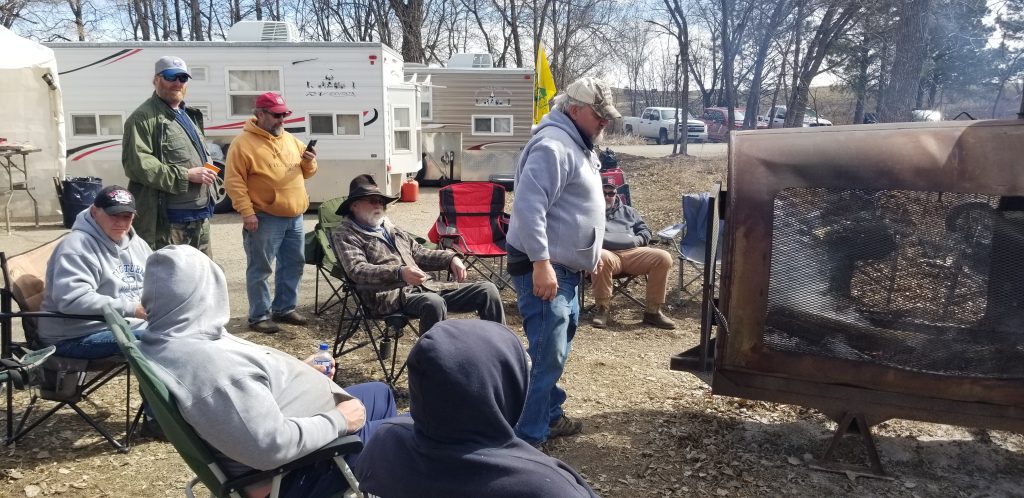 Some of the participants see each other occasionally during the year, hunting seasons and such, but for many the annual gathering is the only time they get together.
"It's the fun, the camaraderie, brothers, cousins, and friends," said Sebastian. "Also, it's the official opening of spring, no matter what Mother Nature throws at us. We might be nuts, but we have a good time."
And that is precisely what has kept the intrepid group gathering in early April for 40 consecutive years.