For NFL fans second only to the Super Bowl, the biggest day of the year is the NFL Draft. It is an opportunity for teams at the bottom of the league to land the next franchise cornerstone player and pull them out of purgatory and for teams that made the playoff it's a chance to find that missing puzzle piece that will vault them into the Super Bowl.
Everyday leading up to the draft, fans and analysts are filling out mock drafts, trying to find insight out on who each team is going to take. The draft owns a majority share of the NFL offseason alongside Free Agency. As important as the draft is to us the fans and the teams looking to make their team better, it's even more important to the players hoping to hear their name called by the commissioner. Being drafted into the NFL is a lifelong dream for college football players across the country, it is a life changing and altering experience that thousands hope to experience, but less than 300 will encounter.
This year's NFL draft is extremely important in the Minot State Football community. MSU's very own offensive tackle, Sebastian Gutierrez, is hoping to hear his name called next weekend. 
When he first stepped on campus, Gutierrez was far from the NFL caliber offensive tackle he is today. He wasn't even an offensive lineman. He was recruited to Minot State to play tight end.
In his third full season on campus, Gutierrez was asked to make a position change to help the team out. Putting on over 50 pounds, he made the transition from a tight end to offensive tackle. Quickly making an impact on the offensive line, Gutierrez became 2-time all-conference offensive linemen to wrap up his career at Minot State.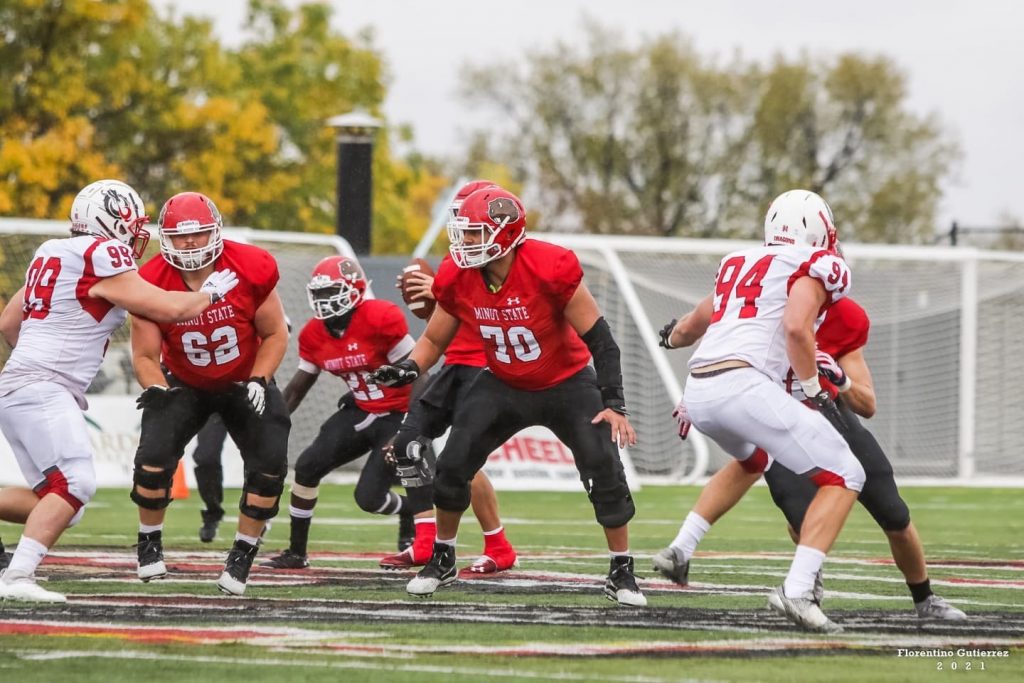 During his final two seasons, Gutierrez began to gain attention from NFL scouts. Between his NFL size at 6 foot 6 inches and over 300 pounds and his athleticism from days playing tight end, Gutierrez is an NFL coaches dream build for the position.
Since his senior day at Herb Parker Stadium this past fall, Gutierrez has been training to impress NFL teams hoping to encourage them to take a chance on a Division II player. He recently got to perform in front of NFL scouts at NDSU's pro day, and he tested very well.
"Doing the pro day at NDSU was a very exciting experience for me. I felt good that I was able to be on the same stage as them. But my ultimate goal of that day was to show everyone in attendance that I belonged there," Gutierrez said.
The last five months for Gutierrez all lead up to this moment. It has been far from the ordinary since he took his last college snap in November.
"My experience to this point has been very interesting. A lot of communication with coaches and scouts from multiple NFL teams. Most of the scouts I talk to at this point are making sure I'm healthy and ready to go if their team decides to draft or pick me up," Gutierrez explained. "I would say that I have grown a lot mentally over this process. The way I talk to people and go about situations has definitely changed. Having these conversations with scouts and coaches and knowing what to say in those situations is key."
If an NFL team pulls the trigger and chooses to draft Gutierrez, he won't be Minot State's Head Football Coach Mike Aldrich's first college player to play in the NFL.
"It's exciting to see our players have a potential opportunity at the highest level.  I have been blessed to work with a couple guys from the Division II level that have made it in the NFL and have had very good careers.  At the end of the day, I'm just proud of whatever our guy endeavors to do, especially if it happens to be fulfilling a dream," Aldrich said.
Aldrich has seen Gutierrez's potential from the moment he stepped on the field at MSU.
"I knew Sebastian had the size and measurables, which are things you can't coach.  When I first arrived at Minot State, he was a big tight end. We counseled him into moving to offensive line, which isn't an easy thing to do.  But he embraced the change, and I think it really created his opportunity. We share our upcoming senior class with the NFL and once the first scout came in and tested him, that's when things really took off.  Those numbers got shared with the rest of the NFL teams, and that was how he landed on each of their prospect lists. And as each team came to campus and observed him during practice, and speaking with them, that's when I truly realized that this possibility could very well become a reality," Aldrich said.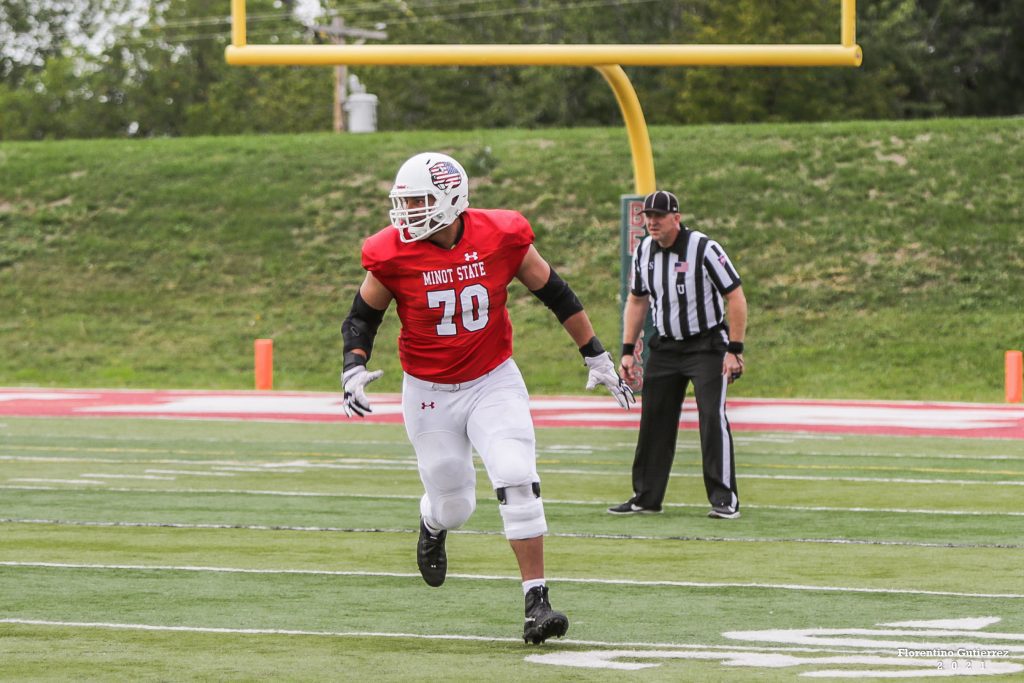 Gutierrez has had Aldrich's and the rest of MSU's coaching staff's support during the entirety of this journey.
"Once Sebastian's senior season concluded, he needed to find the right representation, an agent.  When he zeroed in on who he felt comfortable, we reviewed the details of the contract together to make sure it was fair, and he wasn't being taken advantage of. And that is included items necessary for his preparation for a professional career. He eventually moved to Minneapolis and started training with a group that supported him and also surrounded him with individuals that had NFL experience. We have provided game film to the NFL teams while also being in contact with other entities that have requested film in preparation for the NFL draft," Aldrich explained. "When speaking with the scouts, they are more concerned with what Sebastian is like as a person, his leadership skills, how he handles adversity and his growth potential. Because professional football is a business, they make all their own decisions and judgements on his athletic abilities and his fit into their specific scheme. I have told every scout that Sebastian has a track record of growth and adapting to new environments, witnessed by his transition from tight end to offensive line, and his growth ceiling is very high, because he has only player offensive line for a few years. If a team is lucky enough to land Sebastian, they are going to get a leader, a servant warrior, a student of the game, and a very athletic player."
The entire MSU Football family is excited to follow along Gutierrez's journey and want to be there to support him. The team is planning to throw him a draft day party, so if his name is called, he can be celebrated by his teammates.
"The NFL Draft lasts 7 rounds, 32 picks in each round.  The higher round picks get most of the attention, whereas the last 4 rounds, 4 through 7, get overlooked. Sebastian has had some good conversations with a number of teams, and they have told him he is on their draft board for those later rounds. Saturday, April 30, is the day of the NFL Draft for rounds 4 through 7. We are hoping to have a day of celebration, which includes our spring game, weather permitting, an awards ceremony, from both the fall and the spring, and draft viewing party.  Sebastian wants to be surrounded by his teammates if and when he receives the phone call from a team notifying him that they are going to draft him. He wants to share the occasion with his brothers," Aldrich said.
The team has been with Gutierrez from the first moment the NFL began to show interest and when teams come knocking, he requested that he be here in Minot with his fellow Beavers.
"The people that had a major impact on me during this experience were my parents, coaches, and teammates. Just knowing that I have the support from all those people really gave me the confidence I needed to take on this process. Having a party like this means everything to me. I remember calling my parents before all this happened and telling them I do not want to come home for the draft. I want to be here with my Minot family. They totally understood and immediately got a flight here for next weekend," Gutierrez said.
Play alongside Sebastian these past several years has been an honor. He is an amazing football player on the field and an even better man off the field. I am ecstatic to share this moment with him next week and excited to see where this journey takes him next. Whichever NFL team picks him can expect my purchase order for his jersey as soon as possible.