Olson's Decorations and Light Show
MINOT – Part of what makes Christmas is the endless houses decorated with shining lights. One couple has been taking lights to a whole new level for two decades.
Barry and Judy Olson are in their 20th year of setting up Christmas trees, inflatables, and other light displays that dance to music in their yard at 1500 52nd Avenue Southwest.
People can drive by their house and tune in to 94.1 FM to see how the lights are synchronized with the music. The show has been going since Thanksgiving night and is scheduled to continue through New Year's Day. 

Barry Olson explained how he makes that happen.
"Every one of those boxes out in the yard, those are computers," said Olson. "I program it on my computer. I can hook it in directly, or I make a card, and then I have the music, and that sends a message to each computer of where and when you come on."
The Olsons have 120 channels, which they can program each one for each 10th of a second.
"When you program this, ok I got this note, now what do I want a hundred different things to do," explained Olson. "Once you kind of get to it. it's not that hard."
"It's still time consuming," laughed Judy Olson.
Though there is new technology that can make it easier, the Olsons decided it wouldn't be worth it to start all over and buy new equipment.
Judy said her husband used to hate Christmas.
"Inflatables changed his mind," explained Judy Olson. "And big toys."
The Olsons were able to upgrade to a remote that turns everything on from inside the house, where before they would have to go out and turn on each display.
"He didn't mind doing it but I'm like, I'm getting the remote," said Judy Olson.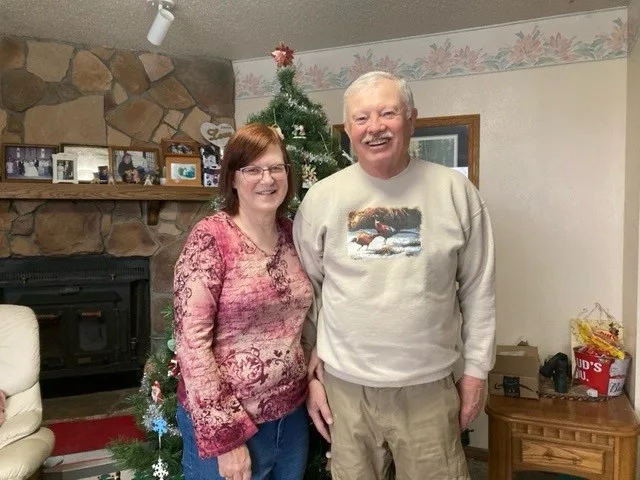 If wind is coming from the south, the Olsons have to deflate the inflatables, but the rest of the light show remains.
"If it's coming from the northwest, the house blocks it," Barry Olson explained. "If it's coming from the south it looks like things are going to take off."
The Olsons have tried several different types of displays, some that have worked and some that haven't. One was decorating the 30-foot trees next to their house, which would often blow off when the wind came.
Barry Olson was inspired to put on the show after watching a Trans Siberean Orchestra video online.
"I thought, that's some pretty neat stuff there," said Barry Olson.
"He'd watch it again and again and again," smiled Judy Olson.
The Olsons have been asked even as early as July if they are putting on their show. The first couple of years, before anyone knew about it, the Olsons said there would be lines every weekend backed up to the YMCA.
"People would be driving down the road and see the line of cars, and they wouldn't even know what was going on," said Judy Olson. "They'd get in the line because they figured something's happening! He'd dress up as Santa and make me be the little elf handing out candy canes and stuff. We'd ask them if they had their radios tuned in, and they'd say, radios tuned? And that's how we knew they just joined the line."
Now that more people know about it, the traffic is less throughout the nights, though Christmas Eve and the night that the Holiday Train comes to town are still their busiest nights.
Since the lights are LED, the electricity bill doesn't cost the Olsons too much. With ten thousand lights on just the dancing trees alone, Barry said it doesn't take more power than a light bulb in their house. But with many people wanting to give money to the Olsons for their show, they have thought about taking donations for a charity.
"But then you get into which charity do you give to?" said Barry Olson. "To the people that want to give money, we just tell them, give it to some charity that you believe in, and that's best."