Match-up Returns to Herb Parker Stadium
MINOT — Sixty minutes wasn't enough to decide the victor in last weekend's battle between Minot State and Southwest Minnesota State. As the clock hit triple zero the Beavers and the Mustangs were knotted up at 20. Down 10 with just over 5 minutes to play in the 4th quarter, Minot State mounted a comeback that included a late touchdown run by Ali Mohammad, a successful onside kick, and a drive that led to a game tying field goal by Dillon Fedor.
Unfortunately for the Beavers, their fortune ran out in overtime, falling by a final score of 27-20. Despite the heartbreaking loss, Head Coach Mike Aldrich was proud of how his team fought.
"The main thing I said to the team right after the game was that I was disappointed that we lost, but I wasn't disappointed in them. I thought our effort was really good. You know, we fought really well down 11 at the half to pull ourselves back into that game," Aldrich said.
Aldrich didn't want seven plays in overtime to take away from what the team had accomplished last Saturday night.
"It wasn't our best to series offensively and defensively. But if we just worry about that, then we don't see all the success that got us to that point," Aldrich said.
Since the opening game of the season the Beavers have struggled to come out the gate early in games.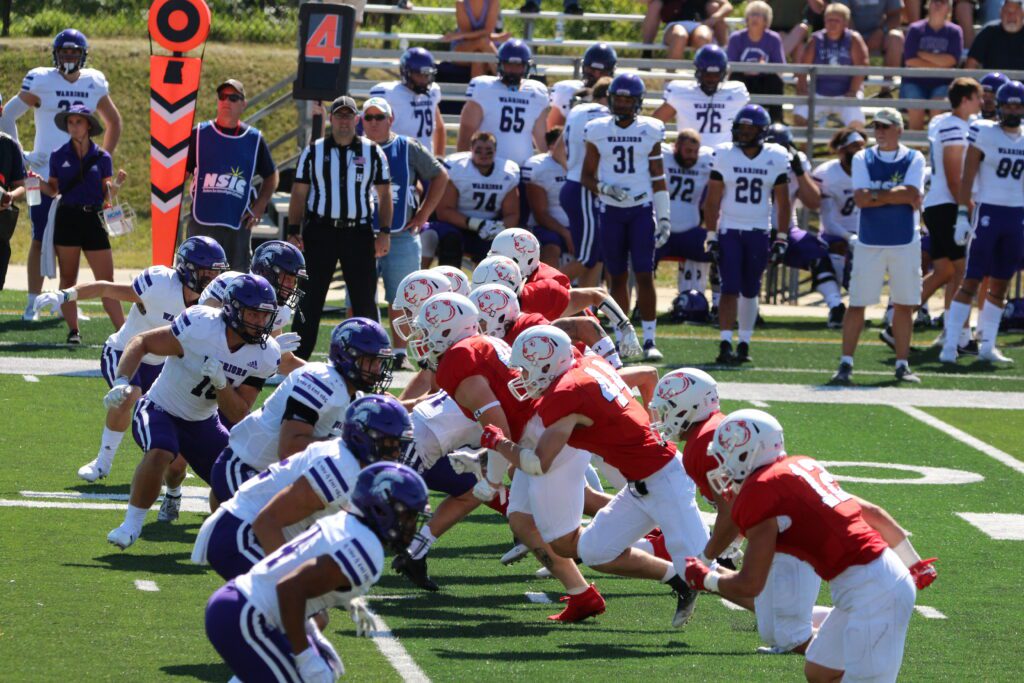 "I felt like we started slow and that's, I think, one of the biggest challenges right now. How do we get us to start fast or earlier, have some more success?" Aldrich asked. "So we're not trying to take a shot in the chin and pick ourselves up off the mat and then start fighting, you know, can we come out right away and really play our best early to try to give ourselves some chances and put the other team in an uncomfortable position as opposed to us always kind of being in that role." 
Minot State has an opportunity to build off their performance against Southwest and use that to come out fast against a good Bemidji State team. The Beavers of Bemidji came into the season as the top team in the North Division of the NSIC. In part due to their Harlon Hill finalist quarterback Brandon Alt and All-American wide receiver Brendan Beulieu. The Minot State defense is tasked with stopping this high-powered offense.
"Yeah, I mean, that's Bemidji. They've got a very potent offense. You know, I think their passing game gets a lot more credit than their run game does. And I think their run game is really pretty good. So we have to be really strong at what our fights are and so that we don't let the run game bleed us to death," Aldrich said. "And I think we've just got to understand that discipline is key, meaning that we've got to commit the right people to stop the run, but we can't overcommit to it. Because that's when that pass game heats up. They'll throw the ball a ton. We know it doesn't matter what the scoreboard says or the situation. Their threat to throw is always pretty strong."
Bemidji wants to throw the football and they want to get their top receiver heavily involved in the offense. This will leave opportunities for Minot State to take advantage of them forcing the ball down the field.
"Their quarterback, you know, is between 40 and 50 attempts a game but because that he also is going to give us opportunities as well for turnovers and things like that and, if we can get off the field and get the offense back on the field I think it is really the best recipe for success. Their number one wideout, he's going to get his targets and he's going to get the ball thrown to him," Aldrich explained.
Last time these two teams met, it was a breakout game for many of the Beaver offensive players, specifically quarterback Dawson Macleary, who broke the school record for passing yards in a game with over 400 yards. Minot State wants to run the football, but with a revolving door at offensive line due to injury, the passing game is going to need to be leaned on.
"We've got three starters from last year that aren't on the team this year. So all those new guys trying to come in and get reps and we've started three different guys at one of our positions, you know, through four games. So that doesn't really add well to the cohesion, and that group of five really needs to be a cohesive group," Aldrich said. "But with all that being said, we also have to look at what's been good for us. I know there's been some things that showed up last week in the passing game that that we want to try to get to."
Last year's opening day starter at quarterback, Ben Bolinske, is back after a broken collarbone injury and in a new role at wide receiver. Minot State looks to get him more involved in the offense.
"We've got to do some more stuff with Bolinske out there. You know, he's been a number two coming in and he's done some good things, but we've got to try to get him on the field a little bit more. And that's going to mean there's going to be some more four wide receiver sets than probably what our tendencies have shown in the first four games. Give our quarterback an opportunity to throw the ball around a little bit, not beat our head into the wall trying to run the ball just because we want to," Aldrich said.
Last time the Battle of the Beavers took place, it was a shootout between both offenses. Expect much of the same this Saturday when Bemidji State comes to town. Kick off is scheduled for 1 p.m.