Weed Problems Continue
MINOT – Weeds appear to plague parts of Minot as commissioners of Ward County discussed Tuesday how to deal with a property that is within city limits but not part of the city.
An abandoned, weed-filled property just south of Erik Ramstad Middle School has caused an annoyance to several of its neighbors who are within Minot city limits and must follow the city's nuisance regulations. This property, however, has not been annexed into the city, leaving the discussion up to the county. The county can only step in if the weeds are noxious or a health hazard, according to Dana Larsen, Ward County highway engineer.
Several Ward County commissioners took a look at the property several days ago.
"That weed up there is common tansy, it is not a state-listed or county-listed noxious weed," said Derrill Fick, Ward County weed control officer. "It's a nuisance weed, of course, but it's not a noxious weed."
However, Fick guessed there are probably noxious weeds in the property that aren't visible.
"I did walk out in there a ways, and I can't imagine there's not a number of noxious weeds out in there," said Chairman Jim Rostad. "I saw all kinds of weeds."
Doug Diedrichsen, Ward County planning and zoning administrator, said even though the property is not part of the corporate city, because it is within city limits he cannot do anything about it, and it falls under the jurisdiction of the city zoning.
"You'd have to go to their planning and zoning and lobby for ordinances to cover that," said Diedrichsen. "If you were to go to the city, I'd recommend planning commissioners that are from the city appointed to our planning and zoning board and discuss it with them, using that as an avenue to approach the city."
Diedrichsen added that if the county were to make an ordinance on this, it must apply across the whole county where he said there are probably several other unnoticed properties like this that aren't a problem because they are in the country.
"This is only in the spotlight because it's right there in the neighborhood where people are developing adjacent and the annexation took place everywhere else and they left this piece out," said Diedrichsen.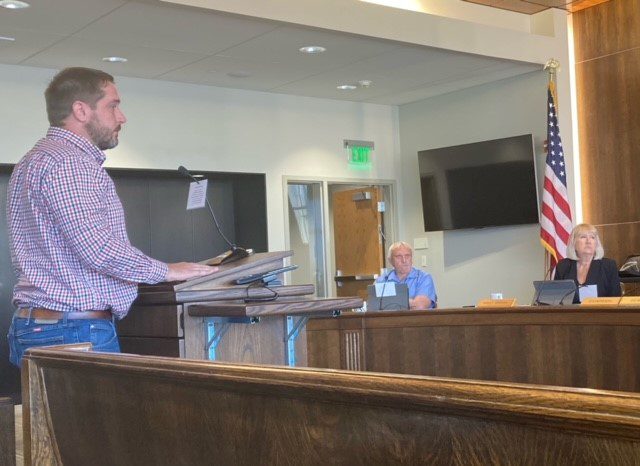 Commissioners were concerned about taking action on this property, that it would mean dealing fairly with similar properties across the county.
"Then you have another one added to the list," said Commissioner Shelly Weppler. "As we were standing up there, I looked and there was a field full of it on the east side."
"Whatever you adopt here, you'd have to apply to a property out by Berthold, or a property out by Douglas, or up by Kenmare so it would be uniform," said Larsen.
"Would it be discriminatory to say only in residential neighborhoods?" Commissioner John Fjeldahl asked. "You probably don't get these complaints out in the country."
Rostad said he sympathizes with the frustrated owner of the property next to it.
"I'd be the same way if that was my neighbor," said Rostad. "This is so thick. I think it could be a fire hazard. It concerns me."
Commissioner John Pietsch said he doesn't understand why the owners can't be notified and a process take place for the county to eventually deal with the property, assessing it to the owners' taxes if they do not respond.
"We have other areas in the country that probably have similar weeds, but when you're in an area we have to look at public health and safety, and they're probably not a public health and safety risk when they're out 20 miles in the country someplace," said Pietsch. "But when they're in a residential area where you've got little kids, and we don't know what's all in there. It is a concern to public health and safety."
Fick said he would start the process by contacting the owners of the property, saying the process as a whole will probably take about 21 days.