One Tree at a Time
MINOT – Christmas trees can be beautiful to look at, but thanks to Buy a Tree Change a Life, they can also help those in need.
Dani Clements, site director for the fundraiser and outreach coordinator for Eagles Wings church, said the fundraiser was started in 2012 in the southern part of the country.
"There was a family in Florida that wanted to adopt a child from Ethiopia," said Clements. "The church rallied around them and decided to sell Christmas trees. They raised $25,000 for the adoption, and from that they founded this non-profit."
With 68 host sites nationwide this year, Minot is the only one in this part of the country hosting a tree sale. There are sites in 21 states this year.
"We got 330 trees, and there's some sites that get like 1,500," said Clements. "They're all Fraser firs this year, and they're higher quality trees, from a higher quality farm. They're good to last through Christmas."
The trees for Eagles Wings' event are donated from a farm in Michigan, with both the trees and shipping paid for by local sponsors. Profits for all the sites are divided in half, with one half going to the global organization People for Care and Learning, and the other to a local non-profit.
"We give to Minot Youth for Christ," said Clements. "This is our second year with Youth for Christ."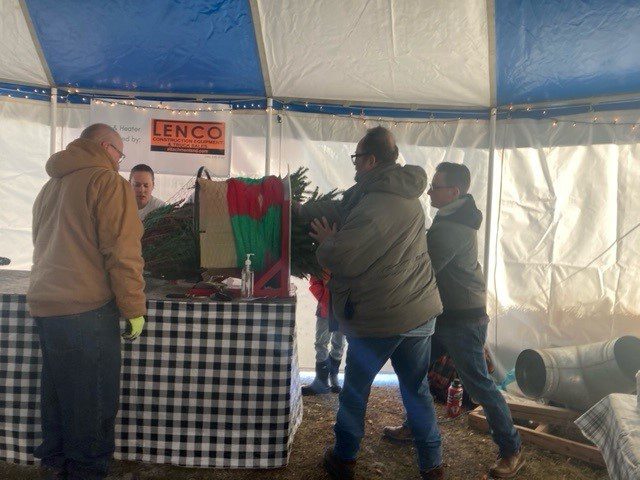 Having hosted the event for seven years, Eagles Wings usually sells all of its trees within the first ten days of being open.
The trees will be open for sale on Black Friday and the following Saturday, November 25-26, 9 a.m. to 6 p.m. After that the tent will be open Sunday through Friday, 12 p.m. to 6 p.m. until the trees are sold out.
"We'll be out by December 9 is my plan," said Clements. "For people who don't need a tree in their house, we have a military tree, and you can grab a tag and buy a tree for a military family in need, and we ship them to the base. Last year we gave more than 60 of the trees to military members."
Thanks to the sponsors, Eagles Wings did not have to raise its prices due to inflation, according to Clements, who said there are some sites that had to raise their prices. Tree prices vary depending on the size.
Sponsors this year are Lenco Construction Equipment & Truck Sales, Scheels, Century 21 Action Realtors, Magic City Oil, Jessen Roofing, Hometown Radio Group, Schock's Safe & Lock Service, Liechty Homes, KFLK The Flock, Convenience Karma Stores, and Country Financial.
Last year Eagles Wings raised about $30,000, and Clements says it's on track to raise even more than that this season.
Clements also said it takes a lot of volunteers to put the fundraiser on.
Clements, who is in a military family and moved to Minot two years ago, described what it means for her to host Buy a Tree Change a Life.
"The community here is just so different than anywhere we've been," said Clements. "To see people walk up and say, hey, I want to gift you this money to give out a tree, which then is also helping the organization, it's just so huge to see the good in people, even in a hard year we've had with inflation."
Buy a Tree Change a Life is Eagles Wings largest fundraiser of the year. More information on the project can be found on its website.