Polling sites busy
MINOT – Activity appeared to be brisk at two polling locations in the city this Election Day, but the total number of voters filling out ballots won't be known until after the polls close at 7 p.m.
At mid-morning at the State Fair Center one poll worker described the number of voters as "very steady". Another, when asked if it was busier than expected, replied, "Oh yes. Oh yes."
Ward County Auditor Marisa Haman, tasked with overseeing the election process, talked with The Dakotan about Election Day voter turnout.
"It goes in spurts. There's a lot early in the morning and then kind of goes steady for a while," said Haman. "At lunchtime it seems like it picks up for a while and then slows down a little bit. The busiest time is probably between 4:30 and 7 p.m. People wait until they are off work."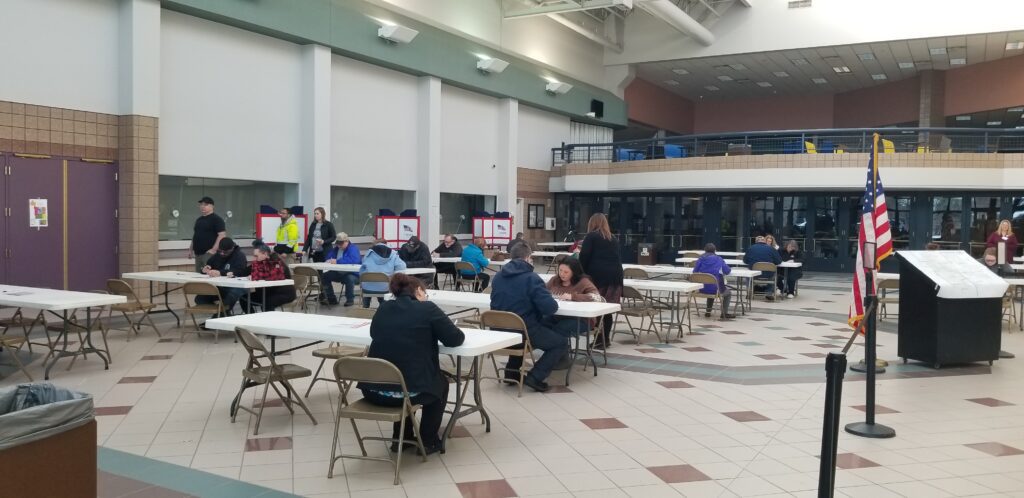 Early results can be expected to be reported between 8 and 9 p.m. Results, said Haman, will be posted on the North Dakota Secretary of State website "within 15 minutes of us getting them."
The number of Ward County absentee ballots requested this year was 2,603, far less than the 6,357 sent out in 2018, the last non-presidential election. In that year 97% of the absentee ballots were returned. This year, said Haman, 2,467 absentee ballots, or 95%, were returned as of Tuesday morning.
"We'll get some more in the next couple of days and those will go to canvassing," said Haman.
Absentee ballots must be postmarked no later than midnight prior to Election Day.
The number of early votes cast at the Ward County Administration Building this election was 5,014. That compares to about 5,200 early votes in 2018, an election that saw just over 24,000 total votes cast in Ward County.
At late morning Tuesday Haman said the election was going smoothly, just the way she hoped it would be.
"I like quiet election days. Those are good days," remarked Haman.