MINOT – Horses and cows and goats, oh my!
Young people from all over the state brought many different 4-H animals to show at the North Dakota State Fair.
Granville man Will Bachmeier, 17, showed nine goats that were so healthy they all won the overall championships for their divisions.
For goats, there are three categories: Senior Does, any doe in with milk, Junior Does, any doe a year or younger that hasn't given birth, and Bucks, male goats. Each of these categories may be broken down into different breeds depending on how many breeds are in the competition.
Each of the breeds has a grand championship and a reserved championship. The grand champions of each breed compete against each other for overall champion of their category.
Bachmeier, with three senior does, four junior does and two bucks, went away with the overall champion in all the Senior Doe, Junior Doe, and Buck divisions.
"I got all that I could," said Bachmeier.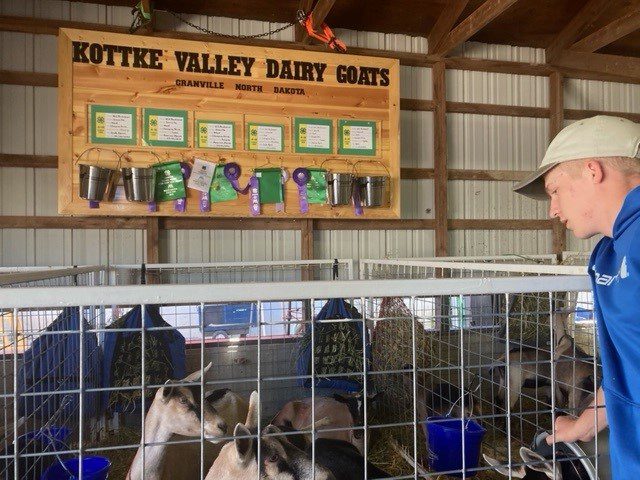 Since Bachmeier won the overall Senior Doe division, he is scheduled to compete in the Leadership Showmanship Contest at the All Seasons Area Friday, where state leaders will be paired with a 4-H'er to learn from them how to show the animal.
"The 4-H'er should train them, and then the 4-H will be the judge. I will be representing the Senior Dairy Goat champion," Bachmeier explained. "They're doing it for all the species except for swine. I think Governor Burgum will be there. There will be legislators there."
Though Bachmeier has been showing goats since 2016, he said he has been working at it more seriously since 2020.
"I'll start a goat from the time it's born," said Bachmeier. "It's really important to train them when they're young. You'll start the process by taming them."
Bachmeier explained that he tames them with a collar and leads them like a dog. The goats are also forbidden to have horns.
"You have to disbud them when they're young, otherwise you'll get disqualified," said Bachmeier. "Give them standard grooming, washing and shave the udder. For a dairy animal, you're really feeding them for condition. You look at they're condition, and if they're too fat or too skinny you'll adjust it accordingly."
Bachmeier said he has had a lot of years of trial and error.
"It's finally paying off," said Bachmeier.