HORACE — They made a bold statement at the start and kept it going until the last clay was broken. Make it consecutive Clay Target State Championships for South Prairie High School.
All eyes were on defending state champion South Prairie from the time they arrived at the Shooting Park for the 2022 North Dakota High School Clay Target Championship. South Prairie's first squad responded with a bang.
"All five had perfect 25's. It was the first time our squad had ever run 125 straight," said Coach Wayne Stanley.
The impressive perfect round was just the beginning for the South Prairie shotgunners as they served notice to all watching that they were more than prepared to defend their title.
When the dust from the last broken clay had drifted away and the crowd gathered around the scoreboard, the numbers were stunning. Not only had South Prairie posted the top team score in the state, but they also displayed their depth of quality shooters.
"Our top 10 were just incredible. It was pretty crazy," said Stanley.
South Prairie sophomore Connor Johnson led the way with 100/100. Next highest for the team was senior Ben Lindbo 99, followed freshman Miranda Novodvorsky, freshman Sam Abel, and 8th grader Mathew Abel, all with 97's for a team score of 490/500.
"A 98 average and our next five were 96, 96, 95, 95, 94," said Stanley.
The 490 was eight birds more than runner-up Williston. Johson's 100 tied him with Williston's Clay Ceynar for High Gun.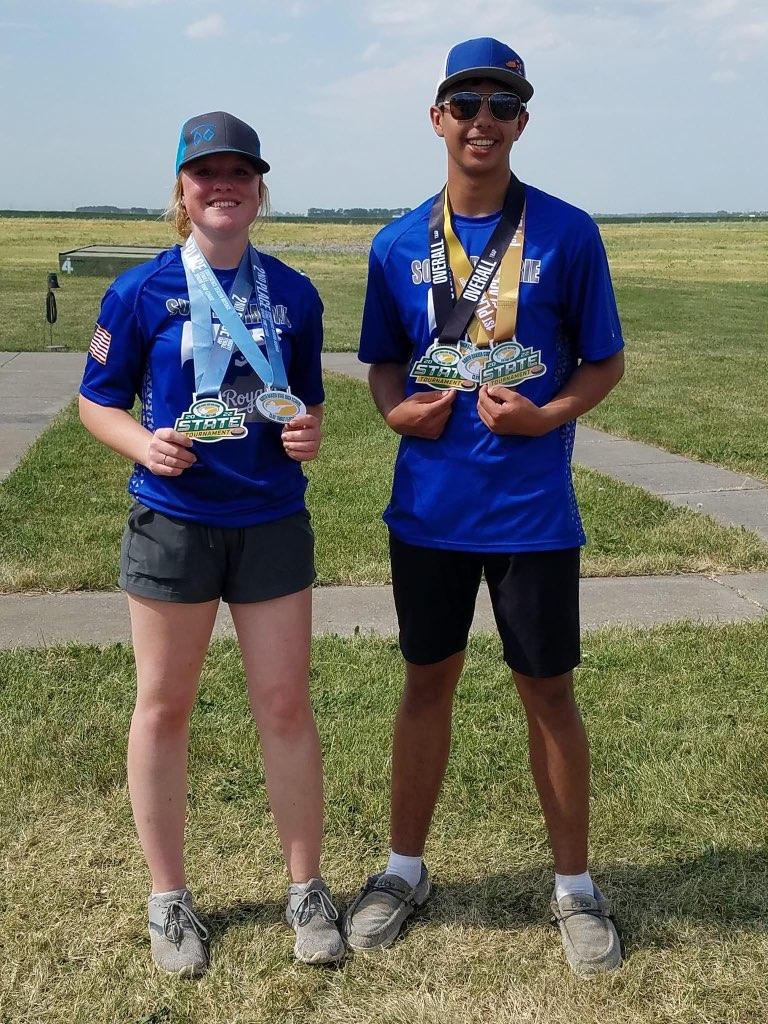 As impressive as the South Prairie effort was, it becomes even more remarkable because the team was minus its number two shooter, senior Joren Brose, who had a previous commitment elsewhere.
"The win is a testament to all the kids that are in the program, sixth graders through seniors," remarked Stanley. "These kids just get better and better."
South Prairie's season isn't over yet. Stanley's team will be making a trip to the High School Clay Target National Championship July 7-10 in Mason, Michigan.
"We're taking 20 kids to nationals, two teams and individual shooters," said Stanley.
The line-up will include Brose as the Royals will be looking to improve on their national performance a year ago when they finished number 10 in the United States. Stanley is hoping the momentum of a 490 and a state title will continue at the shooting line in Michigan.
"Last year we had two squads make the finals," remarked Stanley. "A 490 will win it. Generally, 480-485 wins it. We have a lot of confidence with 12 different kids shooting perfect 25's at state."
Stanley said 240 teams from throughout the U.S. will shoot qualifying rounds at the national championships, with the top 60 teams advancing to the second round.
High School Clay Target Championship team results:
(June 20, Shooting Park, Horace, ND)
1 – 490, South Prairie
2 – 482, Williston
3 – 477, Bismarck Legacy
4 – 470, Bismarck Century
5 – 466, Minot
6 – 465, Wahpeton
7 – 465, Fargo North
8 – 453, Fargo Davies
9 – 441, Fargo Oak Grove
10 – 436, Grand Forks Central