Very few divisive topics have hit centered stage more in college athletics than allowing players to receive financial compensation for their play. For years the NCAA has argued that paying players transcends the athletes from amateurs to professionals. This has changed with the new Name, Image, and Likeness (NIL) rule added to the NCAA this year. Athletes are not specifically being paid while a weekly or monthly check like professional athletes, but they can receive financial compensation through the usage of their Name, Image, and Likeness. This means all college athletes are allowed to make money through their promotion and branding with companies.
When the rule first came out, many believed only major Division I athletes from big football and men's basketball programs would benefit from the NIL rule. At most DI universities usually only football and men's basketball programs make money. It would make sense that only the high-profile football and men's basketball players would have a brand big enough to earn NIL opportunities. That is not the case, however; all levels of NCAA athletes can receive compensation. It was recently released that 4 of the 5 highest NIL value at this year's Final Four players in March Madness are women's basketball players.
Division II athletes are also allowed to receive NIL opportunities, they may not be as big as some of the DI athletes are receiving, but these deals can have a big impact on these athletes. Barstool Sports has started a campaign allowing all levels of college athletes to apply to become a Barstool Athlete. Several athletes at Minot State have been given opportunities to sign an NIL deal this year, myself included.
I was fortunate enough to sign 2 NIL deals. For my 2021 AFCA Allstate Good Works Team selection I was given the opportunity to do a social media campaign with Allstate and AFCA to promote the award and in return I was financially compensated. There are also local NIL opportunities here in Minot. For being named the United Community Bank and Scheels Community Athlete Spotlight, I was given a smaller NIL deal with Scheels. It was a much smaller financial compensation, but even a little bit can go a long way for college athletes.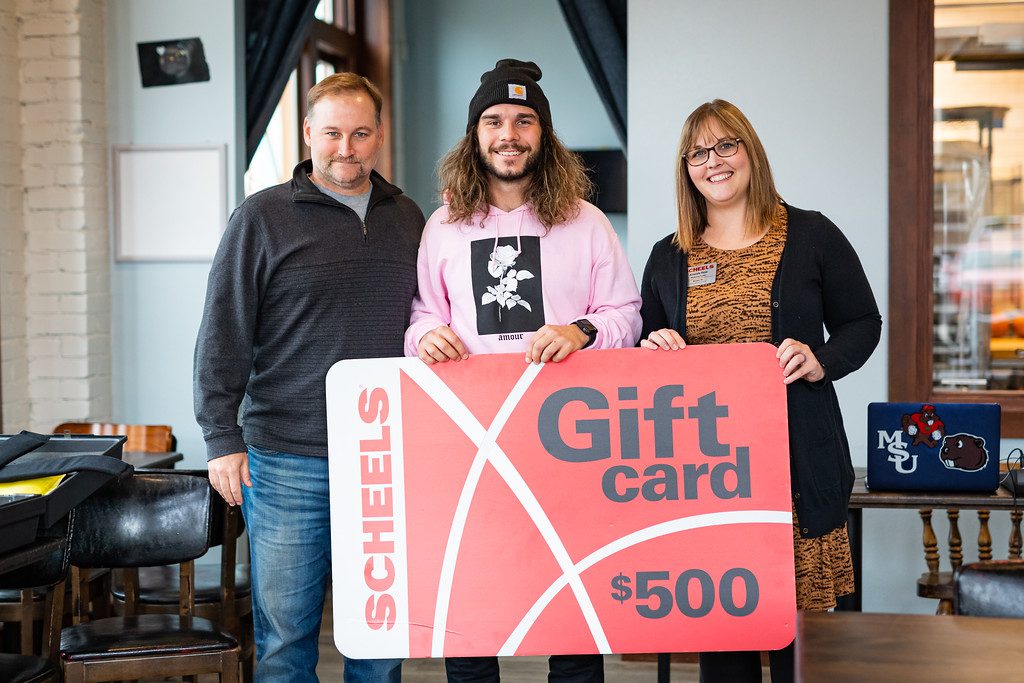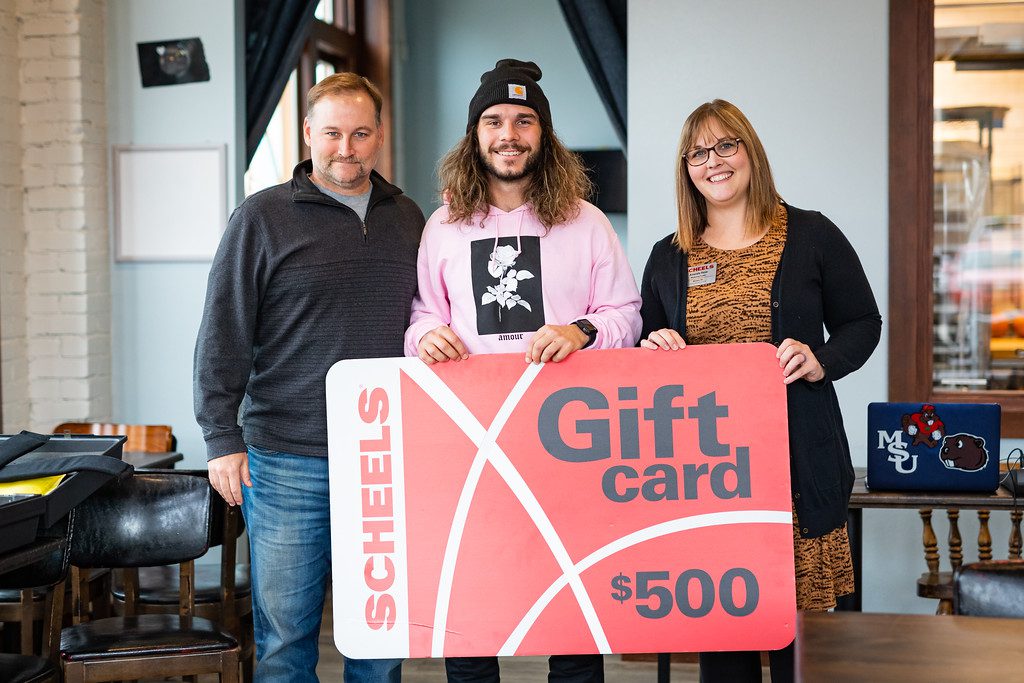 With NIL in full effect, the compliance office for is one of the best resources athletes have to gain a full understanding of NIL and maximize their opportunities. When the rule passed, the NCAA put out universal restrictions and then tasked each university with setting their own guidelines. At Minot State Madeline Schorlemmer, the Assistant Director of Athletics, Compliance and Student Life, is the major resource for MSU athletes when it comes to NIL.
"The Minot State Athletic Department developed a NIL Policy which mirrors many of our conference schools and can be found on msubeavers.com. This policy outlines the do's and don'ts of NIL opportunities. Our student-athletes need to be aware that there are still NCAA policies in place that NIL does not condone, such as pay-for play, inducement, and partnerships with gambling/sports wagering vendors. In addition, per Minot State's policy, NIL compensation opportunities must not conflict with academic or team related activities, nor can our student-athletes utilize our athletic facilities to promote their NIL opportunity. Additional institutional restrictions can be found in our NIL policy online," Schorlemmer explained.
As NIL begins to gain traction, there are several things athletes should consider before signing any deals, and Schorlemmer is the resource MSU athletes should look to first.
"It's important that student-athletes pursue opportunities that they are passionate about. NIL opportunities should not feel like extra work nor should they cause more stress on a student-athlete's day-to-day life. In addition, it's important that they fully understand the NIL opportunity before signing a contract. At the end of the day, they are still a student-athlete representing themselves and their institution and must follow all policy," Schorlemmer said, "Prior to signing a NIL opportunity, it is encouraged that the student-athlete meet with the Compliance office. Although Minot State employees are prohibited from assisting student-athletes in the negotiation of NIL agreements and cannot facilitate any communication between student-athletes and a party seeking an NIL agreement, the compliance office is more than willing to read through any NIL contract to confirm if the NIL activity follows all policy."
My NIL deals were both one-time deals that went along with awards I was nominated for. On the other hand, several other athletes on campus have signed long term NIL deals. Two of those athletes include Minot State Baseball player and pitcher RJ Martinez and Minot State Track and Field Thrower Leif Nelson.
"My NIL is with Liquid IV. They are a hydration company, and my deal includes me posting them on social media twice a month and I get free liquid IV packages every month," Martinez explained, "got in contact via Instagram. They then had me fill out a form and got in contact with me to tell me I was accepted."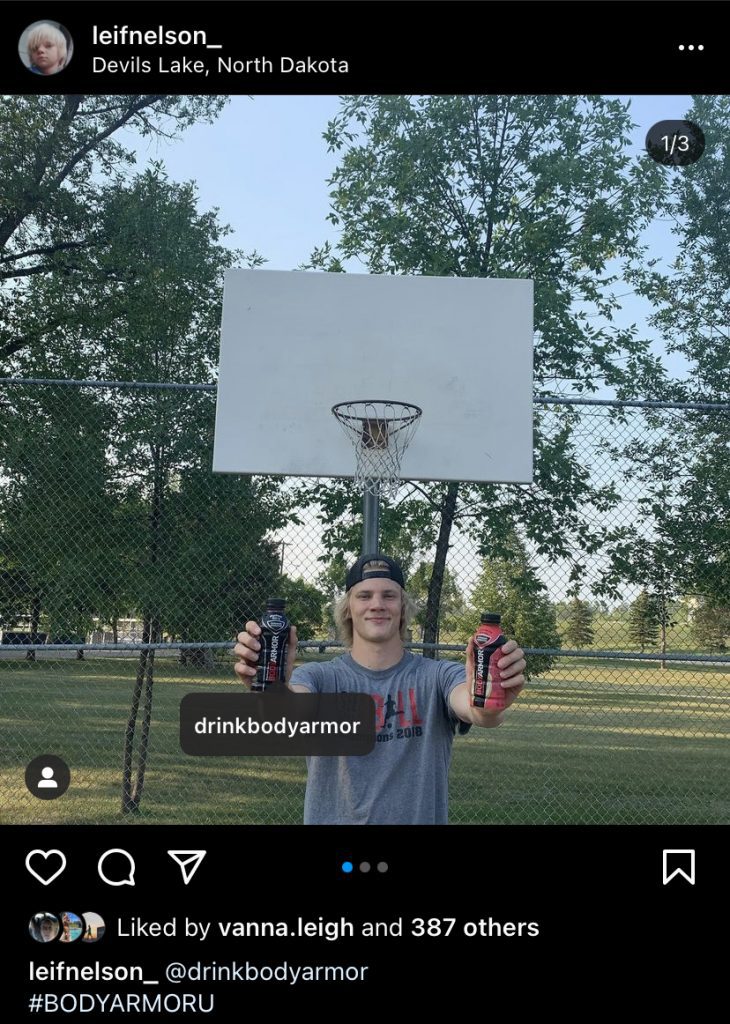 Nelsons NIL deal is also with a hydration company and got in contact with his deal in a similar way to Martinez.
"My NIL is with Body Armor and what the deal entails is if I post on my social media promoting their products, they send me free drinks," Nelson explained, "How I got in contact with Body Armor is through Instagram direct messages."
Nelson was a part of the majority who though NIL deals were only for major DI athletes.
"My initial reaction was I didn't think I had enough followers to get a company to sponsor me. A few weeks later I heard of my teammate getting sponsored, so I talked to him about how he did it," Nelson said.
With NIL in full effect for student athletes, both Martinez and Nelson have seen the importance of NIL; however, they see the importance in different ways.
"I think it is important, because you are finally able to do something good with your own 'brand.' You can find good companies that will help you out and take care of you," Martinez said.
"NIL is important, because it's a way for college athletes to get paid. Most of the time college athletes don't have time to get a job during the school year and if they aren't on full scholarship, they need income to pay for school," said Nelson.
Martinez and Nelson are far from the only athletes on campus with NIL deals, Nelson has several teammates who also have Body Armor deals. For the athletes who have not signed a deal, Martinez encourages them to look into potential NIL opportunities.
"If you are a student athlete, you should try and reach out to any company that aligns with your morals and standards and find a company to partner with to create something bigger than yourself," Martinez said.
NIL is not even a year old in college athletics and has already had a big impact on the NCAA. As the rule continues to ripple within the NCAA and more athletes get in contact with brands, it will be interesting see how it shapes the future of college athletics.