Minot – The Badlands Circuit Finals Rodeo has selected its personnel for the 2023 rodeo.
Headlining the all-star cast are announcers Bob Tallman and Garrison Allen. Tallman, an eleven-time PRCA Announcer of the Year winner, has announced the Badlands Circuit Finals for the past fourteen years. For Allen, Laurel, Mont., this will be his first year.
In the arena, pickup men Ryan Hanna and Donnie Moore will work as pickup men.
For Hanna, of Berthold, N.D., it's his second time to be selected to work the circuit finals; he was chosen five years ago.
"It's fun to get that call," he said. "When you're chosen by the contestants, it's a nice call to receive."
The top twelve bareback riders and saddle bronc riders in the Badlands Circuit, the PRCA shows in North Dakota and South Dakota, choose the pickup men.
Hanna, who farms and ranches with his mother, Gayle, and wife, Susan, works about 100 rodeo performances a year, between pro rodeos, regional associations, and high school rodeos.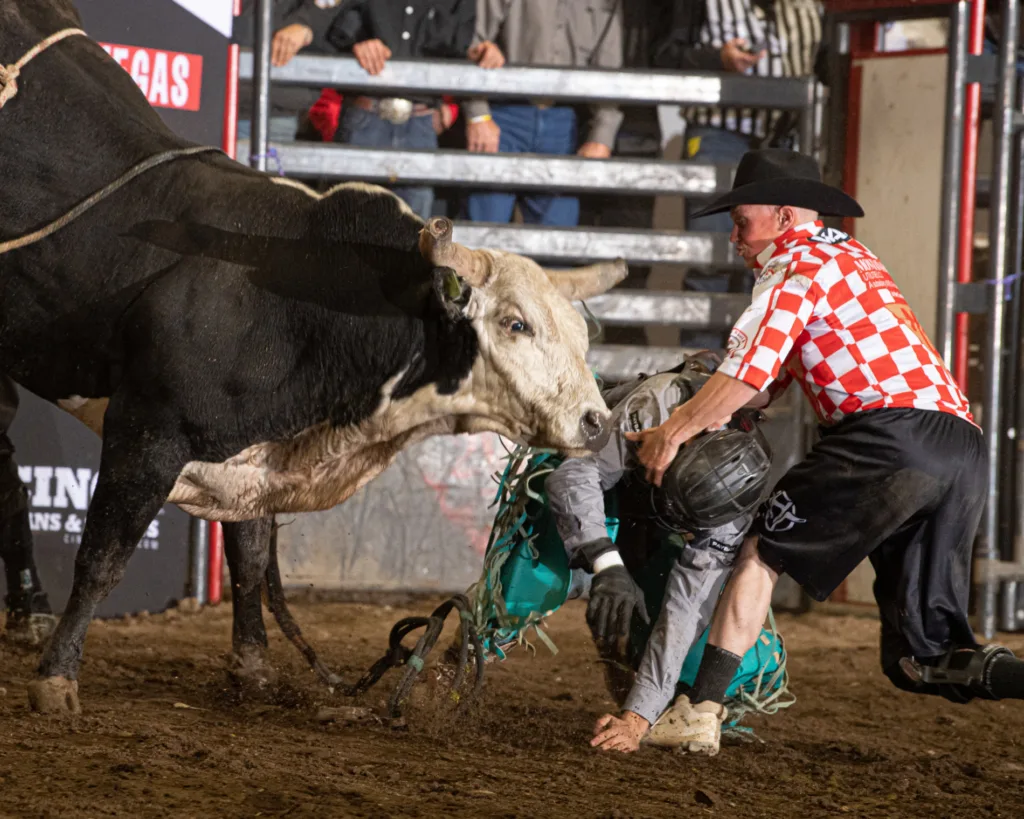 Bullfighters Justin Ward and Gus Kronberg will handle the duties of protecting cowboys during the bull riding.
For Kronberg, Richardton, N.D., it's a dream come true, to be selected to work the circuit finals.
"I was pretty tickled," when he got the phone call, informing him of his selection. "There were a lot of emotions. I was excited, nervous and overwhelmed."
The 26-year-old cowboy was working a rodeo in Montana when he received the phone call. "I was in the middle of a rodeo, and I still had to fight bulls that night. To say I had a hard time focusing was an understatement," he said.
Like the pickup men, the bullfighters are selected by the top twelve bull riders in the Badlands Circuit.

Kronberg counts that as an honor, that those bull riders think highly enough of them that they chose him.
"It's an honor to be selected by those guys you're taking care of all year long, that they think of you when it's selection time, and they pick you."
Rodeo clown Matt Merritt, Olin, North Carolina, will work his first-ever circuit finals.
Timers chosen for this year's rodeo are Missy Erickson, Douglas, N.D. and Brandee Moore, Karlsruhe, N.D. Secretary is Rowena Nelson, Kenmare, N.D. with assistant secretary as Val Lundquist, Gary, S.D.
Returning as photographer for this year's circuit finals is Alaina Stangle, Philip, S.D. Music director is Brad Narducci, Columbia Falls, Montana. Trick rider Piper Yule, Wardlow, Alberta, will work as specialty act.
Hiring good personnel makes for a good rodeo, said Max Weppler, committeeman.
"We hire the best of the best," Weppler said. "We know our fans love to watch rodeo, but they want a smooth-running show and they want to be entertained. That's what our personnel provides."
The Badlands Circuit Finals Rodeo showcases the top twelve cowboys and cowgirls in eight events: bareback riding, steer wrestling, team roping, saddle bronc riding, breakaway roping, tie-down roping, barrel racing and bull riding.
The rodeo takes place at 7 pm on Oct. 13-14 and at 1 pm on Oct. 15.
Tickets are $25 for adult general admission and $10 for kids ages 3-10. Gold buckle seats, the five rows closest to the arena floor, are $35 for all ages. The October 15 performance is Family Day with all general admission tickets at $10.