$3.6 Million Addition
lydia.hoverson@mydakotan.com
MINOT – After providing large homes for lions and tigers, the Roosevelt Park Zoo has renovated a home for the last of its cats–the leopards.
Zoo staff, along with Minot Area Chamber EDC ambassadors, cut the ribbon on the new amur leopard exhibit Friday afternoon as families and kids viewed the new space. 
Director Jeff Bullock said all three cats were housed together since 1970 but a separate exhibit was built for the lions in 2019 and the tigers in 2020.
"Things that we used to do in the zoo business, everything's evolved," Bullock explained. "We should be able to get recommendations to breed with all three species because we've created a space that will allow us to hold more."
The "Amur Leopard Temperate Forest," as the new exhibit is being called, has five yards and outdoor climbing spaces as well as an overhead catwalk.
Bullock became the director of the zoo in April of 2021, and he said by then the zoo had blueprints for the leopard exhibit.
"We changed things up a little bit and went out for a bid probably that fall of 2021," said Bullock. "It's been about a year and half to get it to this point."
The total cost of all three exhibits is about $9.5 million, each one costing about three million dollars, though the leopard exhibit cost closer to $3.6 million because it was a renovation of an existing exhibit.
"After COVID, anyone that's built anything can tell you that prices have doubled in some markets," said Bullock.
Though the zoo has only one leopard, two more are coming, each one about one year old, too young to breed. One is coming from Salt Lake City, and the other from St. Louis.
"We're excited about where we're headed with this," said Bullock. "We finished one chapter. Now we're starting a new chapter."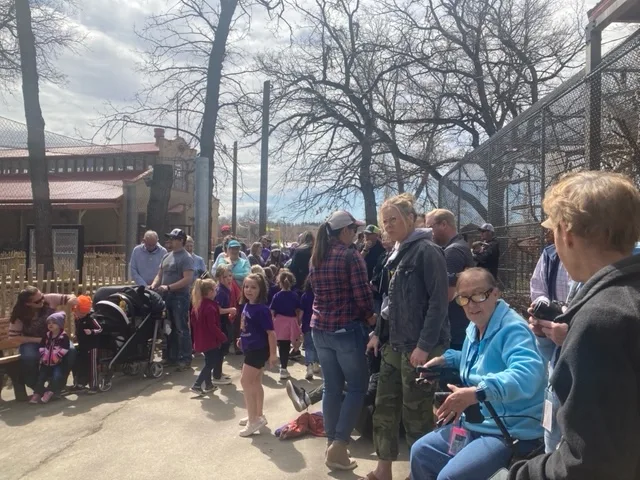 The zoo is working to expand and create a new zoo as it will lose its land across the Souris River due to the flood mitigation project. Contractors will begin building new exhibits later this summer as some animals need to be moved this year.