Playing Ball for Seven Years
TOWNER – Kids from the north central area of North Dakota gathered in the Towner park Monday for some hotdogs, soccer, and grass-stained fun on a cloudy day.
A group of Towner moms, Jessica Kuntz, Johnna Torr, and Mandy Wagner, organized an easy-going kids soccer event back in the spring of 2016 and have been continuing the fun every year since.
With each spring providing about four to five games, the first year of games garnered over 120 kids, and this year 150, some from Towner, Granville, Upham, Newburg, Rugby, Denbigh, Drake, and the surrounding areas. The games are open to anyone from anywhere.
Every year parents can sign up their pre-K to sixth grade kid for $10 to join a team within their grade range. Each kid receives a "Towner Soccer" T-shirt specifically colored to distinguish their team. No official practice is required for the kids.
"We send out the registration, they tell us what grade they're in, what sized T-shirt they want, then we sit down and put them all in teams," said Kuntz. "We've had a lot of let's take notes on how we're going to do this better for next year."
Of course, the weather in North Dakota springtime can be anywhere from rainy, snowy, hot, and humid.
"I've been out here in shorts and T-shirts, and I've been out here in snowpants, long johns, and a heated vest," Kuntz laughed.
The Dakotan spoke with four Kramer siblings of Denbigh who are John, 11, who plays on the "Knights" team, Alyssa, 11, who plays on the "Warriors" team, Ryanne, 9, who plays on the "Thrashers" team, and Hazel, 7, who plays on the "Cowboys" team. The Kramer kids said they really enjoy the games. John and Alyssa Kramer have been playing in the soccer games for three years.
"We just come here and we play soccer," said John Kramer. "And we get T-shirts. Alyssa and I are in the fifth and sixth grade teams. It's fun when you beat your sister's team."
"It's really fun," said Ryanne Kramer. "Though it's not fun when you get hit in the leg with the ball."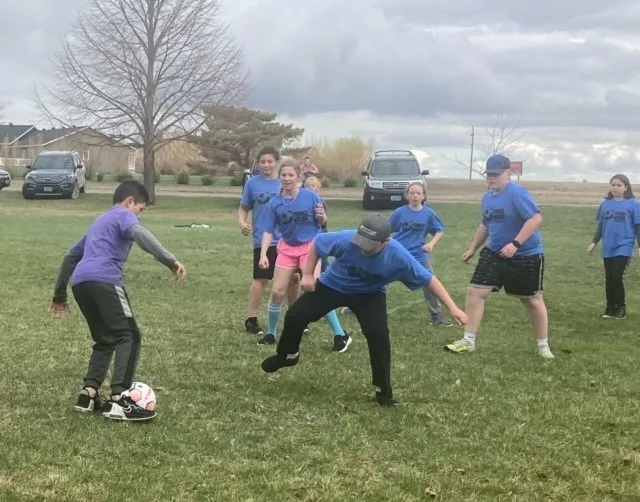 Kuntz said she, Torr, and Wagner are hoping to pass the torch to other parents to organize the soccer games, as most of their kids are aged out. However, the neat thing about kids who aged out is most of them end up helping out with coaching, reffing, and other volunteering. Moms and dads also volunteer.
"We organize it, but there's no way we could do it without the volunteers," said Kuntz.
As far as concessions go, sometimes the moms run it themselves and keep the proceeds, but Kuntz said many times other organizations such as the fire department, FFA, and 4-H will cover that part and keep the proceeds. On Monday the Towner volleyball team ran concessions.
"Any organization that's willing to come in, if you want to fund raise, you run concessions and keep the proceeds," said Kuntz.
The last soccer game this year is scheduled for this coming Saturday night for Towner Soccer's "Super Soccer Saturday." Towner soccer moms are also planning a basketball, football, and volleyball camp at the end of May at the Towner school.

More information can be found on the Towner Soccer Facebook page.