Towing what they can
MINOT – Yet another storm has hit Minot, and this means more work for the plow operators, the tow trucks, the auto body repair shops, and more.
The Dakotan contacted a lot of these, but unsurprisingly couldn't get a hold of many.
"The ice had been very treacherous," Judy Perterson observed, part owner with her husband of R & J's Towing. "This is normal. Every year we go through this, we have to turn down calls, there's so many we can't get to them all. It's hard to put a number on it, there's just calls all the time. In fact I gotta get going, I got another call coming in right now."
Ole Olson with Ole Olson's Towing & Recovery said this seems like an odd storm, having been going on for days.
"We've got three trucks tied up in Fargo, and they're headed to Jamestown, so they're going to be tied up there," said Olson. "There's lots of accidents, and a lot of them we don't even get to if they're off the road. We're just trying to keep the roads clear for the police."
Olson said Highway 52, especially around Carrington, has been one of the worst roads this storm, and known to be every year. Even though it was closed as of Wednesday night, his trucks were out there that whole night, and didn't get to all the wreckage. 
"The road shouldn't even be open as far as I'm concerned," said Olson. "It's not safe. I just talked to one of my drivers there, and there's three of them there. They went from Fargo to Jamestown, they stayed over because everything was shut down, and now they're talking about they might not even open. There's a lot of people stuck. All I can say to them is I'll put you on the list."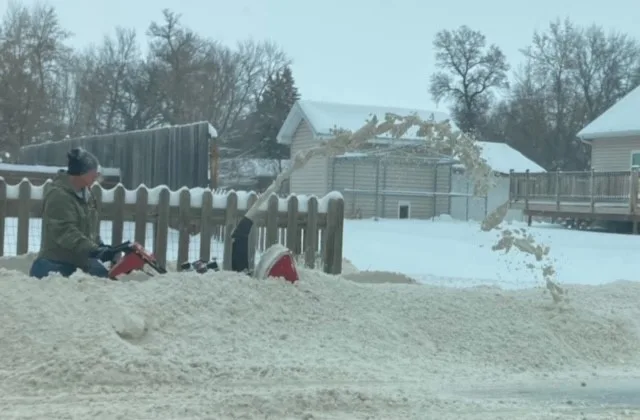 Gary Lawrence. manager of NoDak Towing & Recovery, said the accidents have been slower this storm for him than usual.
"People are actually driving like they have sense," said Lawrence. "It's been here and there, but it's been little fender benders, or they'll break a headlight, we haven't had anything super crazy yet."
Lawrence agreed the highways are usually the worst, as well as the bypass.
"It doesn't get bad until the ditches are full," Lawrence explained. "Right now, people with four wheel drive and common sense will be able to drive out. When the ditches get full, that's when you get the bigger accidents, the high speed roll-unders. Later in the year the accidents get a whole lot worse."
Though Minot reached 4.9 inches of snow as of midnight Wednesday, it's far behind its race with Bismarck, which is taking the lead in the state so far with 12.2 inches.