Labor Day Weekend
PARSHALL– Challenges have arisen all season for Roughrider Rodeo contestants. Whether it be recovering from last year's drought to the spring storms, to an increase in fuel prices—nothing stopped contestants from putting their best 'boot' forward this past 2022 rodeo season.
"Cowboys and cowgirls are resilient. The people, fans and contestants are always thankful for rodeo in general and this association, but they are even more grateful this year," said Missy Erickson, Roughrider Rodeo finals co-secretary.
Healing Horse Ranch, Parshall, hosted the year end Roughrider Rodeo Finals this past Labor Day weekend September 2-4. Providing another excellent venue with three days of rodeo, stalls, rodeo contestant amenities, and vendors, the finals went off without a hitch.
Head secretary of the Roughrider Association, Mary Carlson, kept things running smoothly throughout the finals and the year with nearly forty years of the title, 'rodeo secretary' under her belt. The season began in Minot back in April with the first spring rodeo and continued through the summer. The association hosts ten open rodeo events and similar in the junior and novice divisions. It's a family orientated rodeo association that was founded in 1981, in North Dakota. Stacy Cahoon is also a secretary for the association.
"I absolutely loved having the finals here at Healing Horse," exclaimed Tanner Waznick of Stanley. The year end Tie Down Roping Reserve Champion fought through the finals and last few rodeos with a torn ACL, postponing a needed surgery until post-rodeo season.
Waznick said that despite the injury, which was painful, the season has been great. Representing North Dakota tough, he showed the crowd you can't keep this cowboy down. He roped and tied all three of his calves down at Healing Horse Ranch, winning second in the average and intends to do the same at the upcoming North Dakota Rodeo Association Finals.
Lori Nelson finished up the Open Ladies Barrel Racing Reserve Champion for the 2022 season.
"I feel blessed every run I get to get on Fame," said Nelson. 'Fame' is a nine-year-old gelding by Dash Ta Fame and has had an incredible season. The team's next stop will be the NDRA Devil's Lake Shootout then onto the NDRA finals in Watford City where they are currently ranked in the top five.
Nelson added," "The crew at Healing Horse is outstanding. Behind the scenes, during the rodeo and around the facility-they have been outstanding."
Kristi Thorson, Towner, said that she hadn't been to a Roughrider Rodeo Finals since 2004.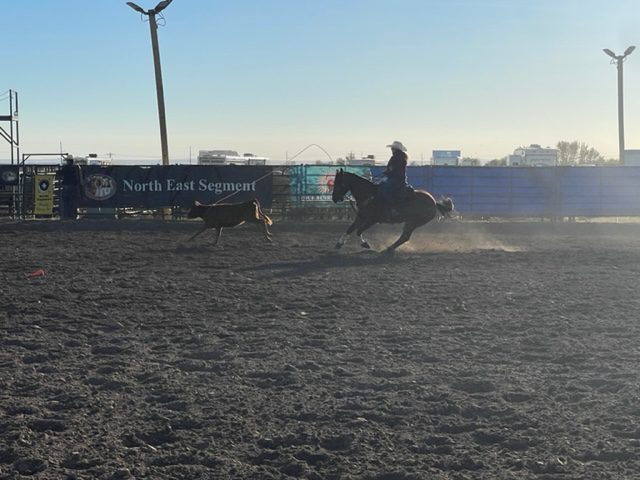 "I feel like I'm winning by just getting to be here. I couldn't be happier to be in the ladies breakaway roping at these finals, it's kind of like Serena Williams would say-after a big break, it's already a win," added Thorson.
Dylan Knight, 7th grader from Beulah, took home the Novice Barrel Racing Championship.
"My horse felt better than ever at the finals," Dylan said, "I really like to compete in the barrel racing and the breakaway roping at these rodeos."
Dylan is riding an eight-year-old mare by Fire Water Flit and some 'cow' bloodlines. She explained her and her mom have finished her on the barrel pattern and look forward to competing in the junior division next season and the junior high rodeos. Dylan plays basketball for Beulah as well as swings a rope most of the short, off season.
"We enjoy the Roughrider rodeos and the opportunities it gives our kids. We are grateful for that and make these rodeos a priority to get to during the season," said Dawn Carson. Carson and her mare, Flo, smoked the clock and set the fastest barrel racing time of the weekend, 15.171 seconds.
Flo is a home raised mare hosting the registered name of DC Down Home Queen by Frenchmans Mito Dew.
"This mare took most of the load this summer. I haven't switched horses or gave her much of a break; the season has been all her," added Carson. And—shining– the duo has been, from Roughrider rodeos, MHA Rodeos, jackpots and now siting top three in the NDRA-this team will be making their marks for years to come.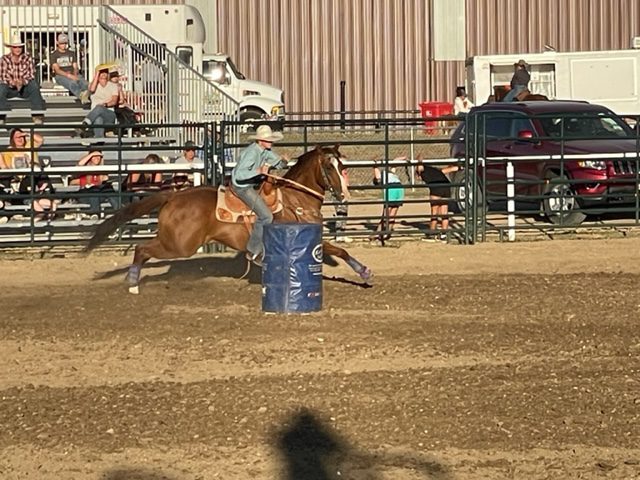 Zane Wagoner, Arnegard, was the JR Bull Riding Finals Winner, JR Bull Riding Reserve Champion, JR saddle Bronc Finals Winner and JR Bronc Riding Champion. "These finals were tons of fun. I am super glad I was able to participate. The Wild Man horses were great, they have a good selection for all ages and skill sets. You really couldn't have a better setup for the rough stock end of things," exclaimed the young cowboy.
An awards banquet for year end champions and finals champions will be hosted this winter. For more information or to join, please visit: www.roughriderrodeo.com