ND Mounted Shooters keeping it 'Old School'
Equine mounted shooting is one of the fastest growing equestrian sports in the country. While riding a horse, contestants compete in this fast-action timed event, using two .45-caliber single-action revolvers loaded with five rounds of blank ammunition. Following a variety of patterns, while shooting at balloons, the event is scored based on time and shooting accuracy.
North Dakota competitors, also known as shooters or shootists, are making a mark for themselves at the national level. Amarillo, TX, hosted the Cowboy Mounted Shooting Association World Show this past October 12-16, where North Dakota members did more than hit the bullseye.
Jason Erhardt-Bismarck-American Quarter Horse Association (AQHA) Amateur World Champion, Keith Benz-Bismarck-third overall Amateur AQHA Champion, Jaye Kukowski-Williston-Senior Ladies 3rd place, Kay LaCoe-Bismarck-Ladies 3rd place, and Amy Senn-Wilson-Ladies Level 2 top ten finisher, and Steve Kukowski-Williston-Senior Men's Level 2 top ten finisher, just to name a few accomplishments.


"The best thing about this sport is the camaraderie, and that it's family orientated. Words can't describe it." Kay LaCoe, VP of NDMSA


"The best thing about this sport is the camaraderie, and that it's family orientated. Words can't describe it. It's very special and palpable; the support and passion of our North Dakota group shows on a national level. We are well-known for being incredibly positive and supportive, also very good shooters" explained Vice President of North Dakota Mounted Shooters Association (NDMSA) Kay LaCoe. 
The NDMSA was founded about ten years ago. It began like most clubs, a group of people with a passion and a goal. LaCoe says most of the founding members are still highly active in promoting North Dakota mounted shooting such as Ivan Gandrud, Betty Dietrich, and Kelly Cozby.
According to LaCoe, the Association started by hosting a clinic with a professional instructor, and that has become a staple in the organization. The club practices together once a week, beginning in May through September. Several of the members travel across the country to various competitions from Las Vegas, NV, to Tunica, MS.
The shooters also dress the part wearing traditional western style clothing or old-time style of the late 1800s. Many 'roll back the clock' and look as authentic as possible. Mounted shooting is a step back in time that helps represent part of U.S. history in its own unique way.
"Education and getting started right happens in our club. It's a very exciting time to get into the mounted shooting world. Any given competitor can start at a novice level and work their way up the competition levels built into the local and national associations," stated LaCoe. "Our association has grown so fast and is doing excellent, they are really creating a culture."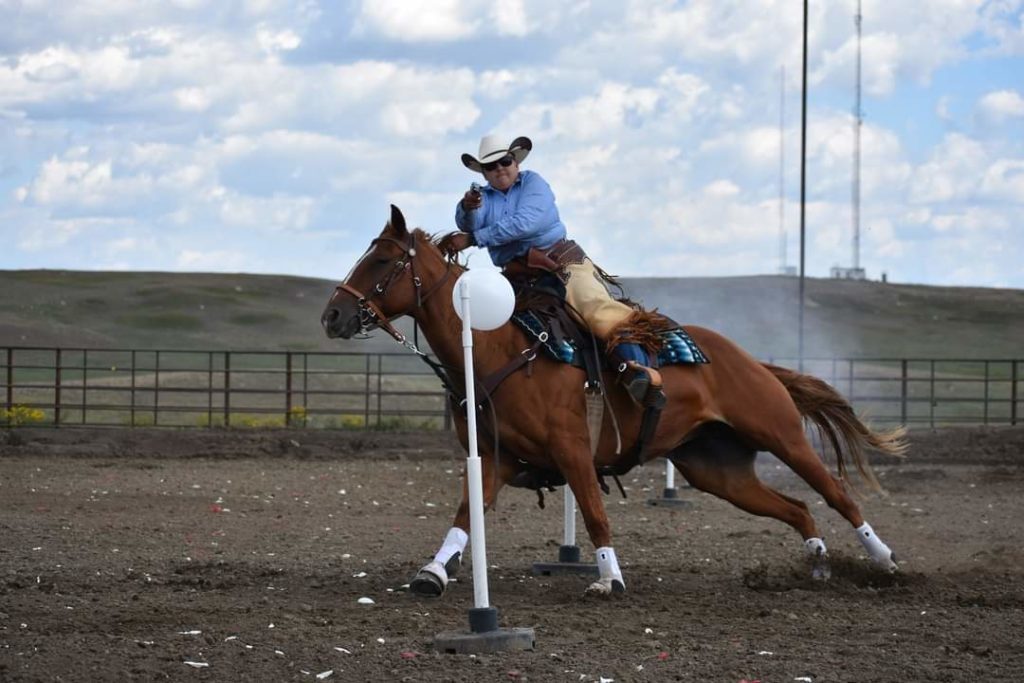 The Association will be hosting its upcoming award banquet at the Ramada by Wyndham, Bismarck on January 15 for its members.
"Seeing the people in our group improve is very rewarding for me. If I've helped them or got to watch them win; it's a win for me. I've been doing this for a decade and there is nothing like going down the road each year with really good people and great competitors like we have in North Dakota," said Jason Erhardt, ND mounted shooter.
2021 CMSA World Championships and AQHA World Championships of Mounted Shooting. ND Shooters represented well:
*Jason Erhardt (Bismarck)-Men's 4 Class Winner, Men's AA Double Down Winner & AQHA World Champion
*Tammy Billingsley (Darby, MT)-Ladies Overall World Champion, Ladies 6 Class Winner, Ladies AA Double Down Winner
*Keith Benz (Bismarck)-3rd overall AQHA Select Amateur
*Don Evans (Glendive, MT)-Senior Men's 5 Class Reserve Winner & 5th place Open Men's Senior Incentive
*Jaye Kukowski (Williston)-Senior Ladies 3 - 3rd place & Limited Ladies Senior Incentive Reserve Champion
*Kay LaCoe (Bismarck)-Ladies Level 3 - 3rd place, Limited Ladies Eliminator 3rd place & top 10 Limited Ladies shotgun finisher
*Amy Senn (Wilson)-Ladies Level 2 - 6th place, Ladies A Double Down call-back, 4th place Limited Ladies rifle & top 10 Limited Ladies shotgun finisher
*Steve Kukowski (Williston)-Senior Men's Level 2-top ten finisher - 9th place
*Dale Erhardt (Bismarck)-Senior Men's Level 3-top ten finisher - 9th place
*Calli Jo Reisenaur (South Heart)-Open Wrangler top ten Class finisher - 9th place
*Jaci Rae Reisenauer (South Heart)-Ladies Level 1 top five & top ten class stage times