Trapping Invasive Species 
Kim.fundingsland@mydakotan.com
MINOT – Keeping beetles at bay is one of the reasons for various traps designed to capture the sometimes unwelcome bugs. Three different beetle traps have been in use in the City of Minot this summer.
According to Guy Hanley, Minot Parks entomologist, the black, funnel-type traps, such as the one shown above, have been in use in the city for several years.
"The black ones are Lindgren funnel traps, used to monitor invasive species of wood boring beetles," said Hanley. "Some beetles have been artificially imported into the state. One of them was transmitting Dutch elm disease in the city a few years ago."

Hanley says the beetle trapping season started in June and continues into the fall season. He checks all 13 Lindgren funnel traps once a week. Several of the traps are located near the city landfill where cut branches and trees accumulate.
"That's a hotspot for beetle activity," said Hanley.
Hanley keeps track of other bug traps too. There's a system of purple, triangular shaped traps designed to lure the emerald ash borer, and green and yellow bottle-type traps that capture Japanese beetles.
"The emerald ash borer came from Mongolia and is in Wisconsin and Michigan. We haven't seen one here yet," remarked Hanley. "The Japanese beetles are very damaging to rose bushes, grapevines, and ornamental trees. We've got 30 of those traps out all over town. Minneapolis has Japanese beetles by the millions. We have them here, but in very low numbers."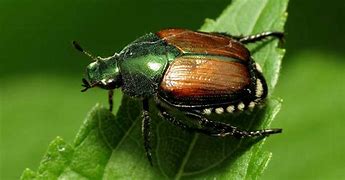 Hanley encourages anyone who thinks they have identified a Japanese beetle to contact Minot Parks. The beetle winters in the ground, eggs and larvae, where deep frost likely keeps the population in check.
"It's usually frozen too long here, we believe," said Hanley. "We have seen breeding pairs here, so they could become problematic. Just not yet."
The city's beetle population got a boost following the 2011 flood when the insects were attracted to an abundance of stressed trees. Yearly trapping has resulted in a better understanding of what kinds of beetles are in the area.
"We've learned some really interesting things," said Hanley. "We added a lot of beetles that we didn't know we had here. We know now. They are not doing any harm. They're native, but just hadn't been caught here."