MASON, MICHIGAN – It was a remarkable showing on a national stage for South Prairie High School.
Stepping to the shooting line against a 232-team field from across the United States, the Royals placed two squads in the top 18 at the USA High School Clay Target Championship held July 6-10.
"We were definitely competing against a lot of big schools. One school actually has 198 kids on their team," said Wayne Stanley, South Prairie superintendent and coach. "Coming from a high school enrollment of about 140, we're pretty proud of what we do."
South Prairie's first squad shot back-to-back 480/500 for a score of 960, placing them 14th in the nation. The Royal's second squad went 470/500 and 485/500 for 955, good enough for 18th place.
"It's incredible. Just incredible," said Stanley shortly after team competition ended Sunday. "Squad two ran their last 124 of 125. They outshot squad one today. That's the incredible thing, who shows up on which day."
Although several schools had two squads competing, none came anywhere close to accomplishing what South Prairie did with two teams in the top 18.
The Royals had some very notable individual performances too. Senior Jorn Brose broke 99 birds on each of his two rounds of individual competition. His 198 total was the number eight effort out of a field of more than 1,700 shooters.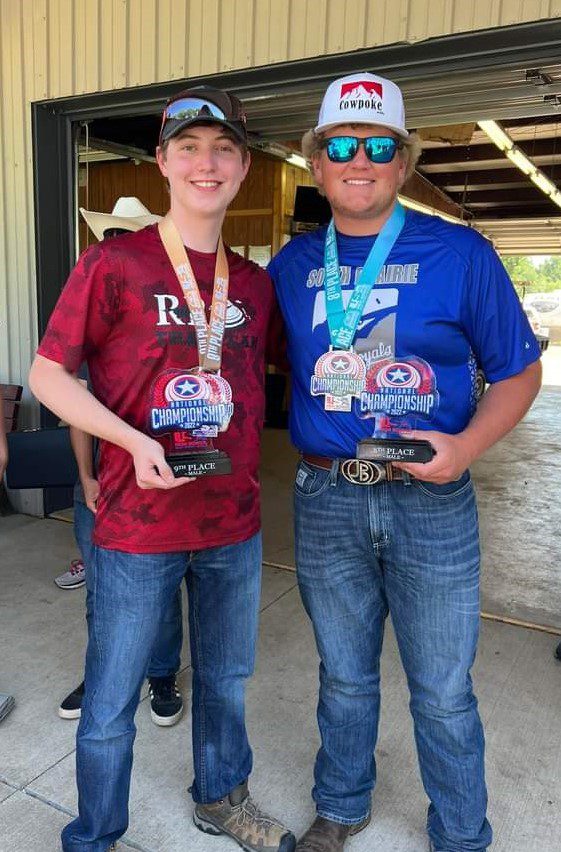 Jorn Brose, South Prairie High School, right, holds his award for an eighth-place finish at the USA Clay Target Championships. At left is Matthew Moe, Grand Forks Red River High School, who finished ninth. (Photo submitted)
"It was a great experience," said Brose, who posted two 99's in team and individual competition. "I got stuck on the 99's but I can't complain about it."
The effort earned Brose a place on the awards stand with other top 10 shooters in the country.
Just missing top 10 honors was South Prairie sophomore Sam Abel. He rallied on day two of the individual shoot to move into 12th place.
"Sam Abel went 92 on day one. He was pretty upset about that," said Stanley. "Afte that he went 97 in qualifying and then 100 straight."
Stanley's team is young with only two seniors, Brose and Ben Lindbo, who have now finished their clay target careers.
"It's been a pleasure shooting with the South Prairie team," said Brose. "It is turned into more of a family than just a team. It was definitely a tearjerker toward that last bird."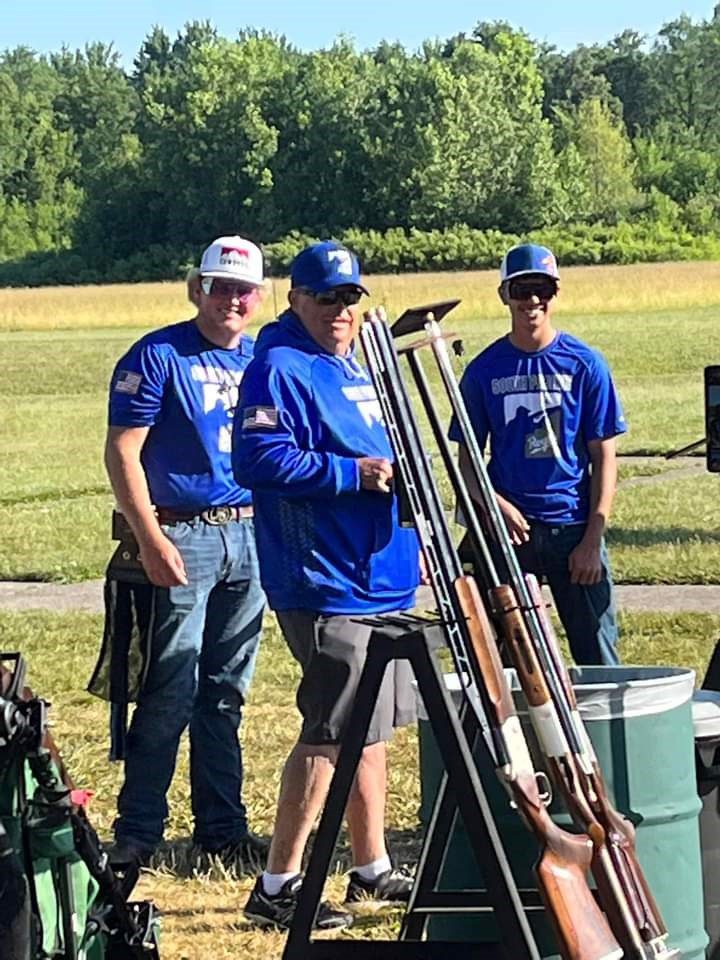 South Prairie Clay Target Coach Wayne Stanley, center, confers with team members Jorn Brose, senior, left, and sophomore Connor Johnson, right, during a break in competition at the USA Clay Target National Championship in Mason, Mich. (Photo submitted)
The Royals have a number of underclassmen ready to show what they can do on the big stage. One of them who made the trip to nationals opened the experience with a bang.
"Ethan Able ran the first 50," said Stanley. "He ended up with a 96, 89. For a sixth grader, that's pretty cool."
In the individual female competition, South Prairie shooter Brianna Helsene turned in a 94-89 to place 30th in the nation.
Other team finishes from North Dakota included Williston 33, Fargo Sheyenne 44, Fargo North 49, and Berthold 54.