Nodak Speedway Sprints into Memorial Day Doubleheader
MINOT — The Nodak Speedway held the first leg of its Memorial Day Doubleheader Sunday night. Track volunteers worked nightly through the week to get the track closer to its "normal" conditions of a dry smooth racetrack. Mother nature was a big help this week with the multiple warm and sunny days. The track was relatively smooth other than the bottom lane which still was a bit bumpy and soft.
The Western Renegade Wingless Sprint cars made their debut as nine racers made the trip from all across the state. The top three in that feature race were separated by less than 7 tenths of a second, and the winner Mike Tomlinson beating out 2nd place Brandon Palm by .066 seconds squeezing past on the outside wall coming down the front straightaway.
Another special class made its season debut: the junior slingshots. This class of cars is designed for kids ages 6-12 to give the future stars of the Nodak Speedway a taste of the big track that most of the children's family members race on every week. Carver Balerud took the feature win with Sladen Pfeifer and Eli Turnbull rounding out the top three.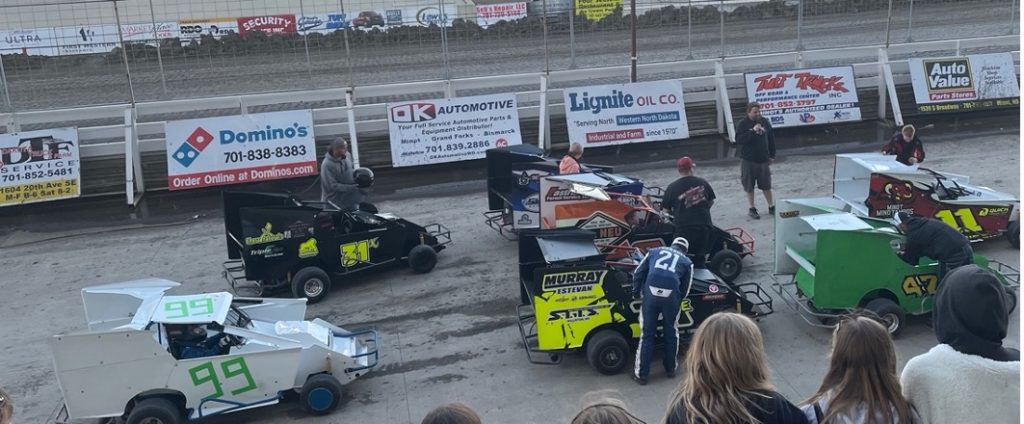 Other feature winners included Darren Medler in the Northern SportMods, Mike Hagen in the Stock Cars, Aiden Wagner in the Sport Compacts, and Travis Hagen in the Modifieds to close out the night. Leg 2 of the Memorial Day Doubleheader is on Monday with another 6 p.m. green flag.