MSU's Storm Ravaged Bubble Rising
Athletic oasis in winter
MINOT – Patched up and soon to be inflated, the bubble is expected to rise soon over the turf field at Herb Parker Stadium on the campus of Minot State University. Work was scheduled to begin on Monday of this week but, with uncooperative weather conditions, didn't start until Tuesday.
"We put the doors up the first day and then lay out the entire structure section by section," said Mike Stetson, MSU media relations. "Everything has to be lined up perfectly before they can secure the sides and start putting it together. Once it's all perfectly lined up and secured, then they can inflate it."
The timetable for how soon the facility will be ready to use is very much dependent upon the weather. With good working conditions the facility could be ready for inflation this week but, said Stetson, cold weather and high winds could extend the timeline "however long it takes."
"We've been rolling out big pieces, basically big chunks of tarp," said Stetson. "If they're not perfectly aligned or get moved by the wind it adds to the time needed to finish the project."
The bubble was torn and collapsed during a heavy winter snowstorm this past April. The bubble currently being laid out on the field is the same one that succumbed to the storm. Insurance paid for repairs to the massive fabric and was returned to MSU and, with the help of many, it is about to be used again.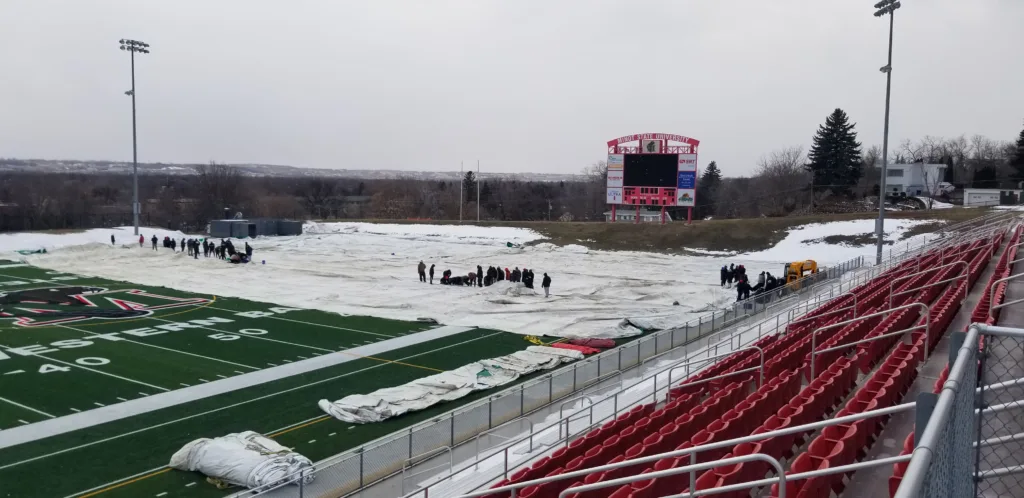 "We've had student athletes, teams sign up for different time schedules to volunteer during the week," explained Stetson. "Their coaching staff supervises and there's MSU staff that helps out too. It takes about 40 to 50 people, 8-10 hours a day until we get it up."
The bubble provides an indoor haven for athletes and teams whose activities would otherwise be curtailed by winter weather. Once inflated, it will remain up into the spring sports season. MSU hosted several women's softball games inside the bubble this past February and March.