"North Dakota has some of the most wide-open spaces and hidden gems in the country. Every corner of this state offers majestic beauty, endless miles of horse riding and hiking trails. We don't know what crowds are. North Dakota has drop dead gorgeous acres open to the public," said Jesse Hanson, retired North Dakota Parks and Recreation employee of 35 years.
Hanson says his top four places to visit in the country are right here in North Dakota — whether you're on foot or a horse, these are his must-have experiences:
Fort Ransom State Park in southeast North Dakota, approximately 30 miles south of Valley City, offers extensive amenities for camping and horse corral accommodations. Match that with fourteen miles of loop trails for riding in the Sheyenne River Valley; one is surely going to want to unplug.
Sheyenne Oaks, a family-operated camping and horse facility, borders the Sheyenne National Grasslands with over 70,000 acres of public land-located south of Leonard, ND.
"If you haven't heard of Leonard, cowboys and cowgirls, they're part of North Dakota's soul and hosts to some of the best ranching country across the plains. The Sheyenne grasslands are so massive and may seem intimidating, but marked trails are set throughout this North Dakota gem," stated Hanson.
Moving to the northern border are the Turtle Mountains, which are north of Bottineau and create our international boundary. Extensive trails, unique country, heavily wooded areas, and wildlife are abundant.
"People would always make the comment, 'This is North Dakota?' in astonishment to the scenery and features the Turtle Mountains have to offer. A great campground to base out of is the Twisted Oaks," explained Hanson.
"Some of the roughest and most beautiful countryside in North Dakota is located north of Killdeer at the Little Missouri State Park. Camping, corrals, and 45 miles of trails are offered with 'free' endless hours of sunlight through North Dakota summers," noted Hanson.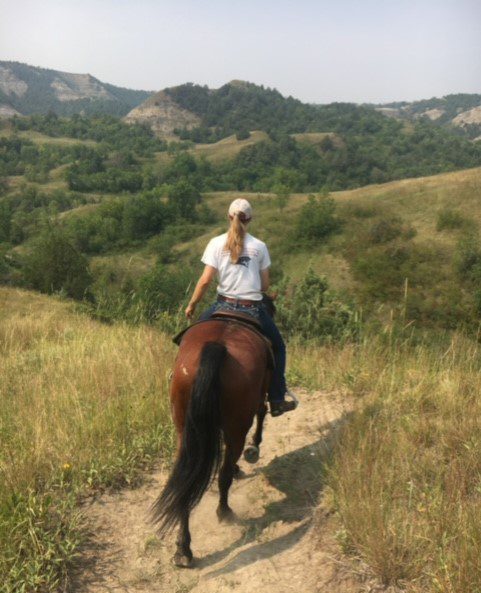 And last, but not least, the Maah Daah Hey Trail. Beginning at the Burning Coal Vein Campground north of Amidon and ending south of Watford City are 144 miles of public trails, scenery, and wildlife that books, songs, and poems have been written about. The infamous trail winds through the Little Missouri National Grasslands in the Badlands, connecting the north and south units of Theodore Roosevelt National Forest.
"A lot of these trails are linear, many people take horses and pack horses to accommodate the duration of the whole trail, however one can split off anywhere and set up camp. If ten or twenty miles is the daily dose; there are no restrictions; campers can sleep anywhere. The Bar X Ranch, located by Medora has some great accommodations for riders and their mounts," said Hanson.
Hanson said the one thing that amazed him while rerouting and revamping the trails across North Dakota was the people that came from out of state. He said they had no idea of the opportunities North Dakota had to offer.
Here is your chance North Dakotans… saddle up and enjoy some of the most beautiful places in America.