West Fargo man takes top prize for the second time in three years

BISMARCK—Josh Dahlstrom, West Fargo, captured the North Dakota State Poker Title in Bismarck on Sunday, Jan. 2. Dahlstrom has now won the title two out of the last three years.
The critical point for Dahlstrom occurred when the field had already been reduced to only two competitors: Dahlstrom and Bismarck resident Brandon Riedinger.
Dahlstrom went "all in" on a hand in which, with only one more card to be dealt, the "river" card, he only had an 11% chance of winning. Only five cards left in the deck could help him beat Riedinger's pair of Aces: one of three Queens left, to make two pair, or one of the two 10s left, to make three of a kind.
With Dahlstrom and Riedinger staring at a pot worth 15 million in chip value and Dahlstrom facing elimination, the dealer turned over the Queen of clubs.
"That was a $9,000 river card," said Roughrider Poker Tour (RPT) president and CEO Jerry Sorrells. Sorrells was referring to the difference between the 1st-place prize of $20,550 and the 2nd-place payout of $11,435.
After that huge swing in Dahlstrom's favor, it was all over after 20 more minutes.
"I knew I needed to get lucky," said Dahlstrom. "When [the Queen] hit, I was pretty excited. I knew I probably would win it after that."
Dahlstrom acknowledged he had used a fairly aggressive strategy as the tournament was winding down. "I would make moves throughout the whole final table," he said.
According to Roughrider Poker Tour (RPT) president and CEO Jerry Sorrells, this year's tournament set a record with 778 total entries.
Nick Aune, Billings, Montana, won the 2nd Chance Tournament held on Sunday simultaneous with the main event. Aune pocketed $5,125 for his win over the other 193 entrants in that tournament.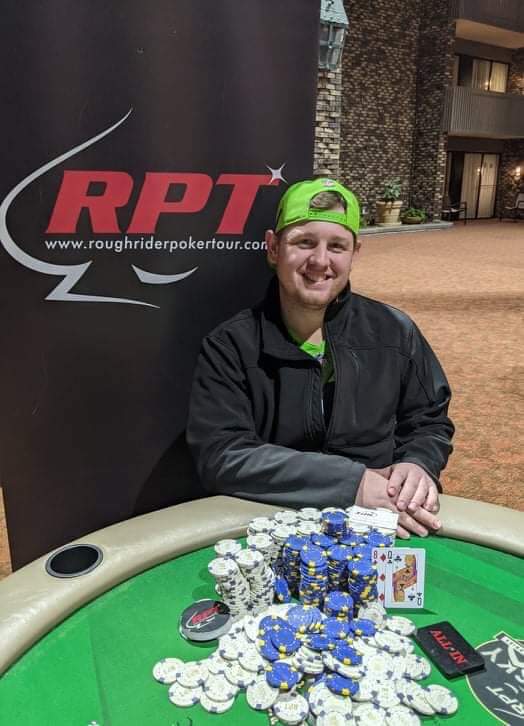 With 972 total entries in the two tournaments combined, the weekend paid out $116,640 to competitors and also racked up almost $30,000, before expenses, for the Bismarck-Mandan Convention & Visitors Bureau.
Another prize awarded this weekend was the RPT Player of the Year award for the 2021 season. Chad Fowler, Minot, won this prize, along with an extra $5,000. Fowler, an insurance adjuster, has a flexible schedule that allows him the opportunity to play on the RPT regularly throughout the year.
"There's so many good players on this tour," said Fowler. "Anyone can win." He added, "You have to get a run of good cards, play well, and play every weekend."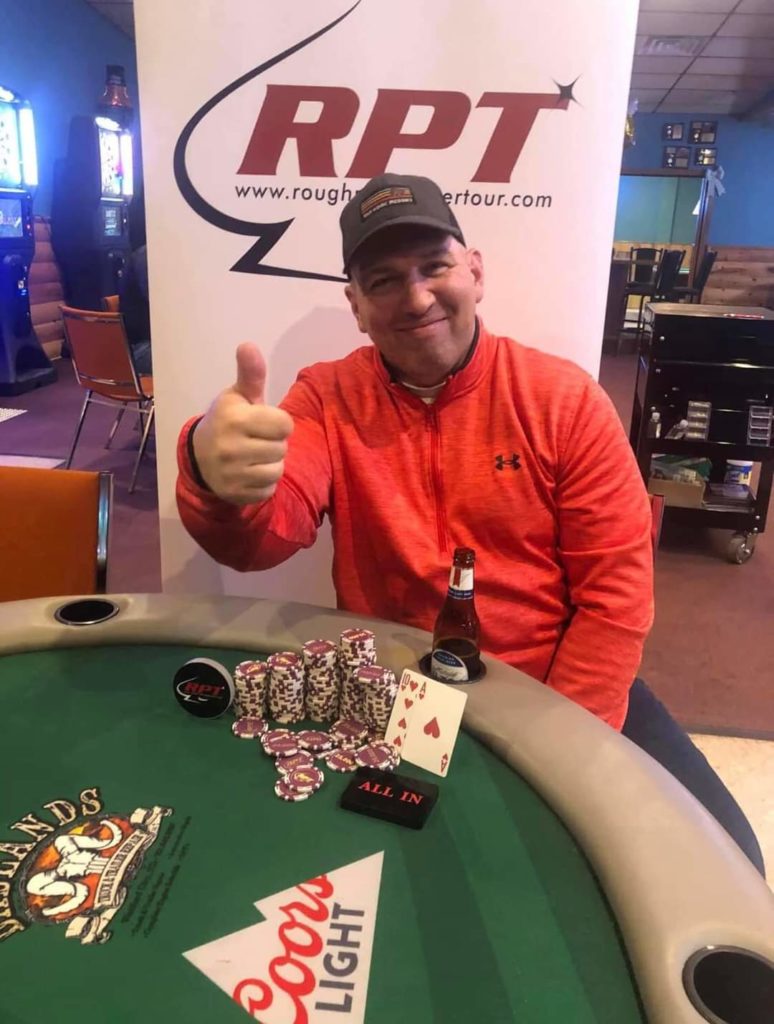 Sorrells was especially excited to have had The Feature Table on site to stream all three days of the title tournament. "It's not just the final table," Sorrells explained. "People can go back to watch videos from Friday, Saturday, and Sunday."  
Videos of the tournament can be viewed on The Feature Table on Facebook, YouTube, and Twitch.
For more information on the RPT, check out their Facebook site.