GARRISON—Back in 2005, Garrison fireman Mike Matteson visited a museum for firefighters in Colorado and thought of building a similar one in North Dakota. He asked his chief, Donald Huettl, if something like that would work. Huettl agreed it would, and that was the beginning of the North Dakota Firefighters Museum.
Tragically, Huettl passed away from a heart attack on January 22, 2005, and never got to see it come to fruition, but his legacy lives on in the museum. "A lot of his memorials gave us the initial seed money to get this started," said Matteson, now president of the museum.


"A lot of his memorials gave us the initial seed money to get this started." Mike Matteson, President of the North Dakota Firefighters Museum


In 2006, using the only vacant building in Garrison at the time, Matteson and the Garrison Fire Department decided on establishing the museum right there. With volunteer help and funds from across the state, they were able to renovate the building, carrying 40 truckloads worth of equipment in and out. "We bonded together, there were others across the state, they were generous with their contributions," said Matteson.
Different fundraisers are put on every year to support this nonprofit memorial. "We're pretty self-sufficient, and we're proud of that, because of the support across the state of North Dakota," said Matteson.
Every year, on the second Saturday in October, which is usually during Fire Prevention Week, the firemen host a Hall of Fame Induction ceremony to honor of those who have served and a remembrance ceremony for those who have died in action.
A memorial, called the Fallen Firefighters' Memorial, sits next door to the museum. Inside the museum, there are three different fire trucks, one from Harvey (originally from Butte), one from Carrington, and one from Garrison.
There are many different displays of firefighting equipment, and even a children's museum on the second story.
On the main wall hangs the Hall of Fame, pictures that commemorate the firefighters who have served all across North Dakota.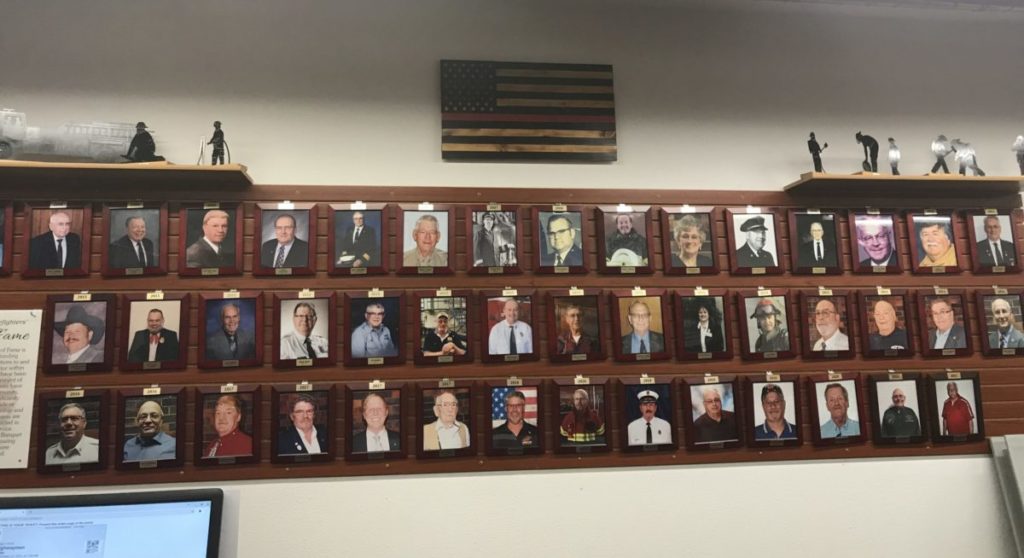 "I thought [the museum] was cool. I liked all the old trucks," said Victoria Hoverson, a visitor from Minot.
JoAnn Hoverson also of Minot said, "I was pleasantly surprised for such a small town to have something like that."
With a board of six directors, three people from Garrison, and three from different parts of the state, the museum continues to thrive. Support from across the state keeps it going, as so many North Dakotans seem to work hard at making sure the sacrifice of those who have served their community is not forgotten. 
The building is also home to the Convention & Visitors Bureau, as well as Economic Development for Garrison Improvement, two departments that are able to keep the museum staffed throughout the week.
The museum is located at 52 North Main Street and can be contacted at (701) 463-2345. People can also find more information on its website, ndfm.org.