Hometown Heroes Outdoors
With a broad and friendly smile on his face, the big Marine extended a long arm and, with a firm handshake, summed up what the morning was all about.
"Semper fi, buddy," said Don Rowell, Anoka, Minnesota, while shaking the hand of Larry Verraneault, Minot.
The two Marines had never met before but, on this day among the cool, fresh air and low rolling hills of the North Dakota countryside, with experienced bird dogs nearby eager to be turned loose, the moment captured the attention of the entire hunting party.
"We all have camaraderie no matter what branch of the military you were in. All military individuals are like a band of brothers," said Verraneault.


"All military individuals are like
a band of brothers."Larry Verraneault, Minot


Rowell served from 1981-85 in the Marine Corps and followed that up with a 30-year career as a firefighter in Minneapolis. Verraneault was in the Marine Corps from 1965-70 and the Air Force from 1971-1988. They were among 20 veterans who participated in a pheasant hunt sponsored by Hometown Heroes Outdoors in conjunction with the VFW post in Minot and Pheasants for the Future.
"It's nice to get together with a bunch of guys and all experience the same stuff, the camaraderie, getting back to it," explained Jeff Carl, Hometown Heroes Outdoors field staff, Grand Forks, and Army National Guard veteran.
The participating veterans gathered at first light in the parking lot of the Minot VFW, enjoying donated coffee and donuts, and grabbing lunches specially prepared by the VFW. After a briefing by Carl the orange clad veterans broke up into three groups and headed out to their designated hunting areas, courtesy of landowners appreciative of their service.
Volunteers from Pheasants for the Future accompanied the vets, including some with dogs well-seasoned in finding pheasants. The weather was perfect, cool with a light wind. Excellent for carrying scent for the dogs and holding rooster pheasants tight to cover.
While a group of hunters began their first walk in promising pheasant cover, Kellen Latendresse, Minot, a Pheasants for the Future volunteer, commented on the moment.
"It's a pretty cool deal to give back to people who gave to our country," said Latendresse. "We have four that have never shot a rooster before, so we are hoping they get their first one today. It'll make for a great morning."
Pheasant hunting often has some people walking pheasant cover while one or two others "cap" the field, waiting for birds that take to the air in front of those trekking through cover.
"I really appreciate Hometown Heroes and the VFW for doing this. It is quite the experience," said Verraneault.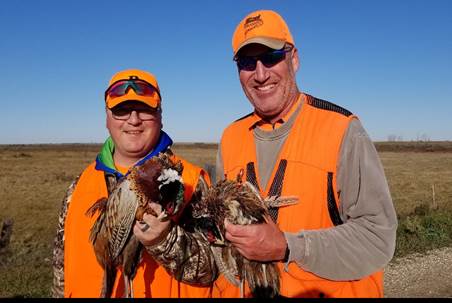 Verraneault was one of those waiting at the end of the field. He said he would have liked to have joined those walking but had only one lung due to complications caused by Agent Orange during a tour of duty in Vietnam.
"Hometown Heroes is quite an organization and the people who support them are hometown heroes because they do an awful lot for us directly," remarked Verraneault.
Alex Conejo, Minot, Air Force and Air National Guard, was also watching and waiting as the hunters in the field began sweeping toward him.
"First of all, this is pretty special to me," said Conejo. "It's both excitement and a kind of nervousness."
Despite promising cover, the first walk of the morning resulted in only a few opportunities for hunters. Several hen pheasants were flushed but only rooster pheasants are legal game. Never-the-less, a few cackling roosters were put on the ground.
"Marines can shoot!" exclaimed Rowell while pulling a colorful rooster pheasant from his hunting vest at the conclusion of the walk.
The remark prompted a light-hearted jeer from fellow veterans.
"Actually, I scared one out of the sky," said Rowell. "Any game we get is a bonus. It's always fun to meet new people, especially with Hometown Heroes. Good people. Good times."


"This is a good way to give back to veterans . . . we've got to do something for them."Layton Peters, Glenburn


While fellow veterans examined Rowell's rooster, plans were being made for a second area to walk in search of pheasants. Layton Peters, Glenburn, was the host landowner with knowledge of the area and a willingness to help.
"This is a good way to give back to veterans. They've done a lot more for us than we do for them," said Peters. "Everybody appreciates them, so we've got to do something for them."
On the next walk, bottom land cover winding through a stubble field, the air was soon filled with pheasants. The sound of shotguns being fired was a sure indicator that hunters on the walk were having success, or at least opportunities to bag a bird, and they certainly did.
At the completion of the walk all the hunters had long tailfeathers sticking out of their hunting coats or vests. The loud chatter was clear evidence of a successful walk. Everyone was thoroughly enjoying the hunt and all had a least one rooster to their credit.
"They were looking to have a good time. Some of them have flown in or driven a long way," said Verraneault. "I think I'm going to take my first rooster to the taxidermist."
Later that evening the outing concluded with a spaghetti dinner for all the participants at the Minot VFW, an event that raised $1,000 for Hometown Heroes and added seven new members to the local VFW post.
More information on Hometown Heroes Outdoors in North Dakota can be found at hometownherooutdoors.org.