Competitive Golf with a Message
MINOT – A Minot man is rediscovering his golf game while promoting the benefits of physical fitness. He's Andrew Schultz, a practicing attorney who enjoys playing competitive golf.
"I'm 38 years old now, and this is something that I've always thought I would like to do," said Schultz. "That's showing that people my age, with practice and a little skill, can use something that you enjoy recreationally as a means to stay healthy."
Schultz played high school and college golf, even had a golf scholarship to Kentucky Wesleyan, but took time away for a stint in the Army and for law school. Not surprisingly, that left little time for golf. However, he never lost his urge to pursue swinging the clubs.
"I ended up here in Minot and played professionally on the Dakota's Tour about 10 years ago," recalled Schultz. "Really, I never gave it a serious run because, quite frankly, you only get to play golf for five months a year up here."
Enter X-golf, playing indoors on a simulator. Schultz says it enabled him to play year-round and improved his game.
"Their simulators metrics are incredibly accurate. It's enough for me to be able to hone in all of my distances and spin rates," explained Schultz. "We didn't have all of those golf metrics 20 years ago."
Once winter faded away Schultz took his game outdoors, regularly playing at least a partial round four or five times a week, making a concentrated effort to regain his competitive form on the golf course. That, of course, includes improved physical fitness. That means walking the golf course rather than riding in a cart.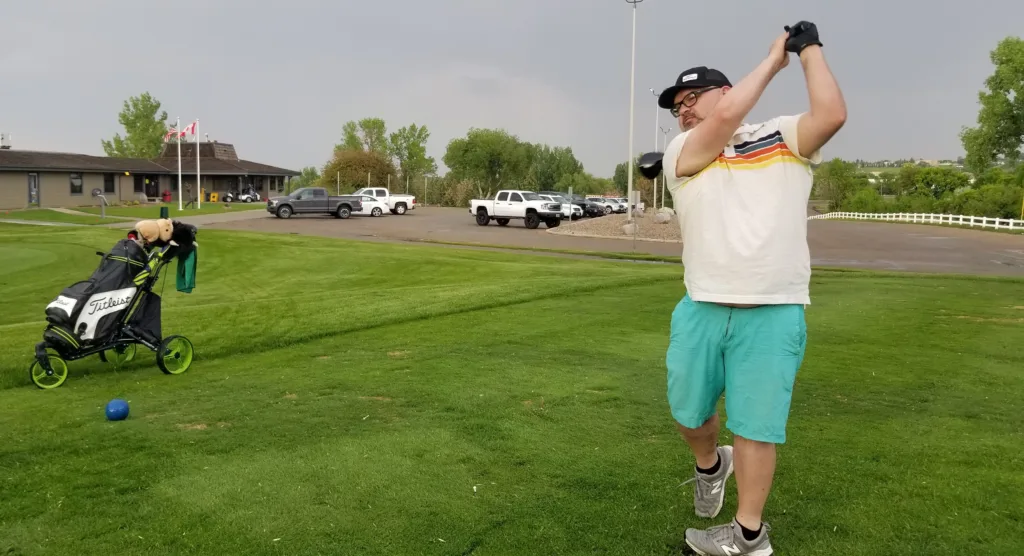 "I'm competitive enough to where, if I get on the track to getting healthier and practice a little more, I'll be at the point where I can be competitive with guys just out of college," remarked Schultz.
Schultz did well in college golf, but he says he's become a more patient and consistent golfer now than he was in his earlier years. And he's about to find out how his rejuvenated game will fare against others who have professional aspirations.
"I'm going to be playing in a few tournaments this summer," said Schultz. "The first one is June 13-15 in Thomasville, North Carolina, and the following week, June 20-22, in Morgantown, North Carolina. They are mini-tour events. You declare yourself to be a professional, pay the entry fee, and you are in the field."
Schultz says he is not looking for a career change but hopes his example will help others improve their health so they can be as competitive as possible on the golf course.
"These are all walking events. You've got to be healthy enough to do that," said Schultz. "I want to show people how to use golf, and use outdoor activities, to stay healthy as we get into middle age."
Local and area businesses are partnering with Schultz to raise funds for the Forgotten Warrior Foundation in his Birdies For Veterans program. The Forgotten Warrior Foundation is a Minot non-profit dedicated to post traumatic stress syndrome awareness. Businesses and individuals can donate any dollar amount they choose for each birdie Schultz puts on his scorecard during his professional events this summer. Anyone wishing to be a part of that charitable effort is asked to message Schultz on Facebook.