PARSHALL — The Nueta Hidatsa Sahnish College (NHSC) sponsored a 4-H qualifying horse show in collaboration with the NDSU Extension Agency on Ft. Berthold Indian Reservation.
"Horses help youth build lifelong leadership and relational skills. Their experiences with horses help them be successful in school and throughout their lives," said Lori Nelson, Nueta Hidatsa Sahnish College Land Grant director.
The event took place on Monday at Healing Horse Ranch. Competitors that earned a blue ribbon, solidified a spot into the North Dakota State Fair 4-H horse show.
38 riders took advantage of the opportunity to compete in 4-H events and Open youth contests.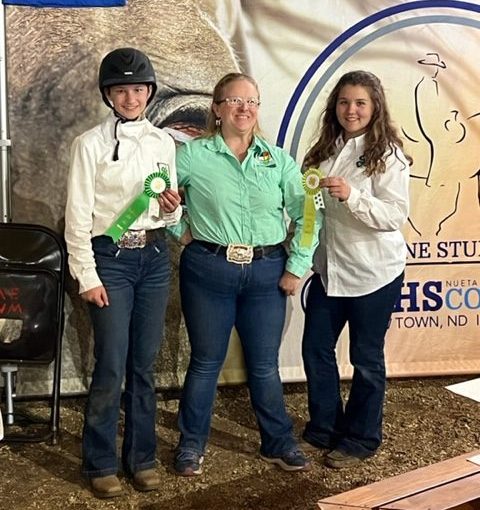 "The tiered cooperation of the NDSU land grant, NHSC and their equine studies program is focused on youth development. We decided to host an event to showcase riders' skill and knowledge of horses. The day went fabulously, and the parents thoroughly enjoyed the opportunity for their children to practice 4-H events for county and local shows coming up," said Rebecca Hager, NDSU Extension Agent, Ft. Berthold.
Showmanship, hunter under saddle, hunt seat equitation, hunter hack, equitation over fences, western pleasure, western horsemanship, trail class, ranch riding, reining, barrel racing, pole pending, keyhole race and goat tying classes were all offered in the age groups 0-11, 12-14, 15+.
Hager said, "It was an excellent learning experience for all putting on the show." She added that they intend to offer the event next year and look forward to an even larger turnout.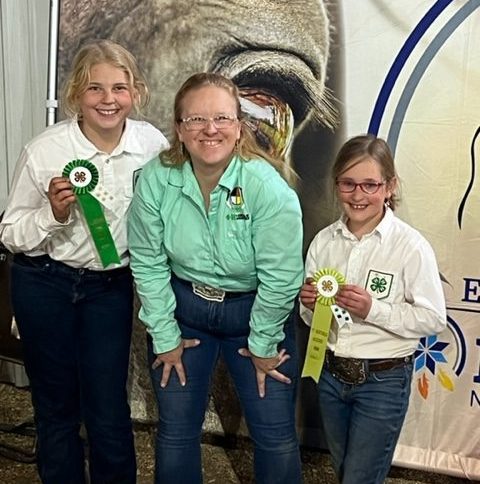 All-around Champions/per age group
Cloverbud-Mila Oakland, Bismarck
8-11: Allison Nelson, Columbus
12-14: Paityn Sauber, Stanley
15+: Jule Stenson, Crosby
Reserve Campions
Cloverbud: Briar Steele, Ross
8-11: Gina Steele, Stanley
12-14: Katelin Miller, Flaxton
15+: Hannah Fisher, Burleigh County