Two Incumbents, Two Newbies
MINOT – All four of Minot's Republican legislative districts have chosen their chairmen as of Saturday.
District 5, which covers most of southern Minot, re-elected Chairman Travis Zablotney, Minot, Saturday with no opposition. Almost 50 voters were in attendance for the meeting held at Motel 6.
Zablotney noted the growth in activity within the district, saying two years ago, when he and the rest of the executive committee were first elected, its bank account had a little over $2,500 and now it has over $27,000. Much of that funding was gained from a Dakota Patriot gun rally in November for Minot Republicans. He also mentioned that District 5 has been active in local canvassing and this year's legislative session.
Zabotney thanked the legislators of District 5 for their work even if he doesn't always agree with them. Those legislators are Rep. Scott Louser, Rep. Jay Fisher, and Sen. Randy Burckhard. Zablotney also expressed gratitude for members of the district involved in different issues at the Capitol including four-laning Highway 52 from Canada to Jamestown.
"We've been heavily involved in bills relating to foreign property ownership, economic social governance, immigration and workforce, and corporate farming," said Zablotney.
District 40, which covers northwest Minot and continues north past the Air Force Base and east to Deering, re-elected incumbent Chairman Jay Lundeen, business owner in Minot, with no opposition. Almost 35 voters were in attendance at the old Knights of Columbus building. Lundeen said he hopes soon a hundred people will show up to these meetings.
"I think it's important for us all to be here," said Lundeen. "I think it's an important step in the political process."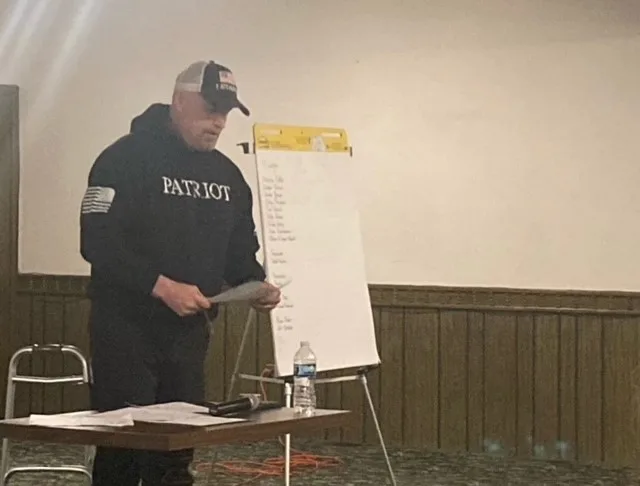 The funding comparison was also noted at that meeting as District 40's bank account balance went from $1,200 to $18,000 in the last two years since Lundeen and the rest of the executive committee were first elected, with much of those funds coming from the gun rally as well. However, former District 40 legislator Clara Sue Price noted that in previous years much of the funding went straight to legislative candidates' campaigns. She also said campaigns have become more expensive.
District 40 legislators are Rep. Matt Ruby, Rep. Randy Schobinger, and Sen. Karen Krebsbach. One member of the district said he thinks they have made some mistakes in the past but are improving. Another member said he was disappointed in the way one of them has voted on several issues, not mentioning who.
Earlier this month District 3, covering northeast Minot and continuing east past Surrey and Logan, elected Greg Demme, a pastor in Minot, as chair, replacing incumbent Amber Vibeto who stepped down. Over 100 voters attended that meeting, Demme was opposed by Minot business owner Kevin Black. Black had mentioned he was disappointed in District 3's legislative representation because of their votes on a few issues, and Demme said he was proud of it. District 3 legislators are Rep. Lori VanWinkle, Rep. Jeff Hoverson, and Sen. Bob Paulson.
In early March, District 38, covering southwest Minot and continuing to Foxholm, elected Roger E. Neshem as chair to replace incumbent Jared Hendrix who stepped down. Neshem ran unopposed. He said about 40 voters were in attendance. Neshem owns a farm in Berthold as well as a seed business. District 38 legislators are Rep. Dan Ruby, Rep. Larry Bellew, and Sen. David Hogue, current Senate Majority Leader.
Next year the legislators from District 40 and District 38 will be up for re-election. and district meetings will be held for members to vote on which candidates to give the Republican endorsement.
More information on the districts can be found below:
District 5 | North Dakota Legislative Branch (ndlegis.gov)
ND District 40 Republicans (minotdistrict40.com)
District 3 Republicans (district3nd.com)