Due to Cold and Snow
MINOT – Though plans were made for Eastwood Park Holiday Tour of Lights' second straight year following a 10-year hiatus after the 2011 flood, it was unfortunately canceled Friday due to the weather.
The Tour of Lights had been scheduled for Sunday, December 18 from 6-9 p.m. which would invite the public to tour the neighborhood and see the different houses that are lit for the Christmas season.
The Dakotan spoke with Jordan Pederson, coordinator of the event, before its cancellation. She said once again there would be no charge for the public to participate in the tour, but at each entrance there would be an opportunity to give a non-perishable item, which would benefit the Domestic Violence Crisis Center, or a cash donation, which would benefit Dakota Hope Clinic.
Activities were planned at two churches with refreshments and entertainment from elementary students at one. Though those activities and donations will no longer be happening, the public can still drive through and enjoy the lights, as many houses are still lit up.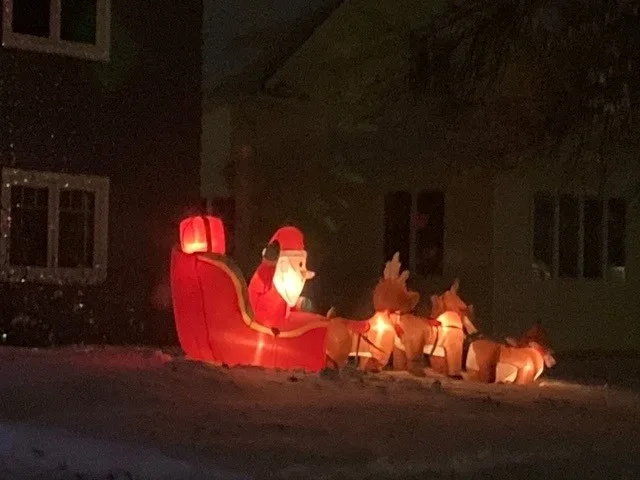 This year was more challenging to put together than last, Pederson says, due to the cold weather earlier in the year that proved difficult for people putting out decorations.
"I don't know if we have as many homes lit up as we did last year, but we still say, no matter what, it's still for a good cause. So come through, come take advantage of it," said Pederson. "The houses where owners worked hard look really good."
With over 130 homes in the Eastwood neighborhood, Pederson said she and other helpers got their steps in as they walked it to put flyers on every door.
"It's just to let people know we're thinking about doing it, we have a planning committee, and whose house to meet at," said Pederson. "Then we do a second round of flyers with the details, to please have homes lit up, and to understand that parking and congestion may be expected on that evening."
Pederson also uses a Facebook group to get information out but knows not everyone uses Facebook and it's not as reliable.
"I grew up in Eastwood Park, so my parents were always pretty involved with it," said Pederson. "I grew up having it every single year, so I really wanted to bring that magic feeling back for my kids now."