Early ice, snow cover creates concerns
MINOT – Record and near record snowfall in December has had an impact on a favorite winter activity – ice fishing. Deep snow, often drifted hard by strong winds, settles onto frozen lakes and makes both access for ice fishermen and traveling around a lake difficult to impossible.
"Generally, statewide access is very difficult," said Greg Power, North Dakota Game and Fish Department fisheries division chief. "There's lots of report of people trying to get out and getting stuck."
Getting on Many lakes in the state is a challenge, but where access is possible, said Power, there's opportunities for fishermen.
"There's places where the wind cleared the ice. There are some humongous drifts too, but you can kind of work your way around," said Power. "I'm afraid it's going to be one of those years."
Power estimated ice fishing activity to be about 10% of a normal year, especially in the central part of the state that received the bulk of recent snowfalls.
At Lake Metigoshe ice fishing activity is minimal with the lake choked with snow atop a layer of slush. The slush was created by water being forced up through cracks in the ice due to heavy snow cover.
Lake Darling, northwest of Minot, is one of the state's popular ice fishing destinations but is not without challenges for anglers. Access is said to be okay, especially on the lower end of the lake, but drifting snow is a limiting factor to travel on the lake. Slush is an issue in some areas too,
"Depends on where you go," said Tom Pabian, Upper Souris National Wildlife Refuge manager. "It's tough to get around in places."
"I had a guy tell me he cut a hole for spearfishing and had water coming up," said Darwin VanDyke, Minot. "He moved his house from the front of the dam to the east."
VanDyke has been ice fishing for 54 years and says conditions this year have made things difficult, but not impossible. Sometimes, he says, a portable fish house is a good alternative to a more permanent-style structure that is difficult to pull when there's a lot of snow on the ice.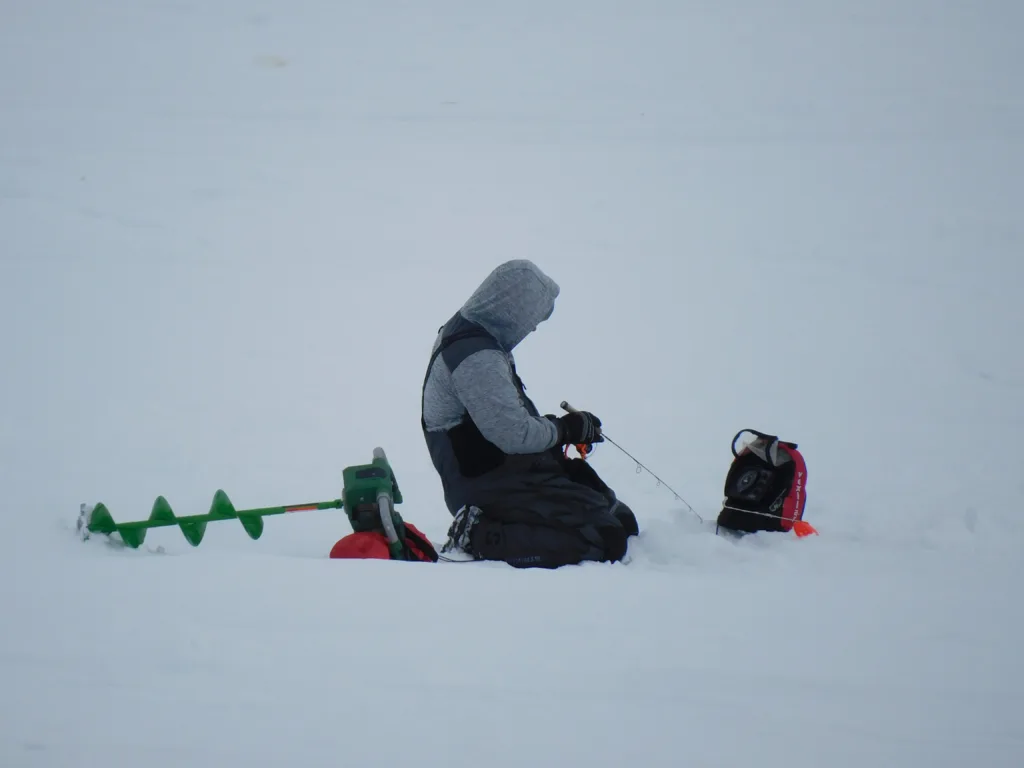 The first ice fishing day this season for VanDyke was November 9, his earliest ever.
"It might be a little tough this year if we keep getting snow and covered completely. There might be some fish kill," remarked VanDyke.
Snow on top of ice limits exposure to sunlight, something necessary to keep alive plants that produce oxygen necessary for underwater life. If the situation persists for too many days fish kills are a likely result.
"We've really got two issues now," said Power. "One is access. The other is long-term winter kill. The sooner a lake ices up the transparency is poor and leads to increased chances of winter kill."
Game and Fish biologists conduct annual tests of dissolved oxygen content in the state's lakes each winter, usually from late-January into February. Sometimes they'll receive reports from ice fishermen too who have encountered dead fish.
"In the end we really won't know until ice out," said Power.