MINOT — Dale Deibert normally revs up his Tucker Sno-Cat® tractor to groom snowmobile trails. But a mid-April blizzard put him on a different path – forging trails on Minot's snow-filled streets.
Dale was part of a platoon of snowmobilers, City of Minot personnel, farmers and other locals who joined Trinity Health crews in shuttling doctors, nurses and other staff to and from work during the region's epic spring snowstorm.
"People were very appreciative," Dale said. "My machine sits quite high off the ground, so people had to step on the track to climb in, but they didn't' mind. They were surprised at how close I could get to their house. Some offered to have me stop so they could walk the rest of the way, but I could get them right up to their front door."
On April 12, Trinity Health activated its highest level of Code White, a component of Trinity's overall emergency preparedness plan designed to ensure adequate staffing to maintain quality care for patients and residents and provide a safe environment for patients, residents, visitors, and staff when severe winter weather hits. It's an all-hands-on-deck system, where Facilities Management and other department staff provide rides to employees who are snowed in. After a previous blizzard, Trinity Health purchased a tracked-UTV. But even with that additional asset, the usual capabilities weren't enough. "My team worked with all their vehicles, but it got so bad, we no longer were able to see. We turned it over to Amy and her team," said Facilities Senior Director Bruce Sepielli.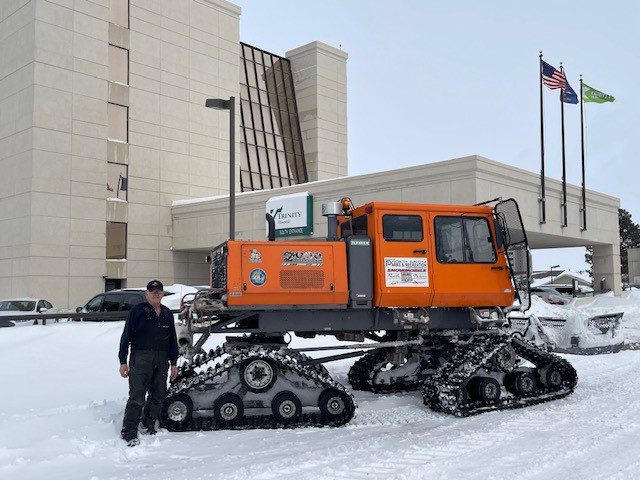 Amy Bergrude, director of Case Management, and Anne Haider, the department's supervisor, are regularly in touch with community resources in their roles as case management professionals. They began making calls. Anne is a member of the Dakota Trailblazers Snowmobile Club and was able to recruit some fellow members, including her brother, Darin Okerson.
"I picked up quite a few people and was glad to help out," Darin said. "Most everyone was pretty excited to get on a snowmobile. One doctor from Kenya was taking pictures; he couldn't believe all the snow. I took one 86-year-old patient home who was pretty thrilled. He said it was his first snowmobile ride."
The Case Management team reached out to the agriculture community on the assumption that the storm might require "big iron" to get around the city. Kristen Schepp, rural Minot, was one of several farmers who drove their four-wheel-drive tractors into town to traverse the snow. "I gave rides to 13 or 15 people," Schepp said. "It went pretty well except the windows kept fogging up; I used a dry board eraser to wipe them down. There were spots where, even with a tractor, you couldn't tell where the road was. I veered into a ditch at one point but got myself out."
Minot firefighters, Police, Central Dispatch, and snow removal crews were also among the "heroes of the storm," according to Amy Thomas, director of Trinity's Transport Services. "Minot Fire waited on scene countless times and would help shovel and get us unstuck," she said. "Police helped shovel and assist in getting patients from point A to Point B, and a big shout-out to the City of Minot for coming to our rescue on countless occasions to plow the way to a patient's house. Without the plows, I don't want to think what it would have been like."
With all the snow accumulating around people's homes, getting patients from their doorway to the ambulance a half a block away was an issue. "We asked Michael Krout if we could use his calf sled to transfer patients to the ambulance. He didn't bat an eye, and the sled was at the station in no time. It saved on so much shoveling," Thomas added.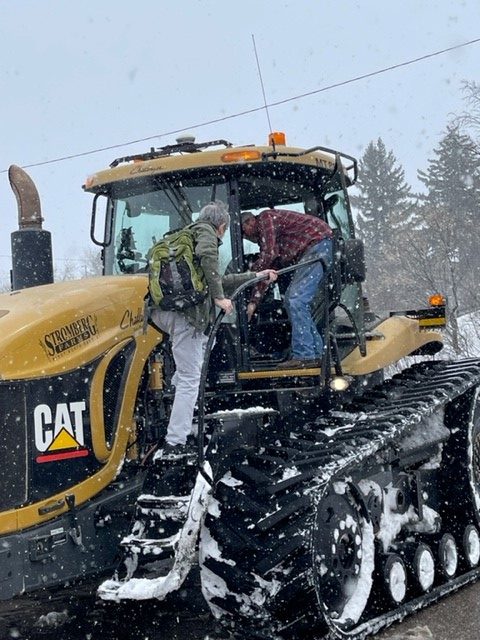 Ambulance vehicles came in all sizes during the three-day blizzard. Marlo Stromberg, rural Minot, made three farm tractors available for rides. He took Jim Coffin, director of Imaging and Radiology, home Thursday evening after Jim had spent two straight days at the hospital. (Earlier in the day Marlo pulled Jim and Vice President Randy Schwan out of deep snow after they got stuck working in tandem with a truck and snowmobile to pick up staff.) On their way to Jim's house, Marlo mentioned that one of his twins had just been accepted into Trinity Health's School of Radiologic Technology. Small world.
No sooner had Jim returned home, when his wife anxiously handed him the phone. Her mother, Judy, was on the other end, sounding like she was having a stroke. "I called 911 but I knew it would be hard for them to get there because of all the snow. I had Marlo's number, so I called him to see if he'd be willing to help me get my mother-in-law to the hospital."
Marlo picked up Jim and together they made their way to his parents-in-law's home. "I did a quick evaluation and determined she was probably having a stroke," Jim said. "I knew her best chance to get to the hospital was that tractor. She's not very big, so I threw her over my shoulder and told Frank, 'We've gotta go'."
Jim lifted Judy up the ladder to the tractor and Marlo grabbed her under the arms. Together they got her in the cab. It was a two-seater so they squeezed in the best they could. The tractor wended its way to the hospital, and Marlo dropped them at the emergency entrance where a care team was waiting. But before they separated, Marlo asked for Jim's wife's cell number so he could take both her and Frank to the hospital. He wanted to make sure daughter and husband could be with their family member. Way to go the extra mile!