Minot Symphony Orchestra and Western Plains Opera present Amahl and the Night Visitors
MINOT—Christmas concert lovers have a special opportunity this coming weekend. The Minot Symphony Orchestra (MSO) and Western Plains Opera (WPO) are teaming up to present Gian Carlo Menotti's Amahl and the Night Visitors on Saturday, Dec. 11, at Minot State University (MSU).
This is a performance all ages can enjoy. "Sometimes the word 'opera' scares people off," said Dr. Erik Anderson, MSO Principal Cellist, and Professor of Music and Performing Arts Division Chair at MSU. But Maestro Efrain Amaya explains, "I think we should just call it a musical." He continues, "The story is so children-friendly…. Anyone can relate to this story."
Originally written in 1951, Amahl and the Night Visitors was the first opera specifically composed for live television in the U.S. The television network required the work to fit in a one-hour time slot.
Menotti was inspired by The Adoration of the Magi, a 1475 oil painting by Dutch artist Hieronymus Bosch. The short, one-act opera, written and performed in English, centers around Amahl, a poor, crippled child. He and his mother open their home to three traveling wise men on a journey to present the Christ child with their gifts. In the end Amahl receives a special gift of his own.
Amaya explains, "We often think Amahl is the one learning a lesson, but he is the one teaching us."
The role of Amahl will be played by Minot native Megan Klebe, a senior at MSU. She is studying music education with a dual focus in voice and trumpet.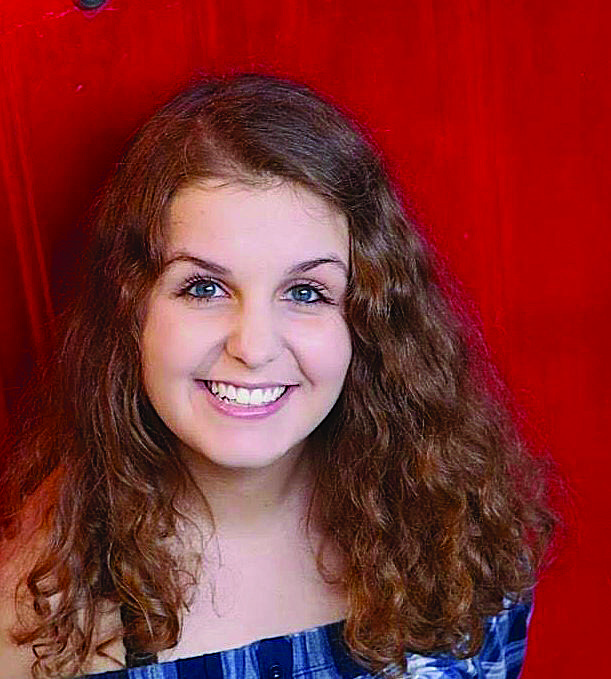 "It's a coming-of-age story for Amahl," said Klebe, who is preparing for her first lead role. She admitted, "It gets really emotional toward the end." Klebe's passion for the role was evident; she hopes she can portray that emotion for the audience to experience themselves. "I hope you fall in love with this opera as much as I have," she said.
Klebe's debut with the WPO was in 2019 as the Dew Fairy in Hansel and Gretel. Like most WPO productions, Amahl and the Night Visitors will incorporate a blend of student, community, and professional musicians.
The role of Amahl's mother will be performed by soprano Raquel Winnica Young, a two-time winner of the Pittsburgh concert Society Major Artist Competition and a finalist for The American Prize in Art Song and Oratorio. Winnica Young is also Adjunct Faculty at Indiana University of Pennsylvania.
Baritone Philip Zawisza returns to the Magic City in the role of King Melchior. Minot audiences will remember Zawisza from the title role of Figaro in WPO's 2018 production of Rossini's Barber of Seville.
Local musicians will handle the rest of the roles. Tenor Dr. Ken Bowles, baritone Dr. Eric Furuseth, and baritone Erik M. Anderson will perform the roles of King Kaspar, King Balthazar, and the kings' page, respectively. The cast is filled out with dancers from the Rinat Mouzafarov Institute of Dance & Ballet Theater and singers from the Minot High School Choir directed by Lindsay Kerzmann.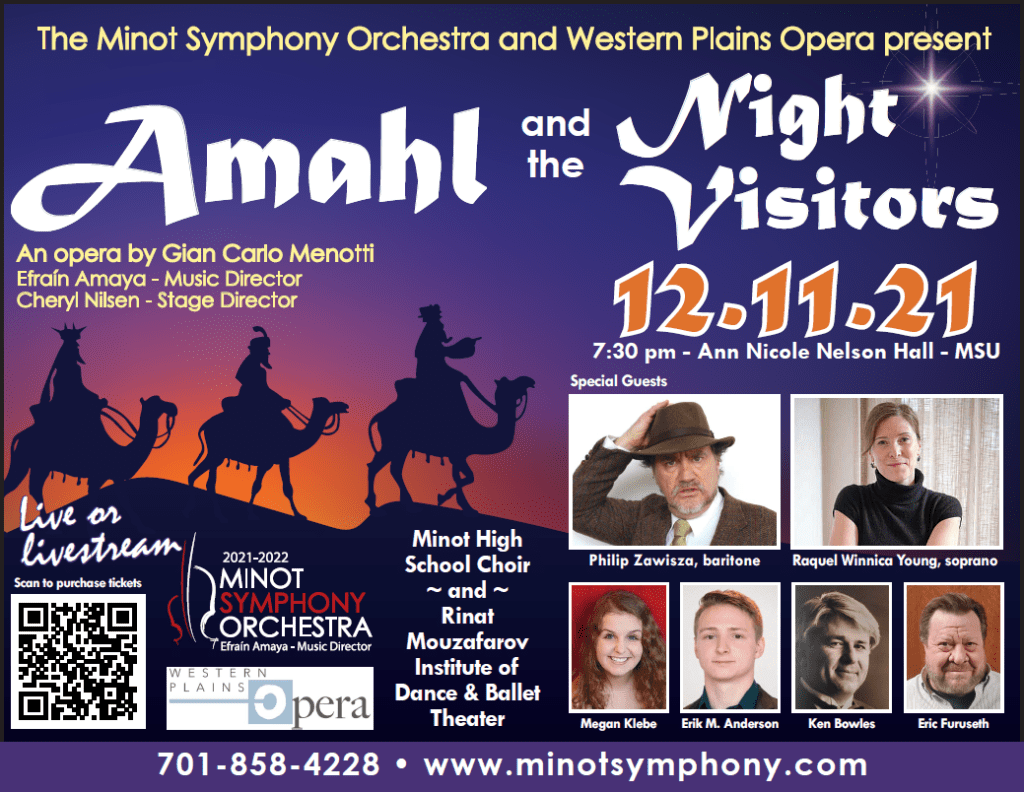 "We're lucky that all these parts are here," said Amaya. "The fact that we have someone like Rinat in town is just mind-boggling." Amaya will be joined by MSU colleague Dr. Cheryl Nilsen as stage director.
For MSO Executive Director Ellen Fenner, the coordination of this many moving parts to offer such a quality production to the Minot community is part of the excitement.
"People don't know what they're missing when they don't come to events like this," remarked Fenner. "You would have to travel a long way to get something like this [anywhere else]."
Ticket prices start at $25 for adults, with discounts for seniors and students available. Tickets can be purchased at www.minotsymphony.com or through the box office at 701-858-4228. Fenner encourages patrons to purchase tickets in advance, but tickets will also be available at the box office the evening of the performance.