Jury Finds Hoffman Guilty of Murder
MINOT – It took only 2 ½ hours Tuesday for a 12-person jury to reach a guilty verdict in the Heather Hoffman murder trial.
Hoffman, 26, Minot, was charged with the murder of 22-year-old Alexander Eckert in the doorway of Eckert's northwest Minot apartment. After lengthy evidence presented by the prosecution, which began their case Thursday, September 7 and ended before noon on Monday, Sept. 11, the jury agreed with the State's case.
Hoffman lowered her head shortly after the verdict was read. Her mother and sister, who had testified in her defense, were both crying audibly as Hoffman was led out of the courtroom in chains. Hoffman, also in tears, looked at her mother while shaking her head from side to side, as Ward County Jail deputies whisked her back to jail.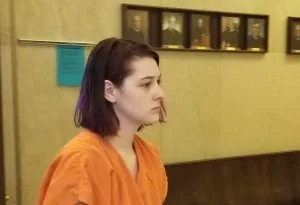 Minot Police were called to the scene about 12:40 a.m. on April 22, 2022, after a man said a person was lying motionless in a doorway and that the caller had heard a loud bang about an hour earlier.
Evidence provided during testimony at trial showed that Eckert was shot at close range with a .45 caliber pistol, the bullet passing through his brain stem and lodging at the back of his head. Witnesses said the gun was purchased by Hoffman less than a month earlier. The gun was found near the crime scene. 
Judge Gary Lee thanked the jury for their services. He also announced a pre-sentence investigation for Hoffman and set sentencing for December 1, 2023, at 9:30 a.m.