Closing Arguments Expected Tuesday
MINOT – The defense rested their case after less than two hours of testimony in North-Central District Court Monday. The State's case lasted two and one-half days, ending before noon Monday.
Heather Hoffman, 26, is on trial for the April 22, 2022, murder of Alexander Eckert in the doorway of his northwest Minot apartment. Eckert died from a close-range gunshot to the face from a .45 caliber pistol. A pistol found near the scene of the shooting matches one purchased by Hoffman at a local gun show a few weeks earlier.
Defense Attorney Steven Mottinger opened his defense by calling witness Richard Kambietz, Velva, a former boyfriend of Hoffman's. He testified that he believed the gun in question was purchased by Hoffman's 14-year-old niece, saying she is the one who checked the firearm out of the gun show.
Hoffman's mother, Diane, also testified for the defense, saying she "Had a fit" when she learned that Heather Hoffman owned a gun one day after it was purchased. She also told the court that Heather Hoffman handed the gun over to Jessie Schroeder, a close acquaintance of Heather Hoffman, about a week later.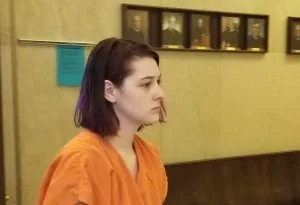 Amber Vidala, Heather Hoffman's sister, was questioned about Hoffman's whereabouts during the time the murder was believed to have been committed.
Vidala said, "From what I know Heather was upstairs in my son's room at our Minot Air Force Base home. I saw Heather shortly after 10:30 p.m."
Eric Vidala, Amber Vidala's husband, said he knew of Heather Hoffman's firearm, "calling it a piece of crap gun" and advising her to "get rid of it." He added the handgun had "no safety mechanism on it."
As to where Heather Hoffman was at the time of the murder, Eric Vidala said he was sleeping the night of the murder until Hoffman woke him at 10:47 p.m. On cross-examination by Assistant State's Attorney Christopher Nelson, Eric Vidala said he couldn't testify as to where Heather Hoffman was at the time of the murder.
"I was asleep. I don't know," said Vidala.
The defense rested their case shortly before 3 p.m. The State followed with some brief rebuttal testimony before Judge Gary Lee informed the jury that he expected the case to be wrapped up about mid-morning Tuesday, at which point deliberations would begin.
Minot Police were summoned to Eckert's apartment about 12:40 a.m. on April 22, 2022, from a person who said he heard a loud bang about an hour earlier and that there was an unknown male lying in an open doorway.
The State maintains Heather Hoffman committed the murder, then returned to her MAFB residence, through main gate security, by secreting herself in the back of a vehicle driven by Jessie Schroeder.