Minot State Hosts NOTSTOCK Festival
MINOT – Whether making it or watching someone else make it, art can be a very interesting project that comes in all shapes and sizes.
The Northwest Arts Center in Minot is hosting its 17th annual Minot State NOTSTOCK Festival Thursday through Saturday, a play on words to describe an art festival with featured artists from around the country.
The name is a combination of Woodstock, flat stock, and the phrase Why Not Minot, according to Northwest Arts Center Director Greg Vettel.
The guest artists can be anything from printmakers, street printers, and gig poster artists.
"They are here for three days with live printing events, they give talks, they work with high school and university students," said Vettel.
This year's guest artists are Cera Pignet, Minot, Mary Bruno, Saint Joseph, Minnesota, Jason Abraham Smith, Detroit, Michigan, Brad Vetter, Louisville, Kentucky, and Tyler Loeffler, Edmonton, Alberta.
The exhibition of their art will be up until September 30, with a reception scheduled for Saturday, September 24, from 7 p.m. to 9 p.m.
"We got tours from the high school, we've got university students that will come all day," said Vettel. "There's a DYI screen-printing, so you can print your own shirts."
Maia Robertson, a student at MSU from California, had one of her shirts screen-printed by Minot native Pignet.
"She's really good," said Robertson. "I'm going to make it part of my final assignments. I'm also going to do a letterpress assignment. I've changed my major three times. Finally figuring out what I want to do. I've always been creative, I've always enjoyed art. I should've stuck with art. It's a different kind of stress, but an enjoyable stress."
 Bruno and Vetter, the letterpress artists, said they have both been doing art for around 20 years.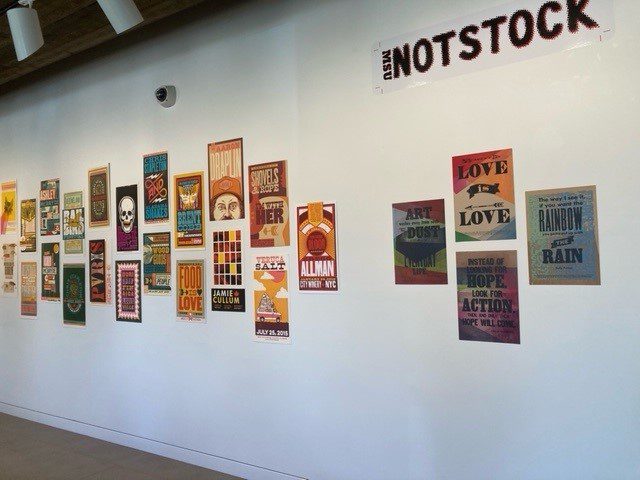 Bruno does a process she calls reduction, where she must take each painting and make it darker and darker.
Vetter puts ink on laser-cut blocks to create his art. He also makes posters for bands coming through different towns across the country.
"One of my main clients is Chris Stapleton, a country singer and musician," said Vetter. "I've done work for Chevy and Nike."
The exhibition is supported partly by the North Dakota Council of the Arts, which itself is partly funded by the North Dakota State Legislature and the National Endowment for the Arts. 
More information on NOTSTOCK can be found here.