Father/Son Claim AIM State Title
HAZEN – Winning is great. Winning with your son as a partner is even better.
Ross Grothe and his son Roger, 12, both Baldwin, won the AIM Weekend Walleye Series North Dakota championship held here August 26-27. The father/son duo built a sizeable day one lead and put enough walleye weight in the boat on day two to seal the win. 
"It was really exciting. Just a phenomenal first day," said Ross Grothe. "Doing it with my son made it that much better, making memories on beautiful Lake Sakakawea." 
The Grothe's had a lead of just under eight pounds following day one. Ross Grothe said his son played a big role in grabbing that lead. 
"He had the hot hand," said Ross Grothe. "It's his fourth year doing AIM events, so he's not an infant. He's a super good fisherman."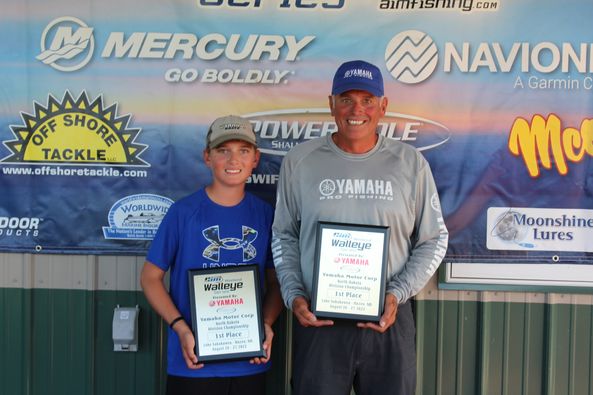 Ross Grothe said one the second day the team returned to where they had good luck on day one, only to find much different results. 
"There were a lot of people there and not many fish. We decided to relocate," said Ross Grothe. "There was some tension, not having a fish on the card." 
That changed with a new fishing spot and the Grothe's top five fish put 18.31 pounds on the board the second day for a winning 10 fish weight of 55.79 pounds. Under the AIM format, all fish caught are measured, photographed, and released.
The runner-up team was Craig Kolden and Shaeli Ekstein of Garrison. Their 2-day weight was 52.09 pounds, enough to secure them the coveted Team of the Year title and a berth in the AIM National Championship next year.
"That's one of the neat things about AIM," said Geremy Olson of Washburn, North Dakota AIM series tournament director. "There's 10 teams from North Dakota, Wisconsin, and Minnesota that qualify for a free invite to the national championship next spring. We send five from our state championship and five from our season points leaders."
The championship lake will be known only as "Lake X" until early next year when the location for the title clash is revealed. However, the lake will be off limits for all tournament fishermen until one week before the national event.
"This year was an interesting one given the weather conditions and lake conditions," said Olson. "But when it was all said and done it was a really competitive year. It was a lot of fun to see anglers push through all the adversity and still do really well. The purpose of AIM is to provide an accessible, affordable tournament series for guys or gals that work Monday through Friday. With AIM you can head to the lake Saturday, pre-fish, fish the tournament Sunday, and be back at work Monday."
The entry fees for AIM events is $300 per boat.
"We're already working on next year's schedule, getting a good set of lakes for our anglers to participate on next year," said Olson.