Dorothy Henke, founder of Dot's Pretzels, shared her success story during a Start Up Minot event Thursday. The Velva entrepreneur recently sold her business to the snack company Hershey. (Photo: Kim Fundingsland/The Dakotan)
By KIM FUNDINGSLAND
MINOT – She captured her audience as soon as she picked up the microphone. Area entrepreneurs were eager to hear Dorothy "Dot" Henke talk about her national success with Dot's Pretzels.
The Velva native was raised on a farm, often helping her mother tend a large garden. Later she began working on pretzel seasonings, mostly for family and friends. Her product was so well received that she began to see a bigger future in pretzels.
"I called possible vendors religiously to see if they would carry my product. I was a way to get them going," said Henke. "I did my duty there. That's my beginning. Take the time to talk and to listen."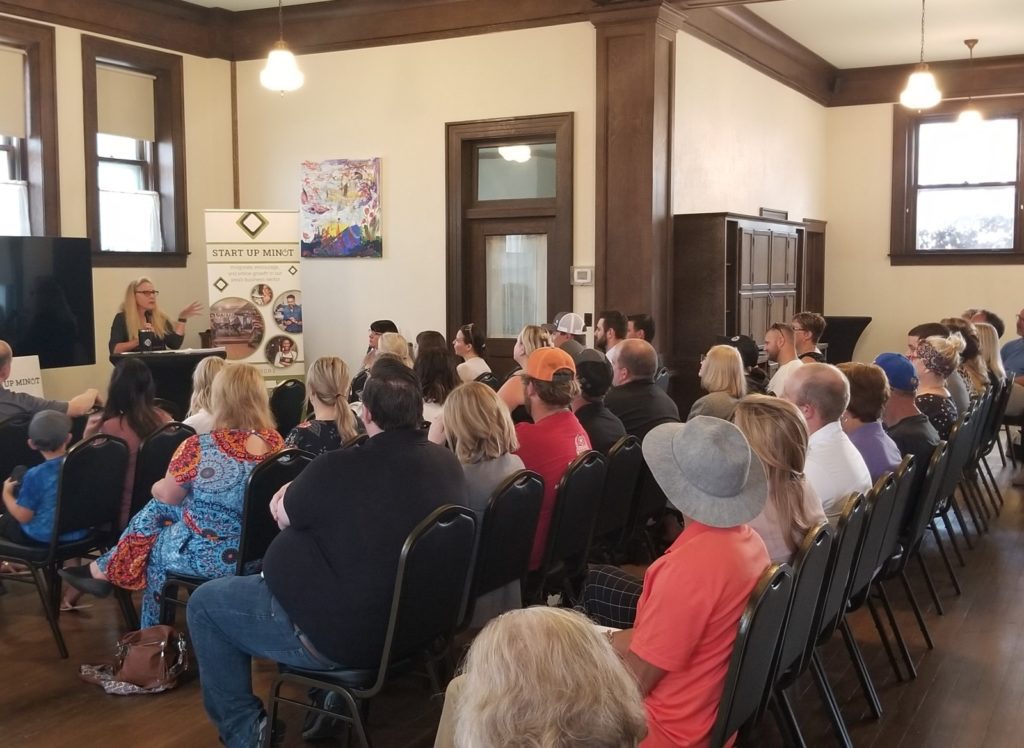 A very interested group, many from the business community, gathered at Minot's Carnegie Center and listened intently to "Dot" Henke tell her business story from concept to sale. (Photo: Kim Fundingsland/The Dakotan)
There's much more to Henke's success, including an obvious ability to relate to others.
"My employees worked for Dot, for me. They did," said Henke. "They were so good. We did everything as a team. It was always a team effort."
Dot's Pretzels, a Pride of North Dakota product, became a favorite snack well beyond the state's borders. Billed as a "small town recipe, big time flavor," it wasn't long before Dot's Pretzels craze caught the attention of the Hershey Company who enticed Henke to sell her business.
In November 2021, Hersheys announced the acquisitions of Pretzels Inc., who supplied Dot's Pretzels, and Dot's Pretzels, for approximately $1.2-billion.
"Dot's got an amazing story," said Mark Lyman, Minot Area Chamber EDC. "Ten years of hard work and a billion-dollar sale to Hershey. And, as we heard today, her passion for the area, and businesses, and entrepreneurs is almost unparalleled."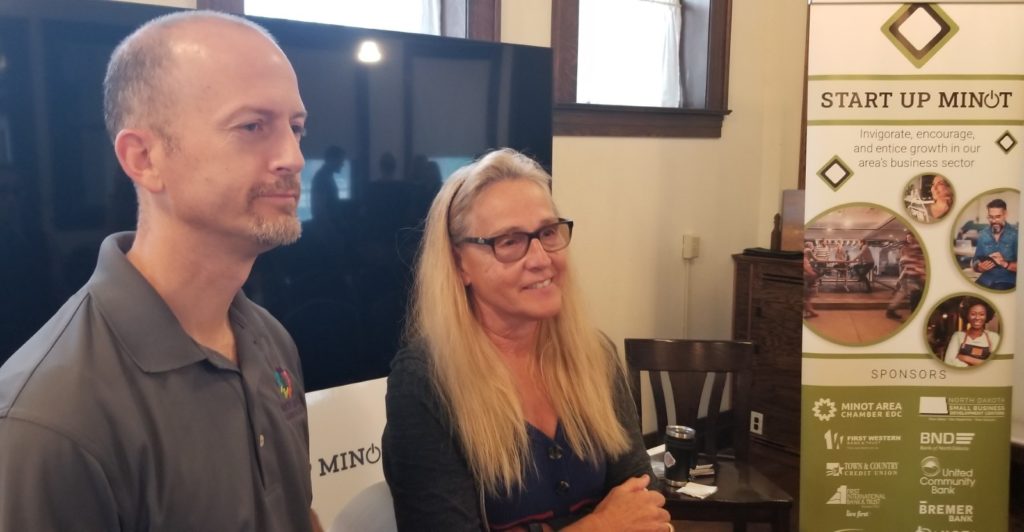 Mark Lyman, Start Up Minot, and "Dot" Henke, Dot's Pretzels, listen to comments from early arrivals prior to Henke's business presentation. Start Up Minot holds a business networking event each month. (Photo: Kim Fundingsland/The Dakotan)
Henke's early morning appearance Thursday was on behalf of Start Up Minot, a group that supports entrepreneurs and businesses. They hear from a different speaker at 7:30 a.m. the second Thursday of each month at the Carnegie Center.
"It's an easy location for people to come and hear from other entrepreneurs, to entice and encourage others to start their own businesses and overcome their problems," explained Lyman. "Make a friend, be a friend, so we can support each other."
Start Up Minot also offers a 10-week class called Start Up Minot Academy. More information can be found on Facebook at startupminot.