MINOT — The North Dakota Horse Expo came in at a gallop and left crowds in the dust, amidst a star-studded lineup. Clinicians, demos, competitions, and horse-focused, jaw-dropping shows featuring skilled and entertaining horsemen, horsewoman, and their cast of equine partners filled the North Dakota State Fairgrounds June 3-5.
Featured and award-winning Pegasus Riders, Libby & Maddy, both 11-years-old, specialize in trick riding, roman riding, dance, aerial hammock, and equestrian liberty. They offered the crowds fast paced and creative acts, captivating the North Dakota audience each performance.
Aside from the artistic shows, many speakers and clinicians spoke on equine first aid, biomechanics of horse riding, equine nutrition, farrier education and considerably more.
"I learned from comparative studies of the human brain and horses' brains. The electromagnetic sphere of the horse can literally register the emotions of a person within a certain range of the horse. Clarissa Goldstack from the mounted police of Bismarck had an extremely informative discussion of how effective horses are at search and rescue missions," said Buddy Walker, Minot Air Force Base - by way of Lufkin, Texas.
"This expo offered a great cast of clinicians, a terrific turnout for educating in the horse industry. All we need are more cowgirls and cowboys, and people to keep joining the horse business," said Phil Haugen, veteran clinician and horse trainer featured at the Expo.
Amidst the three-day affair of events offered at the North Dakota Horse Expo, Ward County traveling equine veterinarian, Dr. Kelly Schafer, offered acupuncture and chiropractic horse care sessions, helping diagnose and answer questions from horse owners across the state.
"This was a great turnout, and we have got to do some outstanding things on the acupuncture/chiropractic side to help horses in this business," Dr. Schafer said.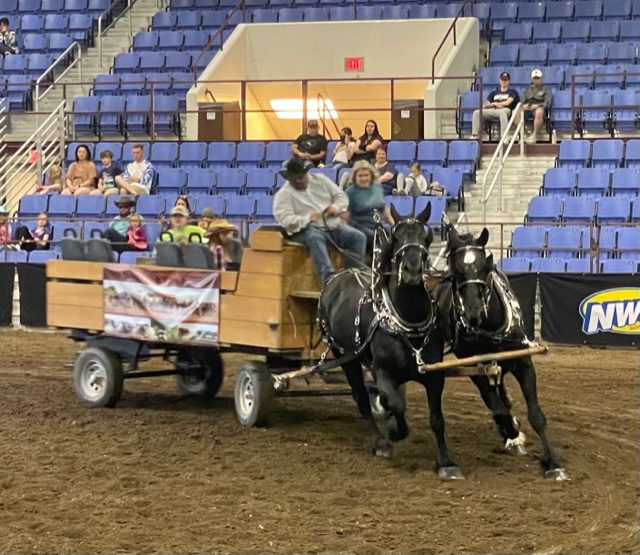 Before semis and eighteen wheelers, the driver of the draft horse team was the most crucial component of hauling cargo across the countryside. The driver was called a teamster, noted 'Equi-Ganza,' and to this day, many truck driving fleets across the country still have the logo of a teamster on their semis.
Les Vogt, 15-time World Champion in the reining and reined cow horses, noted that North Dakota horse enthusiasts and horseman are homegrown, down to earth horse people that are sincere to the industry, while hosting various horsemanship demonstrations throughout the weekend.
For more information and future dates, visit ndhorseexpo.com.