MINOT — Governor Doug Burgum and Senator John Hoeven, along with Souris River Joint Board and City of Minot staff, gathered by the 4th Avenue North floodwall entrance to celebrate the completion of the Phase MI-1 project at a ribbon cutting Friday morning.
Phase MI-1 is just one of the many phases in the Mouse River Enhanced Flood Protection Plan (MREFPP) and includes more than 2,250 feet of floodwalls, earthen levees, two removable closure structures in the floodwall and a storm water pump station between Broadway and Third Street NE. The Souris River Joint Board initiated MREFPP back in 2011.


The governor remarked on the spirit of the community of Minot.
"What's really remarkable is that Minot today has 7,500 more residents today than they did the year before the flood," Gov. Burgum said. "If you look around the country, most cities who have gone through major flood events, sometimes a generation later they can have fewer residents. So credit to everybody here."
Sen. Hoeven explained the process from his perspective and how the federal government has given around $10 million for phase 5 of the MREFPP.
"We're on track now for phase 5," said Sen. Hoeven. "We broke it into phases. We're working way ahead of where we would've been if we had tried to do it all at once. That's why today's really important. We got to finish out those remaining phases. We need to be back here not to long from now to see how we're going to move it [forward]."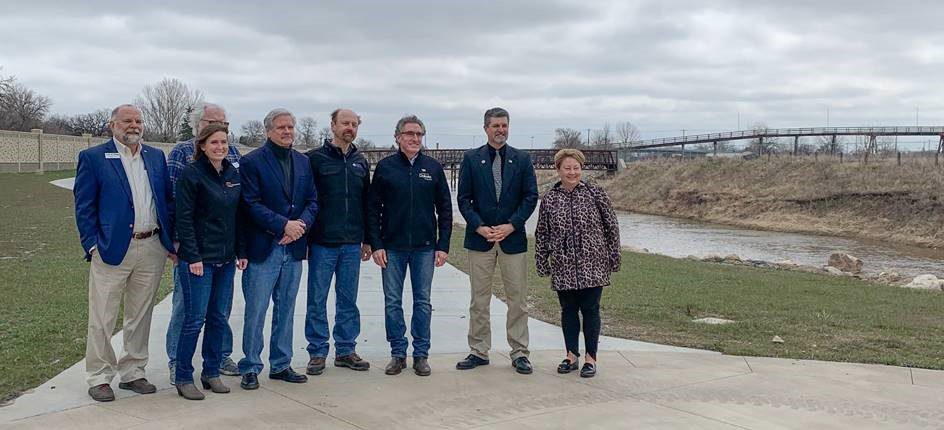 "The work that's being done here in Minot, the work that's being done by the Souris River Joint Board, it's really amazing," said Kevin Wilson, from the U.S. Army Corps of Engineers. "You don't see that everywhere, and it takes grit to do that sort of work."
Director of the Department of Water Resources Andrea Travnicek said she remembers exactly what she felt during the 2011 flood.
"It really does take leadership to get through some of these projects," said Travnicek. "The sirens in 2011, I was here that day, I was with Governor Dalrymple at the time. We were working with the city leaders, community leaders, knowing that the water was going to go over those levees. I will always remember that stress, that uncertainty that everybody was feeling that day. This really means a lot for me to be back in that water role. To be able to have this flood protection in the city of Minot, it's a really big accomplishment."
Mayor Shaun Sipma expressed gratitude to the leadership in North Dakota.
"This absolutely could not be done without the leadership that is currently working very hard and certainly has been working very hard for a very long time," said Sipma.
Senator Kevin Cramer and Representative Kelly Armstrong were not in attendance, but each had someone there on their behalf.
"[Sen. Cramer] did send greetings to share with you all," said Kaitlyn Weider from Sen. Cramer's office. From a statement he provided, she read, "'So much has been done, and more construction phases remain. Congratulations on having this phase completed. I wish you every success as you move ahead.'"
"I know Kelly well enough that I can say a few words on his behalf," said Darrell Nitschke from Rep. Armstrong's office. "I do want to thank Minot for doing such a wonderful job. Kelly wanted to say thank you and congratulations for a job well done."