It's been an entire month of planning and coordinating, but this last weekend all the hard work came to fruition. This past Tuesday, April 26, the Minot State Student Athlete Advisory Committee (SAAC) and the Diversity and Inclusion Council put on a mental health panel for the more than 400 student athletes on campus. Aleshire Theatre was filled with student athletes from every team on campus.
The event was first brought before SAAC at the beginning of the semester after President Andy Makarchuk returned from the NSIC SAAC conference and was given the idea. When Andy presented the idea of having a mental health panel, I instantly knew we could use my mental health podcast Mental Game to host, promote, and record the panel for future viewership. We wanted as many athletes as possible to be able to hear the important discussion that went on during the panel and we knew some athletes might be too busy to attend in person or on the road for games. By recording the panel through my podcast, we were able to broadcast it for all athletes to go back and rewatch it.
Originally the panel was supposed to coincide with MSU Softball's double header. The plan was to have softball wear their green jerseys, a color often connected to mental health, and use that game to help promote mental health and lead up to the panel later that night. Unfortunately, due to the poor weather conditions the past couple of weeks, MSU Softball's games were moved from Minot to Moorhead, Minnesota. The team still wore their green uniforms and heavily promoted the event despite the changed circumstances.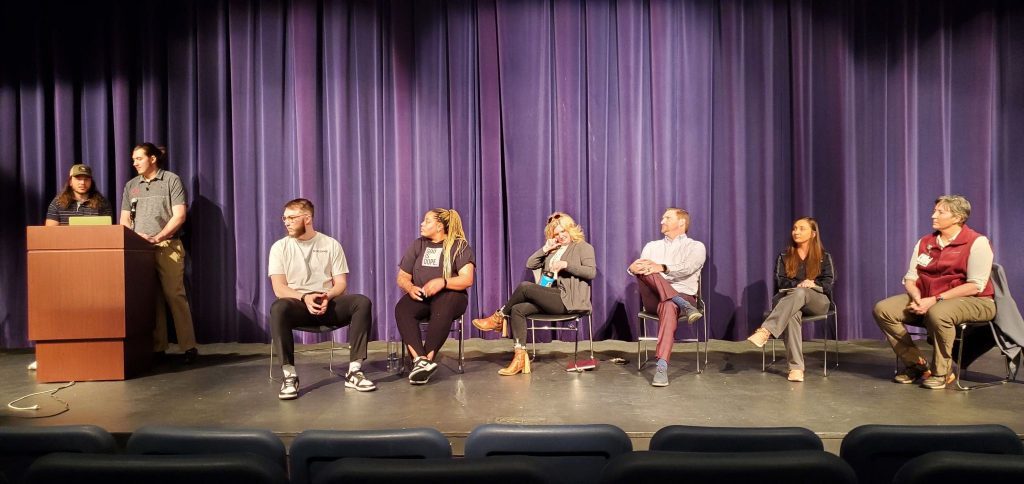 The panel consisted of six individuals. Two student athletes, Zoya Robbins and Kody Dwyer, and 4 MSU faculty members; Minot State's team doctor, Dr. Dawn Mattern, MSU trainer, Maci Severson, Men's Basketball Head Coach, Matt Murken, and Nancy Mickelson from the counseling office. The event started with both Dwyer and Robbins taking some time to tell the audience their story about their personal experiences with mental health during their time as a Beaver. Following their personal anecdotes, we moved to a discussion with the panelist. Several weeks prior to the event a form was sent out to all student athletes giving them the opportunity to submit questions for the panelist. My cohost Troy Kowal and I read off these questions for the panelist to discuss before the audience. Questions include healthy coping mechanism, resources on campus for students, and changes we can bring. To wrap up the panel we opened it up for live questioning from the audience.
Panelist Coach Matt Murken described the experience as very positive and felt it was important for him to serve on the panel.
"[I wanted to] continue to promote dialogue on mental health, especially for our athletes. Help create momentum for more resources for our students," Murken said, "The momentum for more dialogue and resources is building. Student athletes see the need for more resources, and I believe they would utilize them."
After serving on the panel, Murken sees a benefit of continuing to do panels for the student athletes.
"We should do it again. Perhaps once each semester," Murken said.
"I thought the mental health panel was really well organized, the combination of Q & A and hearing student athlete stories was a great experience and allowed me to learn more about mental health as well as realize that it is an integral topic that needs to be talked about in sports culture, especially college athletics," Delsman said, "I think everything with the panel went very smooth, all the panelist have their honest opinions which is important and gave really great insight including their own person examples which I think is important so that more people realize that everybody deals with mental health in some capacity."
Delsman happened to be our first guest on our Mental Game podcast and has been a heavy advocate for mental health awareness at Minot State during her time here.
"I think the conversation for mental health needs to become more second nature, just like physical health is addressed, and the mental health panel is a good first step to disbanding the stigma to mental health in college athletics. The more people that get involved the less we will see mental illness take a toll on athletes and I wanted to do my part in participating," Delsman said.
Like Murken, Delsman thinks the panel is a good first step, but far from the finish line.
"I would just say that I am proud to have had that experience and event held at my university, but again there is so much more that needs to be said and done. It's obviously easier saying that, as it takes a lot of effort, but it is so worth it even if we touched one person or saved one person. Imagine how much could be changed if everyone took mental health as seriously as we took physical health in athletes," Delsman explained, "I would say that continuing to have this conversation is important. We had a mental health panel, but the work doesn't end there. The people that were there obviously take mental health seriously, but it's the students, athletes, coaches who weren't there that need to be the next step. Creating this safe space that mental health shouldn't be looked down upon. It is important getting athletes to be their best selves on and off the court. At the end of the day, athletes are more than their sport, and everyone connected to college athletics should take that seriously. It was concerning that not all the athletic coaches were in attendance."
I agree with Murken and Delsman, I am very happy with how the event went. I am very passionate about mental health, and I wanted to panel to go as smoothly as possible, but there is still a lot of work to be done. We are just scratching the surface and I hope the event gets the ball rolling for more mental health discussion. Below is the link to the full panel discussion.
Mental Game – Mental Health Panel