WASHBURN — There's never too much snow to go fishing. Just ask any of the hardy competitors in the AIM Weekend Walleye Series that kicks off April 24 at Graner Bottoms on the Missouri River below Bismarck.
Fishing is about having fun, and for AIM anglers that includes competing against others who just can't seem to spend enough time on the water.
Minnesota and Wisconsin also have AIM events, with the top anglers from all three states eventually getting together to decide an overall champion. Prize money is good too, up to $9,000 for winning against an entire 100 boat field.
But AIM isn't your usual fishing tournament. No fish are kept. The circuit uses a catch, photo, and release format that has proven increasingly popular with tournament anglers. Geremy Olson, Washburn, is tournament director for the AIM Series in North Dakota.
"The goal is to go fishing with your partner, catch a fish, bring it in, put it on a ruler, take a picture to record the length of the fish, and then release the fish back into the water," said Olson. "The length is converted to a weight for the scoring of the tournament. It's an automatic formula, fair across the board."
Olson calls AIM "an everyday person's tournament", where the "fanciest boat and old 17-foot Lunds" compete alike. Teams are husband/wife, father/son, or best friends.
Another fisherman-friendly aspect of AIM is the schedule that allows for participation without traveling long distances or requiring days or weeks of pre-fishing.
"That a nice thing about AIM," said Olson. "If you are working Friday, you can pre-fish Saturday, be in the tournament Sunday, and still have time to travel home. That's the reason for the format."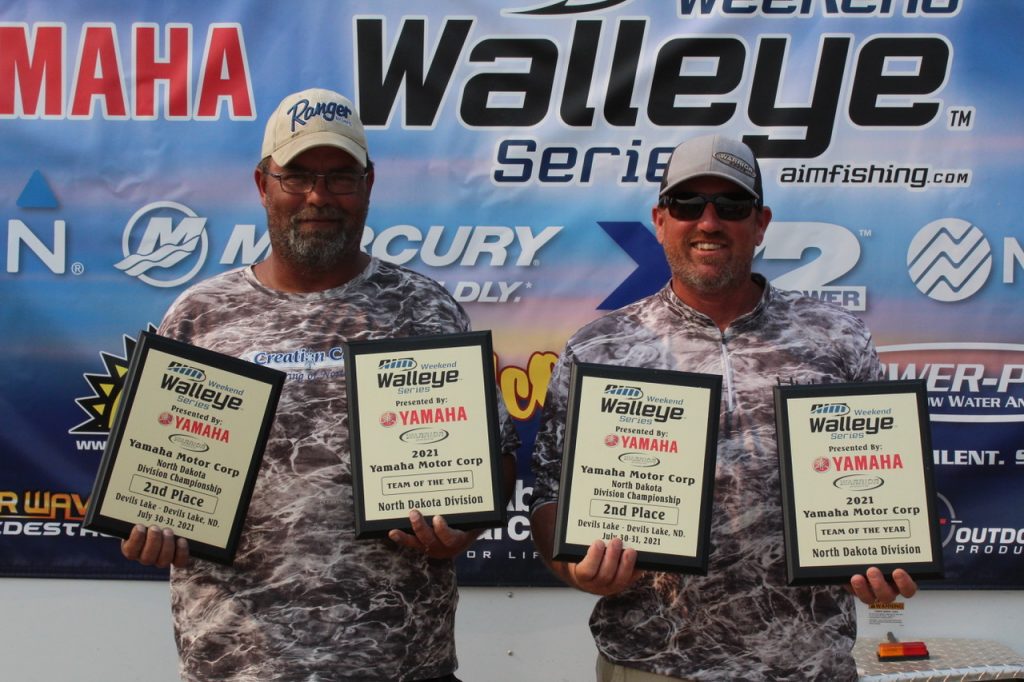 The North Dakota circuit will send 10 teams to nationals, which will take place near Alexandria, Minnesota this year. Qualifiers will be the top 5 teams from the season series and the top 5 from the 2-day championship.
"You can't qualify twice, so we'll advance 10 teams," explained Olson. "One thing that's pretty cool, virtually unheard of, is all entry fees at nationals are taken care of. It's a free invite. That's pretty much unheard of in championship fishing."
For more information about AIM™, AIM Pro Walleye Series™, AIM Weekend Walleye Series, AIM sponsors and AIM anglers, visit www.aimfishing.com.
2022 North Dakota AIM tournament schedule:
April 24 – Missouri River, Bismarck.
May 22 – Lake Ashtabula, Sibley.
June 19 – Lake Sakakawea, Parshall Bay.
July 10 – Devils Lake, Devils Lake.
Aug. 26-27 – Championship, Lake Sakakawea, Hazen.