CASSELTON — Governor Doug Burgum held a joint press conference today in Casselton with other industry leaders to announce a strategic investment plan for a carbon capture, utilization, and storage (CCUS) project. Summit Carbon Solutions of Iowa plans to build a 2000 mile long pipeline with 325 miles of pipeline in North Dakota. When completed it will be the largest CCUS project of its kind in the world.
The pipeline will capture carbon from 31 ethanol plants and other industrial sources in five states, North Dakota, South Dakota, Iowa, Minnesota, and Nebraska. It will terminate at a permanent sequestration storage site north of Bismarck. The proposed sequestration storage will be built 7000 feet below the ground. The initial capacity of the pipeline will be 12 million metric tons per annum (MMtpa) with expansion capacities to handle up to 20 MMtpa.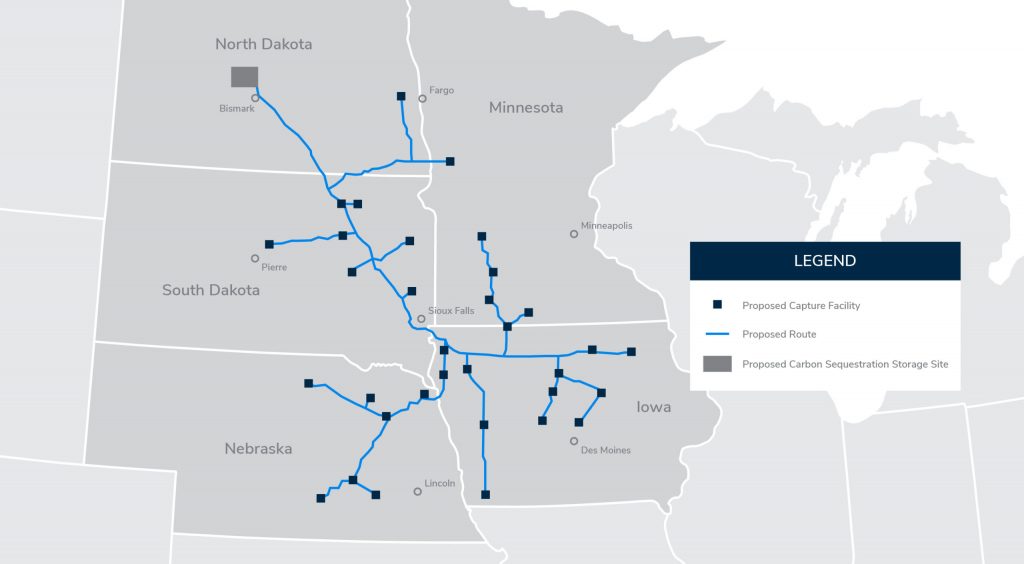 Tharoldson Ethanol in Casselton is the 6th largest ethanol plant in the U.S. and produces 1500 tons of CO2 every day. It is one of the 31 ethanol plants that will be sending carbon into the proposed pipeline.
Continental Resources founder and Chairman Harold Hamm joined Bruce Rastetter, CEO of Summit Agricultural Group and Gary Tharoldson Sr., owner of Tharoldson Ethanol Plant in Casselton to announce the plans and discuss the regional, national, and international impact this project will have on agriculture, the energy industry, and the environment. Burgum said that there is a natural synergy between these industries.
Rastetter agreed. "Oil, ethanol, and farmers have more in common than not. We saw in Continental a company whose mission matches our own vision."
Hamm said that Continental Resources is committing $250 million over the next two years to help fund the development and construction of what he calls a "world class project." Rastetter says this is a natural partnership since Continental has "unmatched experience and knowledge of the geography of the Williston Basin where we will permanently sequester the CO2" coming from participating plants.

Burgum said that when he announced in May 2021 a goal for North Dakota to be carbon neutral by 2030 "with no mandates and no regulations," many thought it an ambitious goal. He noted that this project goes a long way to helping North Dakota reach that goal, and it does so through innovation and investment rather than mandates and regulations.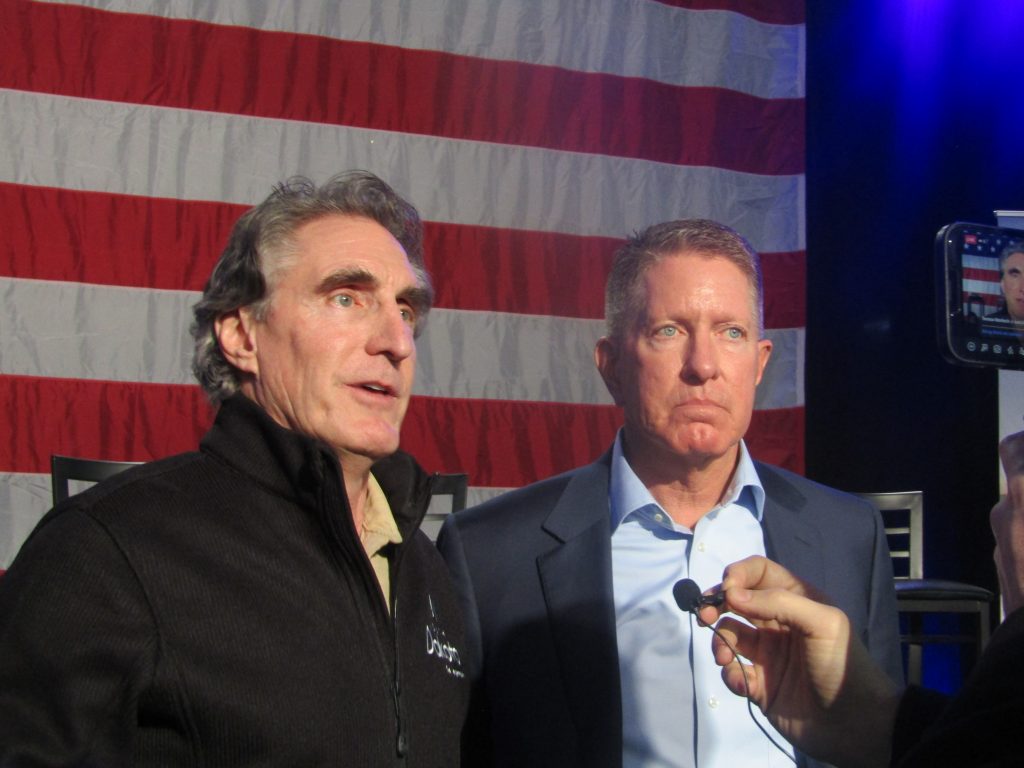 Rastetter says that over the years as ethanol production has increased, its carbon impact has decreased from 99 to 55 and that this project will cut that carbon impact in half.

One of the industrial producers that will send carbon into this pipeline is Northern Plains Nitrogen, a fertilizer plant in Grand Forks. Burgum said that as other producers send their carbon into the pipeline it will help farmers reduce their carbon footprint even more, since farmers will be using "de-carbonized fertilizers as well as de-carbonized fuels."

Senator John Hoeven (R-N.D.) delivered a pre-taped message to the group. He recounted the years of legislative action and government planning to develop the right legal, tax, and regulatory environment for CCUS technologies. Because of this planning, "we are now one of two states in the nation with this authority [to capture and store CO2]. We not only have the necessary geology but all state and regulatory approvals to safely secure and store CO2," Hoeven said.


Senator Kevin Cramer (R-N.D.) was also pleased with this project saying, "Congratulations to Summit Carbon Solutions, Continental Resources, and North Dakota on leading the nation in the development of carbon capture and utilization solutions. Our state shows energy development and environmental stewardship are not mutually exclusive. Once again North Dakota's excellence and ingenuity is surpassing the mediocrity of federal bureaucracy."
Members of North Dakota Corn Growers Association (NDCGA) that were present at the news conference said they are hopeful about the possibilities that this project opens up for farmers. 40% of North Dakota's corn goes towards making ethanol. Brenda Elmer, Executive Director of NDCGA says that the association is always supportive of efforts that improve the economy of North Dakota's corn growers.

Jake Ketzner, vice president of governmental affairs with Summit Carbon Solutions says that they are working right now to secure easements from farmers and complete the permitting process in all five states. They estimate that they should have all of that completed by the end of 2022 and begin construction of the $4.5 billion project in 2023. The company hopes to be fully operational by 2024.

[Video shown at the press conference: https://youtu.be/XuC89sLQasE]
Related stories:
Carbon Capture Project: The Farmer's Side of the Story
Carbon Capture Project: The Environmentalists' Side
Carbon Capture Project: The Taxpayer's Side