I think it's really fair to say that it's easy to get discouraged when you take a look at the news now-a-days. Just the other day I heard somebody say that our country is going to hell in a hand basket yet again and definitely agree that it's easy to be afraid of the future. For me personally, one of the things that discourages me the most is listening to North Dakotans be afraid of the weather. Yeah, I guess this is probably my "walking to school through knee-deep snow uphill both ways" story. As a kid at my little country school, they had a D9 Cat lead the school buses in and out every morning and night for most of the winter because of drifting snow. Yeah, it's easy to be discouraged if all we focus on are the things that are going wrong or that frustrate us.
But when we take a step back and look at the big picture, there are a lot of positive things going on people tend to overlook. Some of these things are happening on the water at Devils Lake every summer and on the ice every winter. Men in Boats and Men on Ice are part of the men's outreach ministry of Hope Lutheran Church in Fargo, North Dakota. If I had to describe the event, it's a couple days on the water hanging out with friends or maybe it's meeting new friends or maybe it's a time to hang out with your kids or maybe it's time to learn something new or maybe it's…maybe we should ask the organizers how they would describe this great event.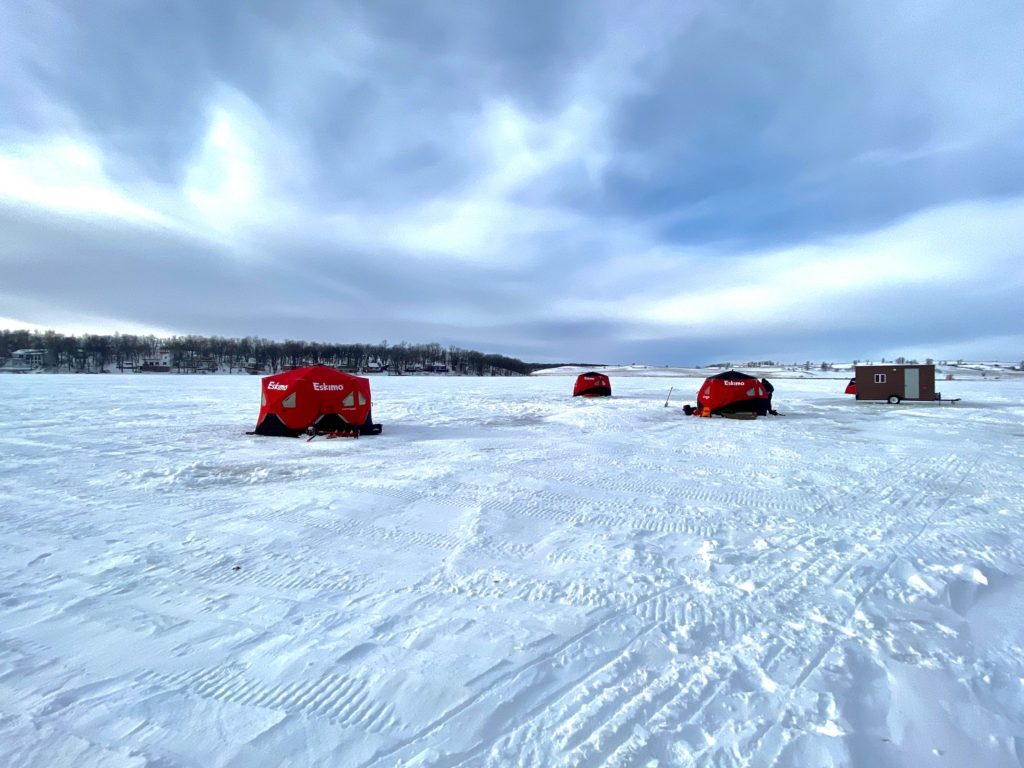 Kyle Agre is a businessman, outdoor personality, and member of the church council at Hope Lutheran Church. Kyle has also been an event organizer for Men in Boats since it's inception over 20 years ago.
"The event is geared for everybody, not just those who are hard-core fishermen," Agre said during an interview last week. "When you keep the focus on relationships, the rest of the details tend to fill themselves in." This formula seems to be working with an attendance of almost 40 at this year's Men on Ice event that was held south of Detroit Lakes, Minnesota even though we had 20 mph wind and cold temps. The summer event Men in Boats consistently brings over 100 attendees to Lakewood Park Bible Camp on Devils Lake.
As a dad of three boys, one of the things I've struggled with over the years is finding events that we could all participate in together. There are a lot of church events for men out there, but most of them have an age restriction. There are also a lot of other events that are held in locations that have age restrictions.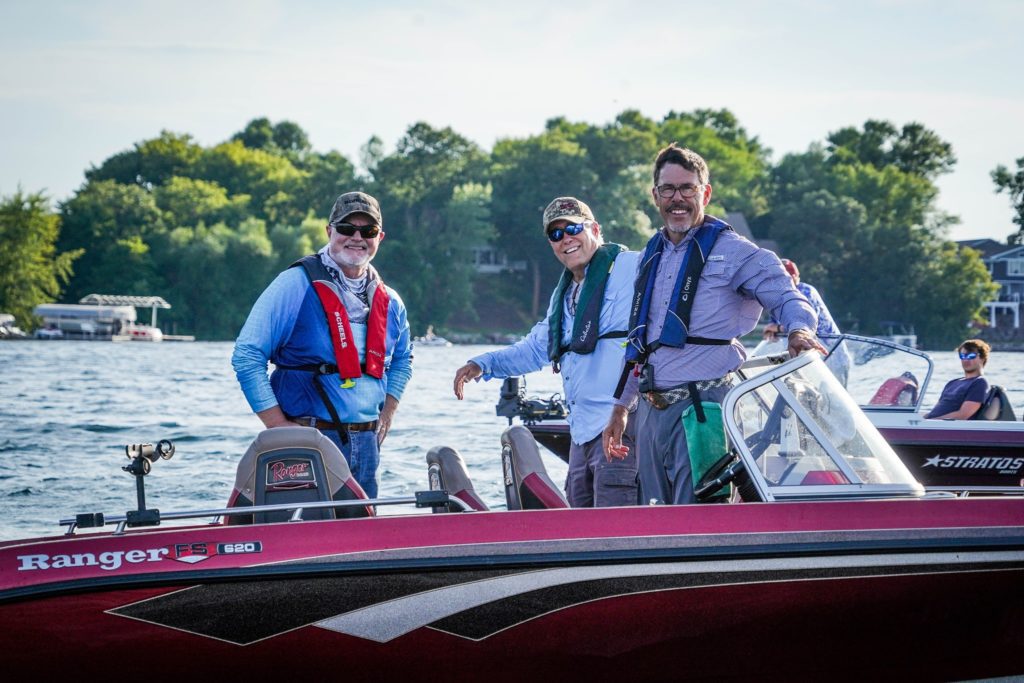 When I asked associate pastor Ben Jacobson, who is now in charge of this event, what's the secret to it's longevity, it took him no time to answer. "We stick to the four F's: fellowship, faith, friends, and fishing. After that we work hard at keeping it multigenerational. The first time I attended an event I was able to do so with three generations of family, my brother, dad, and grandfather. There are very few places and events out there that are multi-generational."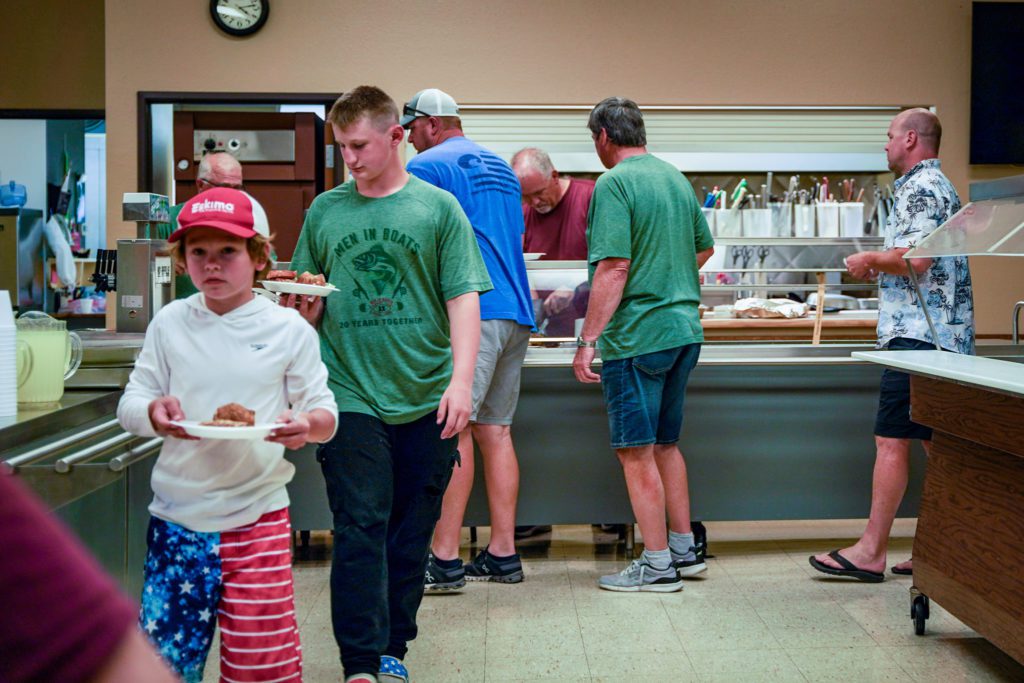 When I asked Kyle why the event has been so successful for the last 20 plus years he answered, "Keeping the main thing the thing is crucial.  And the main thing is our focus on our mission of 'encouraging all men of all ages to grow in their relationship with Jesus Christ through Fellowship, Faith, Friends, and Fishing.' Another reason Men in Boats keeps going is the investment over the years of the organizers and participants." Having attended a handful of events myself over the last couple years, Kyle hit the nail on the head. There are not many events that I go to where you see participants being so actively involved in running the event. What makes it so unique is that many of the participants are attending for the first time.  The environment created at this event just naturally communicates that it's OK to help and be an active part of making it happen.
Another thing that sets Hope Lutheran's fishing events apart from others is rarely seen in fishing circles. Whether it's a pro angler like Johnnie Candle from Devils Lake or a new angler who has never fished before, everyone shares and helps each other. This includes, but is not limited to, where the fish are, how to fish, and what's the secret to catching fish that day. When I asked Kyle what it took to create an environment like this he replied, "It's all about relationships, not catching fish." Ben added, "We work for it to be this way. There are no rules, we just have goals that the whole church supports."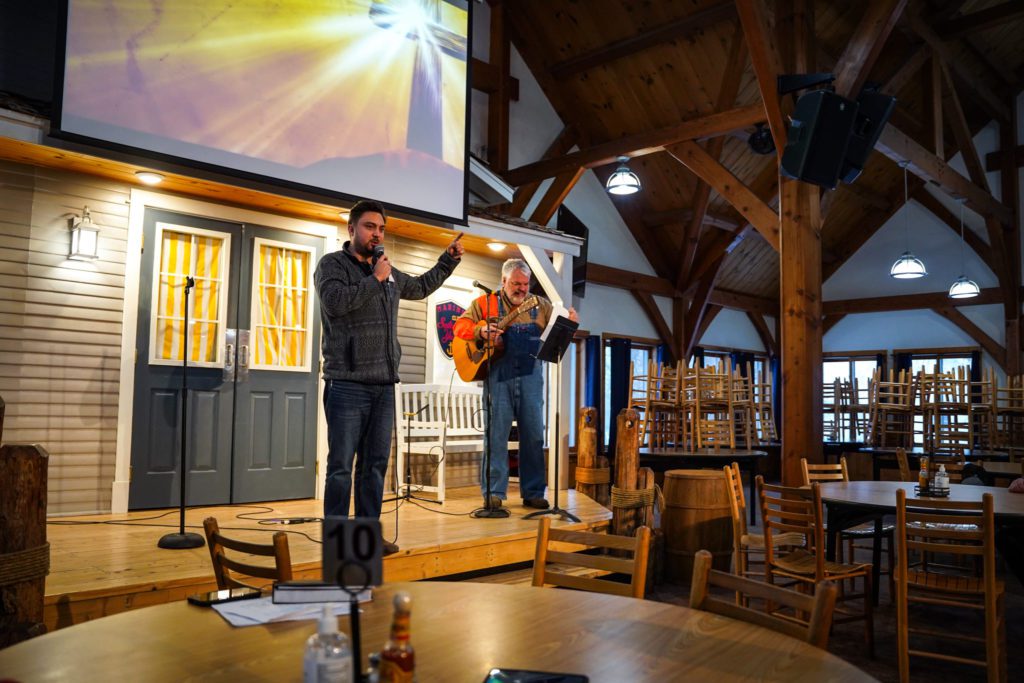 As you're reading this, you may be thinking to yourself there has to be more to it than just a bunch of guys getting together and building relationships. Well, there is one secret to this event, it's the food. When you come to Men in Boats or Men on Ice, you will not starve. The cook, Joe, is a humble guy who loves to bless people with his ability to cook and serve. And I'm not quite sure if I can put into words the impact he has on the men that show up at this event. I think my son, Andrew, expresses it best when he says, "I don't care if we ever catch fish as long as we get to eat Joe's cooking." I think this is true partially because how good the food is and definitely because of how big his heart is.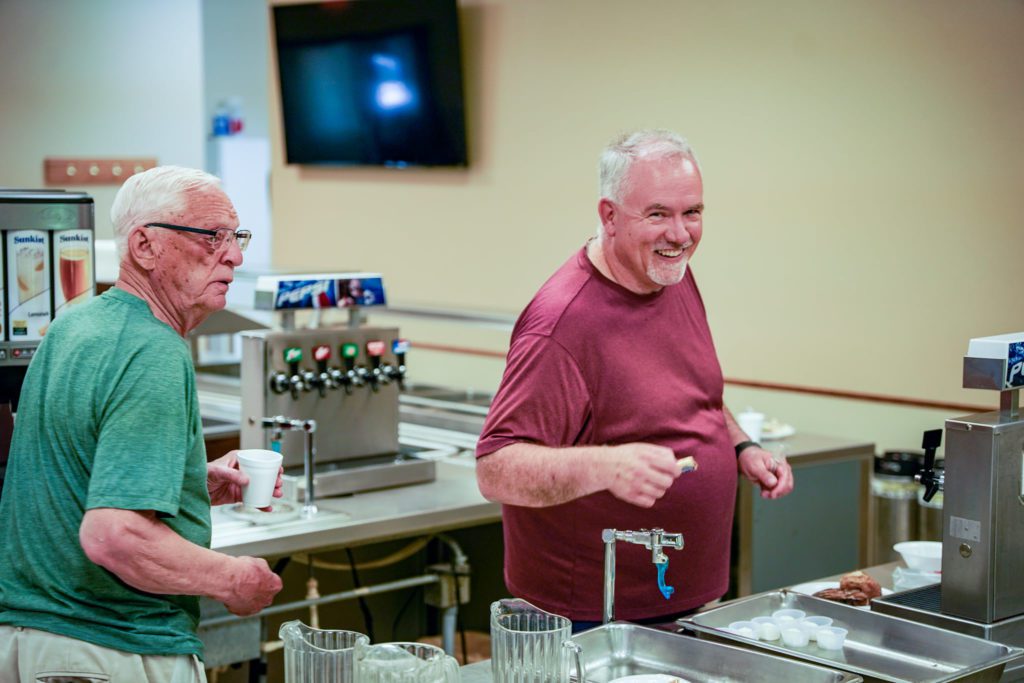 For me this event truly gives me hope for the future. It's exciting to watch in real time all the things that society tells us no longer exist and we can never get back and yet here they are with a bunch of guys on the ice and on the water. The organizers make it very clear that you don't have to be part of Hope Lutheran Church to attend. You just simply have to sign up and come; no tackle or experience required. Stay up to date with event information on Facebook @MenInBoatsMinistry and on the church website FargoHope.org. The next event is Men in Boats at the Lakewood Bible Camp on Creel Bay in Devils Lake June 10-12.
Geremy Olson grew up in the outdoors. After being burned as a volunteer firefighter, he had to figure out how to teach outdoor skills to his children from a wheelchair while learning to walk. Today he is an inspirational speaker, author, FCA Outdoors ND director, tournament director, video producer, wildfire consultant, and proud father of the owners of Missouri Secrets Tackle & Secrets to Fishing.