Adaptive Sports Replace Boring Therapy
MINOT—My day at the YMCA was done. My pool workout was over, and I was headed home. Distracted a bit by a friend saying hello on her way into the YMCA, I turned back toward the doors leading into the parking lot and found myself on a collision course with a young man, then about nine-years-old, in a wheelchair. I hit the brakes, and so did he, and we avoided the accident and his dad, Chad Thompson said, "Palmer, watch out for Mr. Wilson, look out where you are going."
Thompson and I have known each other since he was a kid about Palmer's age. He used to play soccer, and I was, for lack of a better word, his coach. I was able to shoot a "don't worry about it" smile back at Thompson and turned quickly enough to watch Palmer head through the doors at the "Y" bouncing a ball as he and his friends headed to the gym to play basketball.
Palmer has been pretty much wheelchair bound his entire life having been born with spina bifida. The opportunity presented itself on this morning to take a few minutes and watch him play wheelchair basketball with his friends, and I was more than amazed by how quickly and effortlessly he moved around the court.
Fast forward a bit to another occasion where I was able to watch him playing sled hockey at the MAYSA arena. Handicapped? Well, none of these athletes appeared to use that word as a description or a reason for that day. To my right were a couple of parents talking about how amazing it was for these kids to be on the ice and were praising the mission of Prairie Grit, the organization Chad and his wife, Angie, Thompson founded.
The couple created Prairie Grit Adaptive Sports after their family experienced a ski outing for Palmer at Eagle Mount in Bozeman, Montana. "He got to ski with Eagle Mount, and we looked for a house in Bozeman. It came down to we either move or start something similar with sports opportunities here for him or kids like…adults like him. We decided to get it going, and I started building the board…I was calling people that we thought would be a good fit, and we started with sled hockey." Thompson recalled, "There was a need, and so building [Prairie Grit] was not all that difficult, because people saw the need."
Now a vibrant, growing organization, Prairie Grit is funded in part by a donation of 1% of sales from the four Qdoba restaurants the Thompsons own – the two in Minot and one each in Dickinson and Williston. Quite a lot has happened since those early days of Prairie Grit, and now the list of sports has increased to more than 35 sports with 220 participants last year, 20 of them being new to the program.
There is also a Prairie Grit fishing day at Van Hook on Lake Sakakawea. "[All of the events] are all special, but that day is really special," said Thompson. "Those guys are all anglers, really good anglers, and I know that they enjoy the day as much as the athletes do." He said last year there were 18 participants, "So you were talking 18-20 boats with guides. Everybody catches fish and then we fry the fish and give out prizes… It's so cool."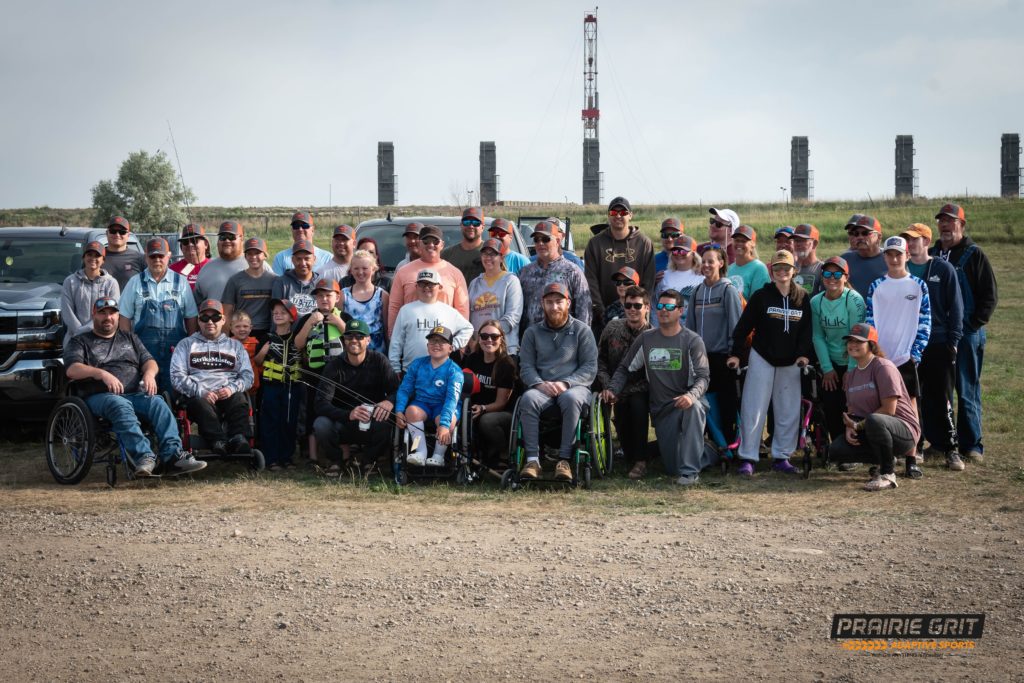 Prairie Grit is continuing to grow and add activities. Thompson said, "We're looking at how we manage all of these buckets, like our hunting and outdoor division. We have a couple of volunteers that manage that." Thompson says he still loves to hunt, but now it's more about teaching and sharing hunting experiences with his boys. "For me it used to be planning a hunt for one person. Well, that changes when you are planning to take a kid hunting and add to that a wheelchair or a disability, and it all changes. We have great volunteers who plan the hunting events, and all we do is show up."

Executive Director of Prairie Grit Krystal Butgereit started as Palmer Thompson's Occupation Therapist in 2016 and has been with Prairie Grit for the past three years, "I am so amazed how the community of Minot has embraced our program. It seems all we need to do is ask and the community responds." She said the idea from the beginning was to make all of the sports adaptive and inclusive.
Prairie Grit started with sled hockey and about 10-15 youth and adults participating as Butgereit recalled. With ages from three-years-old for gymnastics to 50+ year old adults that participate in hunting and fishing, Prairie Grit is not only serving the athletes, but also the families. She said, "It is so great to see 200+ people at a Prairie Grit event. Some come to all the events. And as far as area that we serve, we had a Montana kid that came to participate in wheelchair basketball."

Prairie Grit strives to be inclusive Butgereit says, "We have family members who come and jump in a wheelchair or sled and participate." Butgereit and Prairie Grit have also brought wheelchairs to schools, so an entire class can participate in wheelchair basketball. "We want to do more of those kinds of activities," she said. "But COVID kind of slowed our progress a bit."
Looking at continued expansion, Thompson said, "One population that we are thinking we need to reach is our veterans, and the [Minot Air Force Base]. A lot of people think we are only kid orientated, which we're not. Do we get more kids? Probably, but we still want to reach out to adults with our programs."
Thompson says that in addition to being entertaining, "All of these events are therapy. For Palmer, it's great therapy. He doesn't want to go to a therapeutic environment. How do you make it a game? How do you improve the physical and mental health of our athletes? You do that through sports and competitive recreation and through being part of a team."

On the Prairie Grit website, Thompson sums up, "This journey has been amazing for our family and the local support in the Minot area has surpassed our expectations. We couldn't be happier to be a part of Prairie Grit Adaptive Sports. We have big plans in store for PGAS and look forward to future growth of our programming."