MINOT AFB — When my co-worker asked me if I was interested in a volunteer opportunity at one of the on-base schools, I had no idea what to expect. I had never really worked around children before, but it sounded like a great opportunity to help the community.
Fast forward to December of 2021, and I found myself standing in the headquarters of the Minot Area Chamber Economic Development Corporation (EDC). Carla Dolan, Chamber EDC Vice President, handed me a bag labeled "Junior Achievement" that contained all the resources necessary for the five week course that I would be teaching to a class of first graders at Dakota Elementary.
Teaching? I was a journalist and graphic designer; teaching children wasn't exactly my expertise. Keeping an open mind as I looked through the guide, I realized that Junior Achievement had provided everything I would need to teach these children an important, age-appropriate lesson on money, jobs, and entrepreneurship. I didn't have to have experience, I just had to be willing and passionate!
So each Wednesday after finishing my Northern Sentry work and before heading off to my second job in town, I dropped by the school to teach Junior Achievement to Catherine Szabo's first grade class. The students were excited to see my face pop through the door, and each week that we have worked together we continue to not only learn, but have fun together.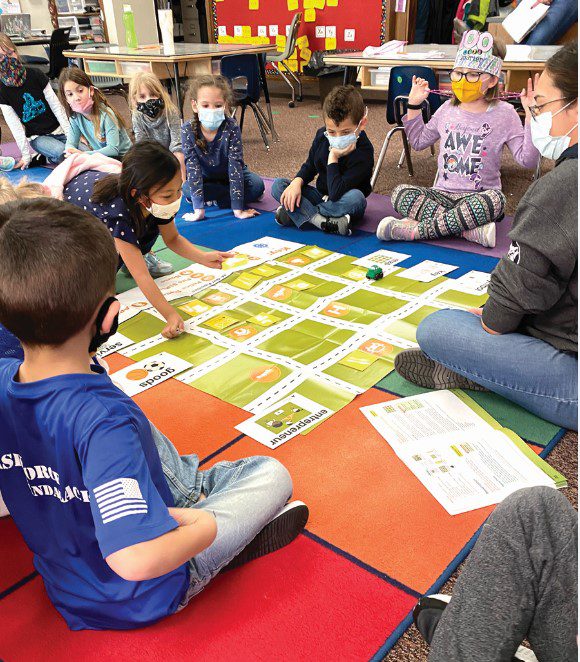 What is Junior Achievement?
"Junior Achievement is a national program founded in 1919 to bring role models into the classroom, so kids can learn firsthand about the free enterprise system, entrepreneurship, careers, and educational opportunities," said Dolan. Minot's JA began in 1997 as a pilot project with 25 classes based in one school, thanks to a grant from Xcel Energy. "Once it caught on, it expanded to include both public and private schools and has grown to 150 classrooms," she continued. Nationwide, the organization reaches more than three million students per year with the help of over 150,000 volunteers from all walks of life.
"The outside expertise is vital to students as they learn about money management, city planning, and assembly work among other topics. The program was started, because its message is to teach about the free enterprise system… a message we at the Chamber EDC feel is important for young people," said Dolan.
In an ever-evolving world, JA students are able to get a head start on learning the basics of economy that have been proven successful in a number of areas, according to independent evaluators gauging the program's efficacy.
"All 12 Minot Public elementary schools participate, which includes Minot Air Force Base, as well as Bishop Ryan and Our Redeemer's Christian School.  With 116 classrooms this year, we have 97 volunteers.  We still have 7 classes that need a volunteer," Dolan said. These classrooms range from K-5, and volunteers are recruited from local businesses, nonprofit organizations, parent groups, and more. JA is offered at no cost to local schools, with all of their resources being provided by donations and grants from area businesses.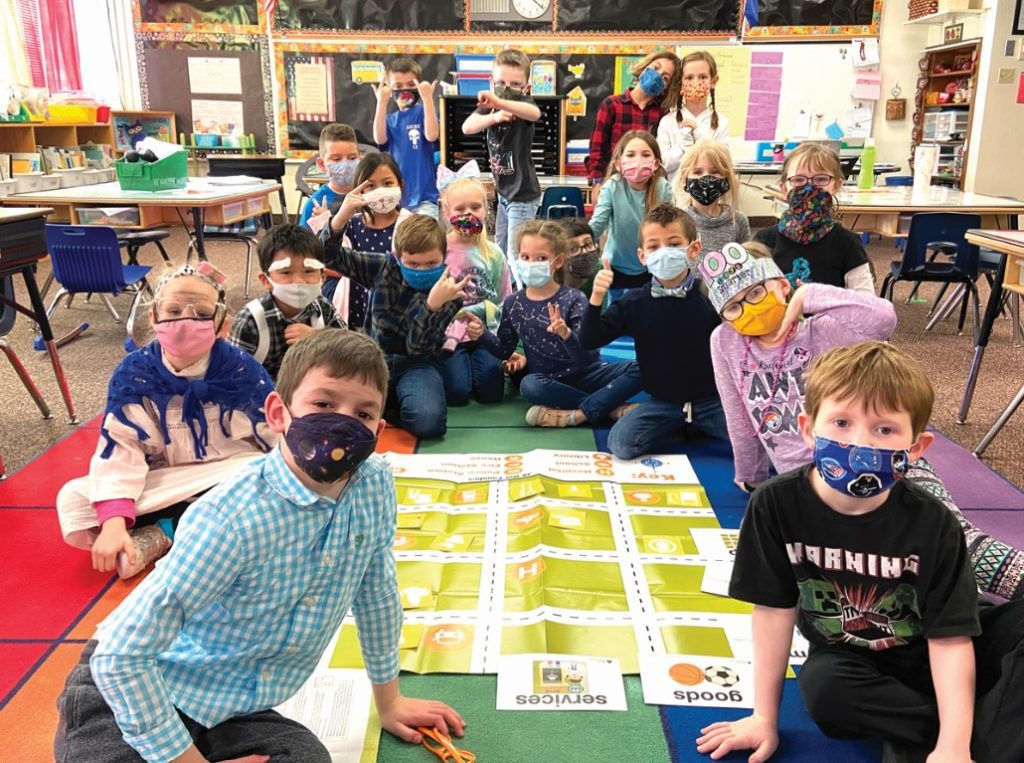 The program in action
The JA program is designed to be easy to understand and follow Common Core standards for early elementary grade students. Provided with a step-by-step guide as well as teaching materials, volunteers visit their classrooms weekly for five one-hour sessions. Each session provides interactive lessons with vocabulary words, demonstrations, open discussions, and fun activities for students to learn and apply the topics to their everyday lives.
Catherine Szabo, first grade teacher at Dakota Elementary, has participated in Junior Achievement for seven years and continues to notice the impact that it has in her classroom. "I think the Junior Achievement curriculum is well written at a level the students can understand. It actually closely follows some of our social studies standards, so it is relevant to what the students are learning in class. The activities that the students complete are hands on and very interesting to them. The students also get to meet and interact with a new adult in an instructional setting which they very much enjoy," she said.
"It is good for them to have that positive experience with an adult from their community. I enjoy getting to know the volunteer as well. I also enjoy being able to observe the students participating while someone else is providing instruction. It sometimes gives me a new perspective to how they learn," Szabo said.
JA is beneficial not only for the students, but for the teachers, volunteers, and the community as a whole. Walking into Ms. Szabo's class five weeks ago, I didn't realize quite how much I would enjoy going through each lesson with them. They are smart, intuitive, passionate, and creative. I have had the opportunity to watch these kids use their gifts and apply themselves to the lessons in ways that not even I thought of walking into it.
For more information on Junior Achievement in the area or to volunteer, visit www.janorth.org/volunteer. Together, we can make a difference and empower the next generation to be successful.