Freezing Rain, Heavy Snow, and Sub-zero Cold
If your idea of a winter wonderland is ice, snow, and frigid cold temperatures then this one is for you. The Minot region, and most of the state, experienced it all during the long Christmas weekend.
While people were digging out from heavy snowfall Monday morning, the weatherman was promising a week of frigid temperatures. Cold. Very cold. Minus 25 degrees cold and dangerous wind chills. 
Snow began falling during the afternoon hours Sunday and continued through most of the overnight hours. According to the National Weather Service, 9.2 inches fell in Minot. However, snowfall totals can vary with short distances. What was a certainty though, was that Minoters were digging out across the city Monday morning.
The sound of shovels scraping and snowblowers churning could be heard in all parts of Minot. Traffic was noticeably light Monday morning as many people were either busy clearing out driveways and sidewalks or remaining indoors and enjoying a long holiday break.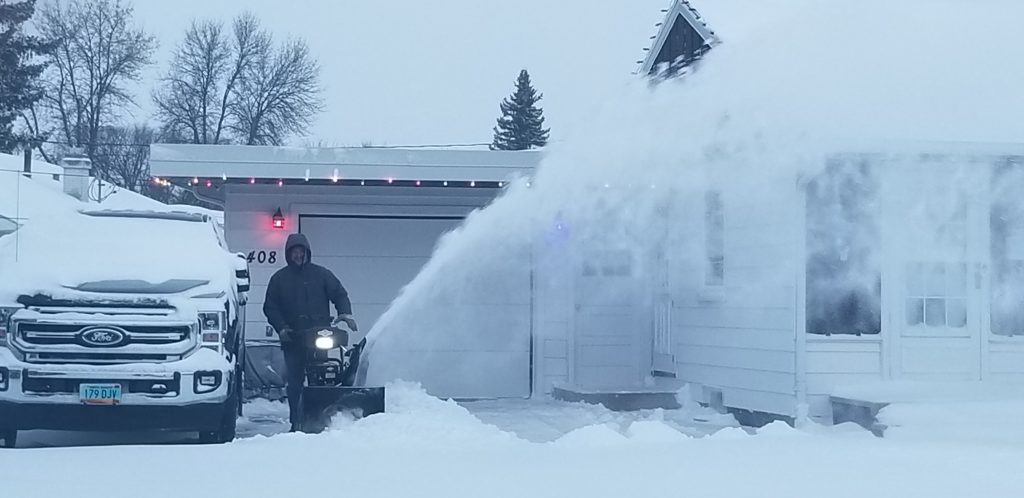 Lisbon and Jamestown recorded 11 inches of snow from the storm with more expected. The NWS issued a Blizzard Warning for the James River Valley through Monday afternoon. At the same time a Wind Chill Warning was issued for Divide and Williams counties through Tuesday morning.
While the big dig out continued throughout the city, huge piles of snow began to appear on parking lots and other locations. Many city streets, other than the main thoroughfares, remained covered in deep snow early Monday.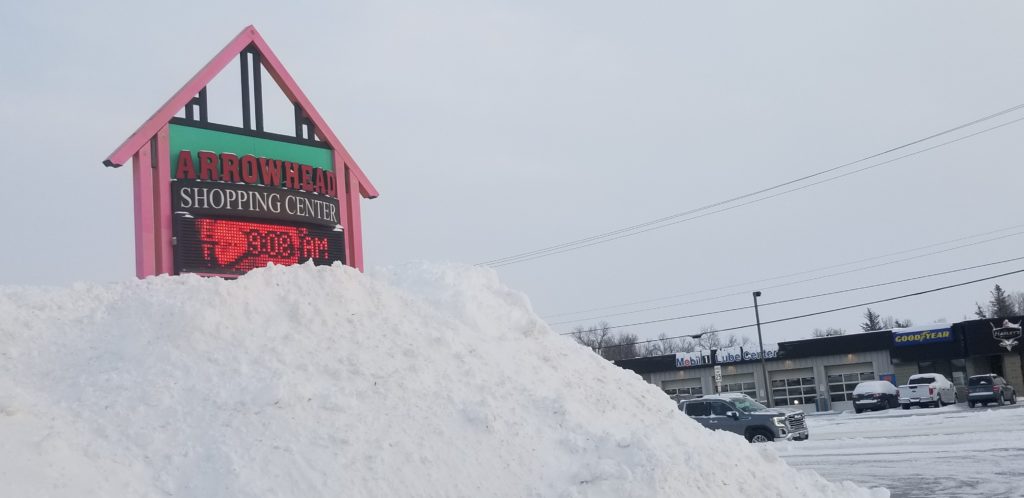 Underneath much of the snow cover is a slick surface, courtesy of a freezing rain that moved into the region during the evening hours of Dec. 23 and played havoc with Christmas Eve traffic. The North Dakota Highway Patrol was particularly busy, responding to multiple vehicles and semi-trucks in the ditch.
The HP issued a cautionary statement, urging motorists to use caution and noting that "the Minot area was affected the worst."
Incidents included a commercial vehicle striking a HP patrol vehicle while the trooper was providing traffic control for a motorist that had slid into the ditch. Moments later a second commercial vehicle lost control and also struck the patrol vehicle. Fortunately, there were no injuries from the crashes.
During the early morning hours on Christmas Eve a similar incident occurred about 8 miles south of Max. This one involving a McLean County Sheriff's vehicle.
Evan Jeglum, 30, St. Paul, Minn., was northbound on U.S. Highway 83 when he lost control of his vehicle and struck the McLean County Sheriff's vehicle. At the time of the crash the deputy was outside of his vehicle assisting another motorist. No one was injured. Jeglum was arrested for Driving Under the Influence.
During the early afternoon of Christmas Day a Minot man, 23-year-old Matthew Melbarzdis, suffered serious injuries in the roll-over of his Ford F-250 pickup. Road conditions were slippery due to freezing rain and compacted snow.
Melbarzdis was northbound on Ward County 15 enroute from Minot to Burlington when his Ford entered the ditch, struck an approach, and overturned. Melbarzdis was pinned and had to be extracted from his vehicle. He was hospitalized in critical condition.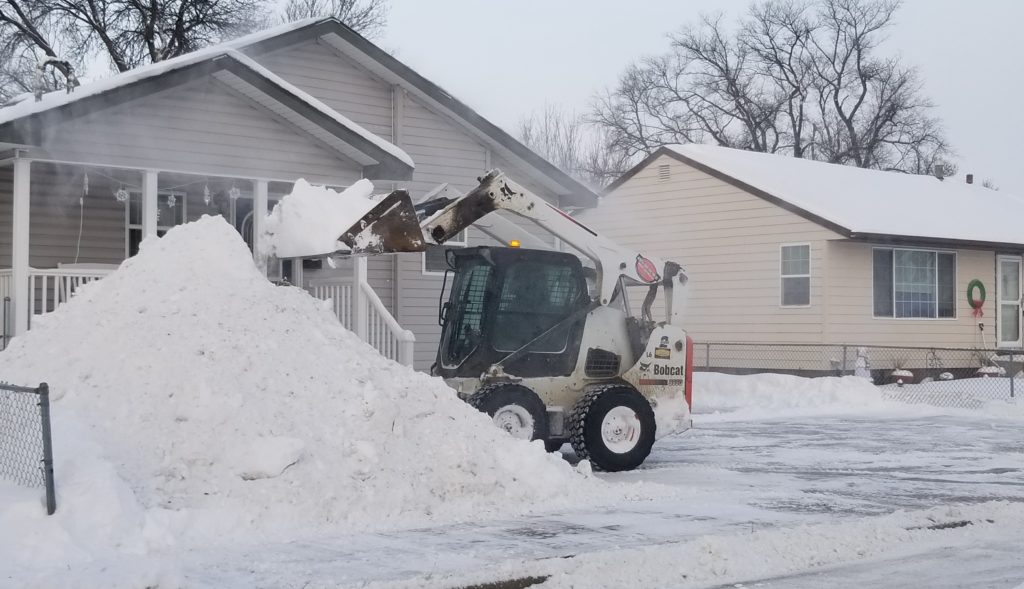 As if freezing rain and snow was not enough of an introduction to winter, here comes the cold. The NWS says dangerous to life threatening wind chills will dominate the week. The coldest temperatures and wind chills are expected Tuesday night through Thursday morning. The NWS warns that frostbite will occur within minutes on exposed skin.
The Minot region is expected to be among the coldest places in the state over the next several days, including wind chills of 45-50 below by Tuesday morning. Overnight lows for the remainder of this week, and year, are expected to be about minus 25. Daytime highs are forecast to range from minus 5-12.
According to the NWS we are in store for a warmup by Jan. 2 with a daytime high near 10 degrees. The Climate Prediction Center rates most of the state, including the Minot area, as having a 70-80% chance of below-normal temperatures through at least Jan. 9. The normal daytime high for early January in Minot is in the low 20s.