Polar Plunge Raises Money for Special Olympics
MINOT – Several people of the community plunged into ice cold water to raise money for a good cause this past Saturday.
The Polar Plunge, organized by the community and local law enforcement, is an event that provides an opportunity for people to give to Special Olympics North Dakota.
Victor Meza, director of development for Special Olympics, said people of the community came out to both observe and plunge into the ice cold water outside the Minot State University Dome.
"Anyone who wants to show their support for Special Olympics," said Meza. "The Plunge is one of our biggest fundraisers for Special Olympics. The community comes together and raises money between family, friends and businesses, and comes together to support Special Olympics North Dakota."
Participants in the Polar Plunge raised a minimum of $100 to plunge and were judged based on best costume, best belly flop, youngest, and most money raised by team or individual.
Two plungers were Roman Wilkerson, law enforcement, who raised $245, and Shawn Reis with the Minot Police Bomb Squad having raised $103 and won the best costume award. 
Meza said Special Olympics serves individuals with intellectual disabilities by providing Olympic-type sports for them to participate in. The Polar Plunge was accompanied by a Special Olympics basketball tournament inside the dome. Four hundred athletes from all over the state came to play basketball, said Meza. He added it's a great way for athletes and volunteers to see both events and see who supports Special Olympics.
"Seeing the support that the athletes give to these events, they're always out supporting and giving high fives and things like that," said Meza. "Just seeing the public come and be a part of this is the best part. Them coming to see these athletes participate and play basketball really shows what we do and why we do it."
Ward County Sheriff Robert Roed helped organize the event, saying he has been involved with the Polar Plunge for several years.
"I have a fun time with the parade of athletes," said Roed. "I've never seen a more enthusiastic group of people. I wish all tournaments could be this way, when they come out they're excited to come out, and excited to compete. To me it's just a feel good thing to help them out and see how excited they really are whether they win or lose."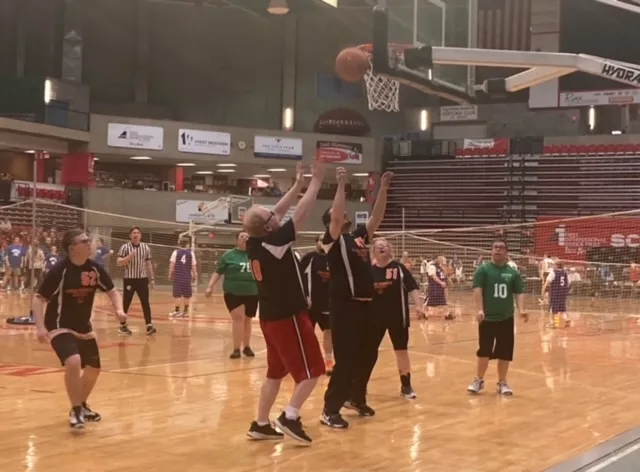 Roed said the Ward County Sheriff's Department does everything it can to raise money for Special Olympics, including a Tip a Cop event at Applebee's Grill and Bar, where one night in September every Applebee's in North Dakota teams up with law enforcement to raise money for Special Olympics.

More information on the organization can be found here.