Tracks Moving Forward 
MINOT – A large development and recreational area underway will continue after the City Council approved a Tax Increment Financing district Tuesday.
Constructed by EPIC Companies, The Tracks, north of the new Trinity Hospital, is planned on a 15-acre lot with 7 buildings, apartments, condominiums, and commercial space. The lot will also include transformable outdoor plaza space and a parking garage.
The TIF will be a $2.88 million tax abatement for five years, wherein taxes from raised value on the property due to EPIC's developments will go to the project itself for five years.
EPIC Companies has received TIFs on two other projects, including Blu on Broadway and renovation of the Big M building.
Blake Nybakken, COO of EPIC Companies, said the tax abatement through the TIF would not go to any buildings that are not public amenities.
Beginning construction last fall, EPIC has completed the structure of one building. EPIC has completed similar developments in other parts of the state, including Fargo, West Fargo, and Grand Forks.
"Some of the amenities would be the public plaza, splash pad or other water features, public skating, the programmable stage, a lot of what we've seen as very well used public amenities," said Nybakken.
The project is planned for two phases, the first one to be five years and include construction for the public amenities' utilities, land, video board, turf and concrete, lighting and sound, and a portion of the plaza.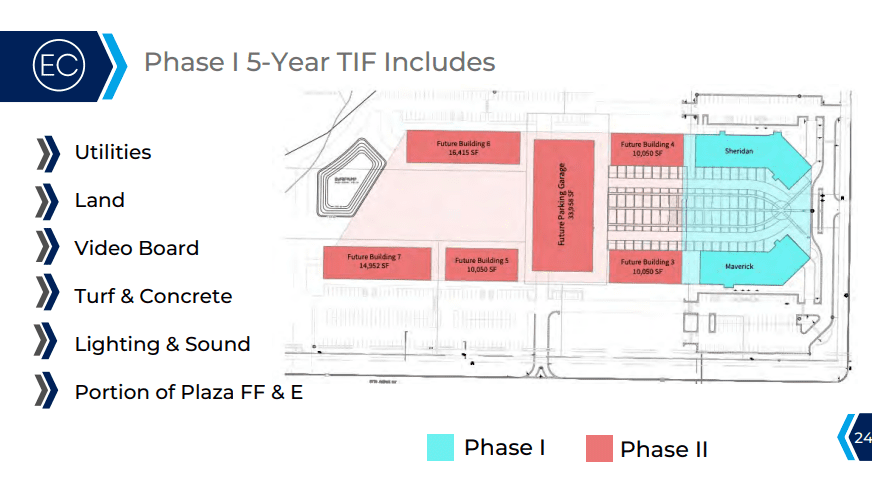 "Once those buildings come online, it does catch back up and then it starts paying even more in taxes," said Nybakken.

There were many questions and comments from the council, and Nybakken addressed questions from Alderman Scott Burlingame, saying there will be ADA accessibility and local representation on EPIC Charities' Non-Profit Advisory Board.
"I would go so far as to say, I'm sure EPIC can continue without the TIF, but the development won't continue without those public amenities," said City Manager Harold Stewart. "Those public amenities will benefit the community as a whole in addition to EPIC."

No one spoke against the TIF and it was passed unanimously. More information on EPIC Companies and the TIF can be found here.